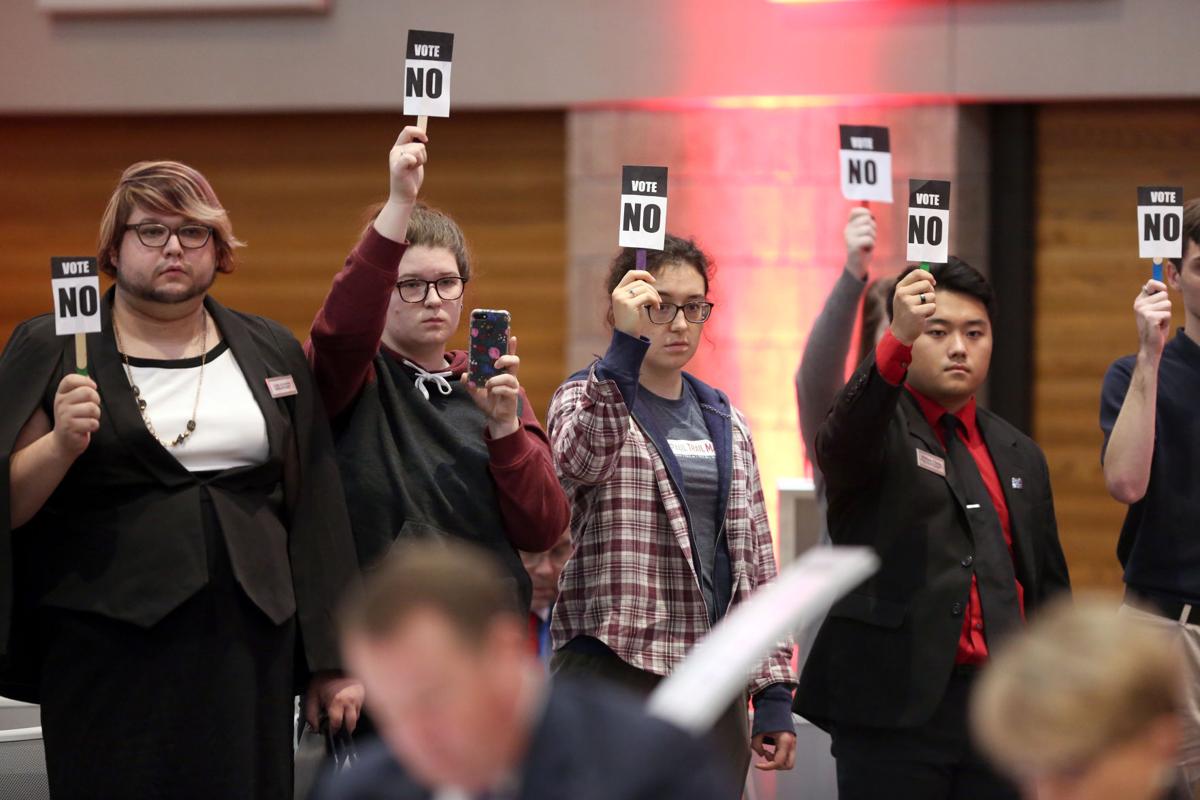 Over the last three weeks, the University of Wisconsin System's leaders have adopted new policies to curb disruptive protests, largely mirroring a controversial Republican bill. They have given members of the Board of Regents more power in picking campus leaders.
And they have announced a sweeping reorganization of UW's two-year colleges and Extension program, surprising faculty and students who were left out of that planning process.
Two higher education experts see a common theme in the actions: An embrace of top-down decision-making and conservative ideas about higher education by the UW System's administration and its Board of Regents, which is now almost entirely made up of Republican Gov. Scott Walker's appointees.
The actions have further strained relationships with UW's faculty and students, many of whom were already distrustful of System leaders after actions in recent years that weakened tenure protections and the role of those groups in campus governance.
According to Barmak Nassirian, director of federal relations and policy analysis with the American Association of State Colleges and Universities, and Noel Radomski, managing director at the Wisconsin Center for the Advancement of Postsecondary Education, the alignment between System leaders and conservative lawmakers could threaten the independence that distinguishes UW from other, more politicized state offices.
"There's a pattern here of … ideologically driven decision-making," Radomski said. "The culture has changed significantly — it's gone 180 degrees. The independence that the UW System Board of Regents used to have, and the quasi-independence that the System administration used to have, is gone."
System President Ray Cross and Regents President John Behling declined interview requests through a UW spokeswoman, who provided a statement from Behling.
"The actions the Regents have taken during the last few months reflect national trends in higher education and address issues raised throughout the country and our state," Behling said. "Just as was the case with board members appointed by governors (Tommy) Thompson and (Jim) Doyle, our job is to balance the politics of the day with what is best for the University System, our students, and our faculty and staff."
Assembly Speaker Robin Vos, R-Rochester, did not see System leaders' actions as sea change embracing Republican ideals.
A more conservative UW would have sought savings by shutting down some of the 13 two-year UW Colleges, Vos said — Cross' plan to turn them into branch campuses of four-year universities found a "middle ground."
"I certainly don't view (the Regents) as some kind of conservative bastion pushing a right-wing agenda," Vos said.
Faculty, students not consulted on plan
Like members of other shared-governance groups — which represent students, faculty and staff, and traditionally have crafted policies along with campus administrators — UW-Madison English professor Anja Wanner said the UW Colleges and Extension reorganization plan took her by surprise. The proposal calls for UW-Madison to absorb several UW Extension programs.
"It just rained down on us," said Wanner, who is chairwoman of the University Committee, the executive arm of the Faculty Senate.
Asked in an interview last week on WISN about criticism from shared-governance groups about how the policy was drafted, Cross said UW officials consulted with "business leaders and other community leaders."
But, he acknowledged, "We did work on this without bringing a lot of input in."
Wanner and Maria Berge, president of the student government at UW-Oshkosh, which would absorb two UW Colleges under Cross' merger proposal, said failing to involve their groups weakens policies, because leaders don't take into account the expertise and knowledge of people on campus.
Critics have raised several concerns about the proposal since it was announced, including how campuses would manage faculty tenure given the differences in roles between professors at two-year colleges and those at four-year universities.
Radomski has criticized UW's aggressive timeline for rolling out such complex changes — the Board of Regents is expected to vote on Cross' plan next month, and it would go into effect before the next academic year, if approved.
"There's a lot of small, minutiae-type things that System presidents and Regents might not know about," Berge said. "It would be very valuable to get all of these different perspectives."
Asked about the criticism, System spokeswoman Stephanie Marquis said, "The first step was making a decision to put forth a proposal for restructuring, and our next step is to move into the planning and design phase.
"We value the input of our faculty, staff and students and they will have a voice in the process," Marquis said.
Colleges plan follows controversial moves
Nassirian said criticism of the merger proposal had more to do with the process by which it was created, rather than opposition to the idea itself.
And the reaction from faculty and students was amplified, he said, because it came soon after another move to consolidate power under administrators — a new policy requiring that Regents hold five of the 10 seats on committees that search for UW chancellors. Faculty will have two seats while students and staff would each have one; the last would be filled by a community member or alumnus.
The policy included other changes meant to speed up the process for selecting chancellors and allow for leaders to come from outside academia.
It was approved during a board meeting earlier this month at which the Regents also adopted new rules requiring campuses to suspend or possibly expel students who repeatedly take part in disruptive protests.
The Regents' policy on speech borrowed heavily from a piece of Republican legislation that passed the Assembly on a party-line vote in June, and came as conservative lawmakers across the country sought to restrict protests that they say threaten the open exchange of ideas on college campuses.
Nassirian said the changes pursued by UW's Regents and administration are similar to those in other states where Republicans have dominated state government, such as Iowa and North Carolina.
He noted a "significant reorientation" under University of North Carolina system President Margaret Spellings, a former Bush administration education secretary.
"You see situations where the policy community in the state takes a much dimmer view, I would say, of some of the traditional practices of higher (education)," such as shared governance, Nassirian said.
But Vos said he didn't see a problem with Cross' process for creating the UW Colleges proposal, despite the complaints from shared-governance groups.