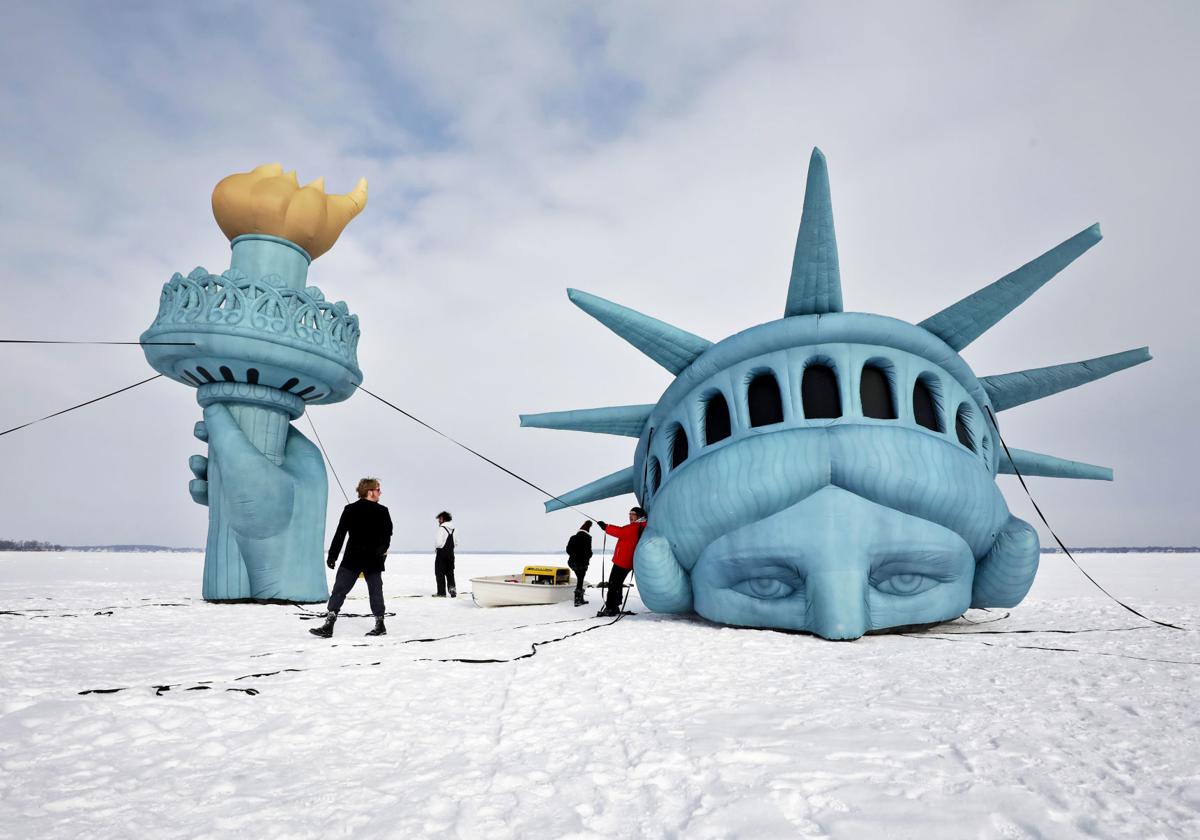 A Madison icon returned Friday to Lake Mendota for the first time since 2010.
An inflatable, to-scale replica of the top of the Statue of Liberty's head, arm and torch can be seen rising from the frozen surface of the lake near the Memorial Union.
The Wisconsin Union brought Lady Liberty back Friday to kick off its annual Winter Carnival, marking the return of a tradition that dates back 40 years this month.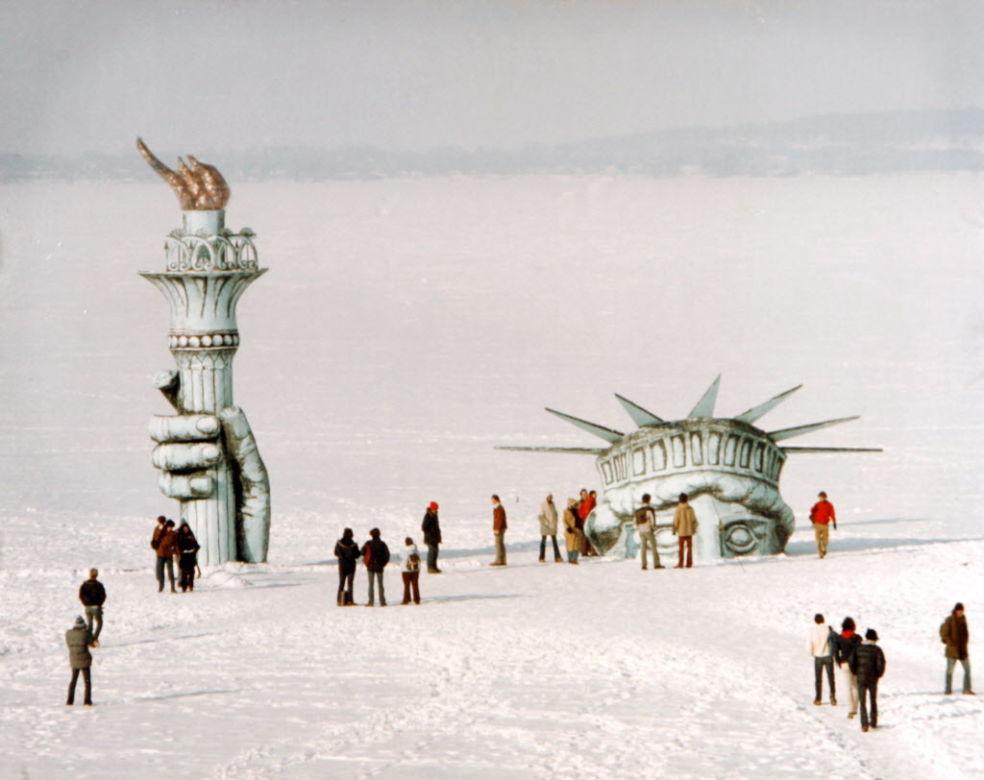 The mirage first appeared on Lake Mendota in 1979 as a prank by the Pail and Shovel Party, which was led by UW-Madison alumni Leon Varjian and Jim Mallon.
The two made a campaign promise that, if elected to the Wisconsin Student Association, they would bring the Statue of Liberty to Madison. They made good on that promise, spending $4,000 to construct the statue's head, crown, arm and torch out of Styrofoam and assembling it on the frozen lake on Feb. 22, 1979.
The original Lady Liberty was destroyed by an arsonist, but a replica occasionally reappeared on the lake's frozen surface through 2010.
Wisconsin Union President Mills Botham, a UW-Madison senior, led the latest effort to bring back the Statue of Liberty after hearing about it his freshman year and talking to his father, who graduated from the university in 1979, the same year it first appeared on Lake Mendota. The two have reminisced in recent weeks as Botham's idea came to fruition.
"It is without question one of the proudest moments of my collegiate career to bring this tradition back," Botham said.
The decision to switch to an inflatable Lady Liberty was based on logistics, he said. Inflating it, which began at 10 a.m. Friday, allows for faster setup and requires less storage space compared to the Styrofoam version.
This Statue of Liberty is made of a durable polyester fabric blend by Minnesota-based Landmark Creations. The same company provides the Buckys used at Badger Bash tailgate parties, another Wisconsin Union event.
Lady Liberty is expected to be on view until 9 p.m. Friday and from 9:30 a.m. to 4:30 p.m. today only.
The Wisconsin Union's carnival runs through Sunday and will include more than a dozen events and activities, including live music, yoga and more. Hockey and broomball tournaments and ice golf have been canceled, however. Snowshoeing to Picnic Point has been postponed until Feb. 7, according to the Wisconsin Union's events calendar.
If you miss out this year, this might not be your last chance to see Lady Liberty. Wisconsin Union officials hope to bring her back as part of an annual Winter Carnival tradition.