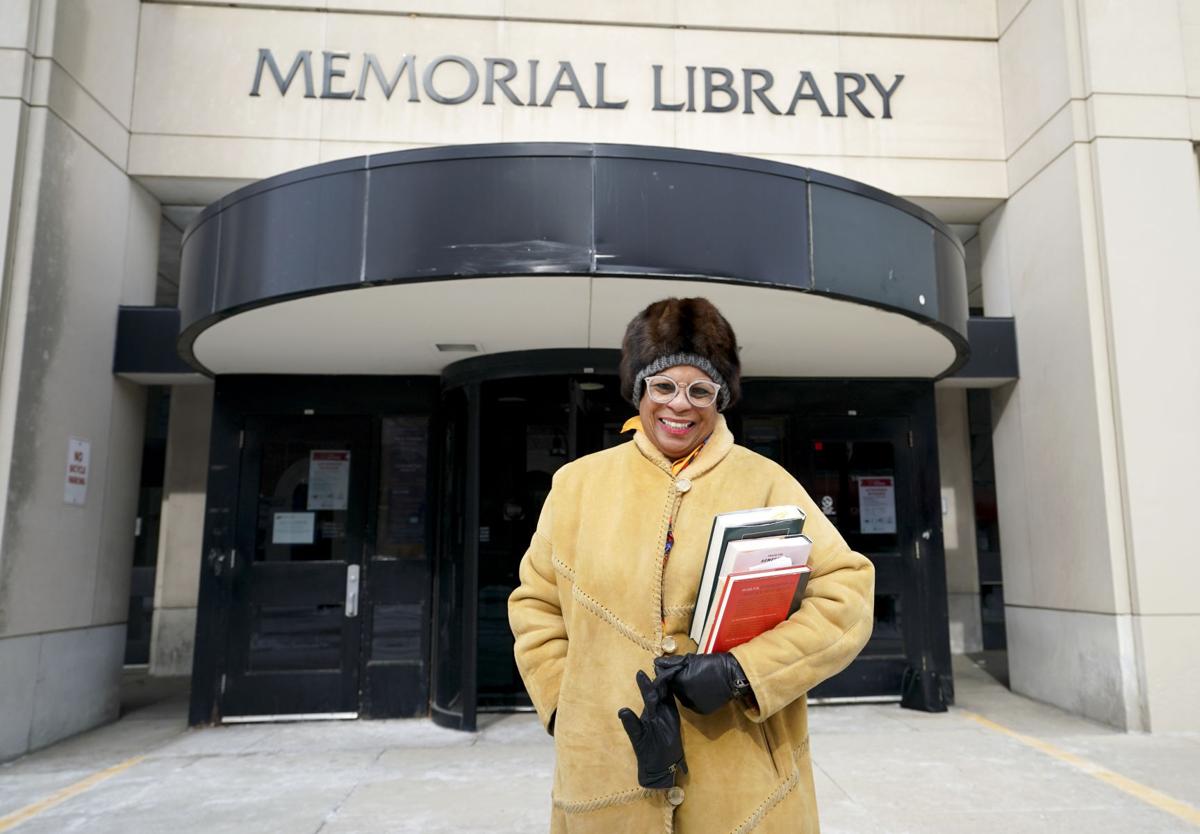 Sandra Adell's resume notes three college degrees — a bachelor's, master's and doctorate — but she didn't participate in any of the commencement ceremonies.
That's because she felt those celebrations wouldn't measure up to the importance of when she earned her high school equivalency degree, her most meaningful educational accomplishment that came years after she dropped out of high school and started raising three children as a single mom. Her highest scores on the GED were in the verbal sections because of how much Adell read throughout her childhood.
"Literacy saved my life," she said. "Books literally saved my life."
Now, Adell teaches Black literature to UW-Madison students. She has also written and edited five books, acted in local theater productions, directed a play and even moonlit as a model for advertisers such as AARP and the U.S. Post Office.
Adell is a professor in the university's Afro-American Studies department, which celebrates its 50th anniversary this school year. She talked about her childhood in Detroit, the unusual selling point that drew her to UW-Madison and how last year's racial justice protests have changed the classroom dynamic.
Tell me about your early years.
My love for performance, I think it's always been in my bones. As a young girl, I always wanted to be a ballerina. I wanted to be a dancer but my parents couldn't afford dance lessons, so I went to the community centers that had really great after-school programs and I danced all the time. Things went badly for me because I got pregnant at 14. I completed the ninth grade and then I worked as a maid, a bus girl, a waitress over the years. But even as I was raising my kids, I would find free programs for us to do at the community centers. We'd go and take dance lessons, all kinds of arts. My kids would tell you they never even realized that they were as poor as we were at the time because I found things for them to do. They were not going to be deprived culturally.
How did you return to your education?
In 1971, neighbors encouraged me to try this adult ed program. I think my youngest child might've been about 6 at the time and I was in my 20s. There was so much negative stuff going against me at that time. Everybody's saying, "Well she's never going to make it. She's single. She keeps having these babies, she's going to be on welfare and just be a burden to society and her children will be in this vicious cycle of poverty." And it was like, no, I'm going to beat these odds. That was the start of it. The counselors who worked at the GED school helped set up the appointment with the counselors at Wayne State University to get me enrolled because I knew nothing about how to get into college.
How did you land here in Madison?
I was an academic advisor for years at Wayne State and I was going to school part-time to get my master's there. The books that I wanted, well, Wayne State had very few books on Africa, so I was getting them through interlibrary loan and most of them were from Madison. So that's why I came and I did not know a soul. I knew nothing about Madison, Wisconsin, except this university and that it had a great library.
What was your first impression of Madison?
I got a little studio in Eagle Heights and my first impression of it was the landscape. So rural, coming from Detroit. It was also very pretty here. I remember the first day so clearly because I got here in mid-August of '83 and I love to walk. I was walking along the lakeshore thinking this looks like a country club and then I came to the Terrace and that just literally blew my mind. The sailboats out there and people in kayaks and it was just amazing. So surprising. When I came here to study comparative literature, I knew I wasn't going back to Detroit to live. I knew that Madison was my destination and that would be it.
How did you get involved in theater and modeling?
I'd been a theater historian but never acted before. Years ago, there was a group of students putting together a skit and they needed a Black woman for a particular role. I got a book on basics of acting and did that and I just kept reading. Then I started auditioning for other plays and fell in love with it. I started getting cast in plays at the children's theater. The important thing, how that connects with my academic work is that not only am I writing about theater from an academic perspective or teaching about it, but I also have the experience of being in several plays.
The other thing I started doing as a part-time job separate from my work was I became a commercial print model. I was in a lot of local ads, like CUNA Ancestry, the insurance company here, and American TV. I remember at one point I was on a big old billboard on the Beltline. I was also featured in a national ad campaign for the U.S. Postal Service.
You're currently the longest-serving professor in the Afro-American Studies department. How has it changed since you joined in 1989?
When I first started, we didn't have an ethnic studies requirement like we do now. When that was first instituted, some students were quite resentful about it. I'm not experiencing that with the students now but there are still some young people who come from small communities in Wisconsin where even today they will tell you they've never seen a real Black person. But they're open to learning what we have to offer and it's very rewarding to have young people say, "I never even thought about race or racism and this is such an eye-opener to me."
How did last year's protests against racial injustice affect your classes?
In my Intro to African-American Dramatic Literature, I chose plays to start with that addressed those issues, so that we could open up and talk without me just saying, "Well, what do you think about what's happening today?" I allowed it to come organically through some of the plays. For example, we covered a play called "Pipeline" by Dominique Morisseau, which deals with this young African-American man in school who gets into a fight with his teacher and the effects of that. It led to a discussion on the school-to-prison pipeline. I was also able to get the students to talk about their experiences in high school. The class is just for first-semester students and it's a lively experience. I have an opportunity to ask some questions about movies they see, music they like. So there's quite an exchange that happens there. I'm learning with them, and it's a wonderful experience.
---
Know Your Madisonian 2021: a collection of profiles from our weekly series
Know Your Madisonian 2021: Profiles from the Wisconsin State Journal's weekly series
They're your neighbors, co-workers or friends you may not have met yet. And they all have a story to tell.
"Literacy saved my life. Books literally saved my life."

Sandra Adell