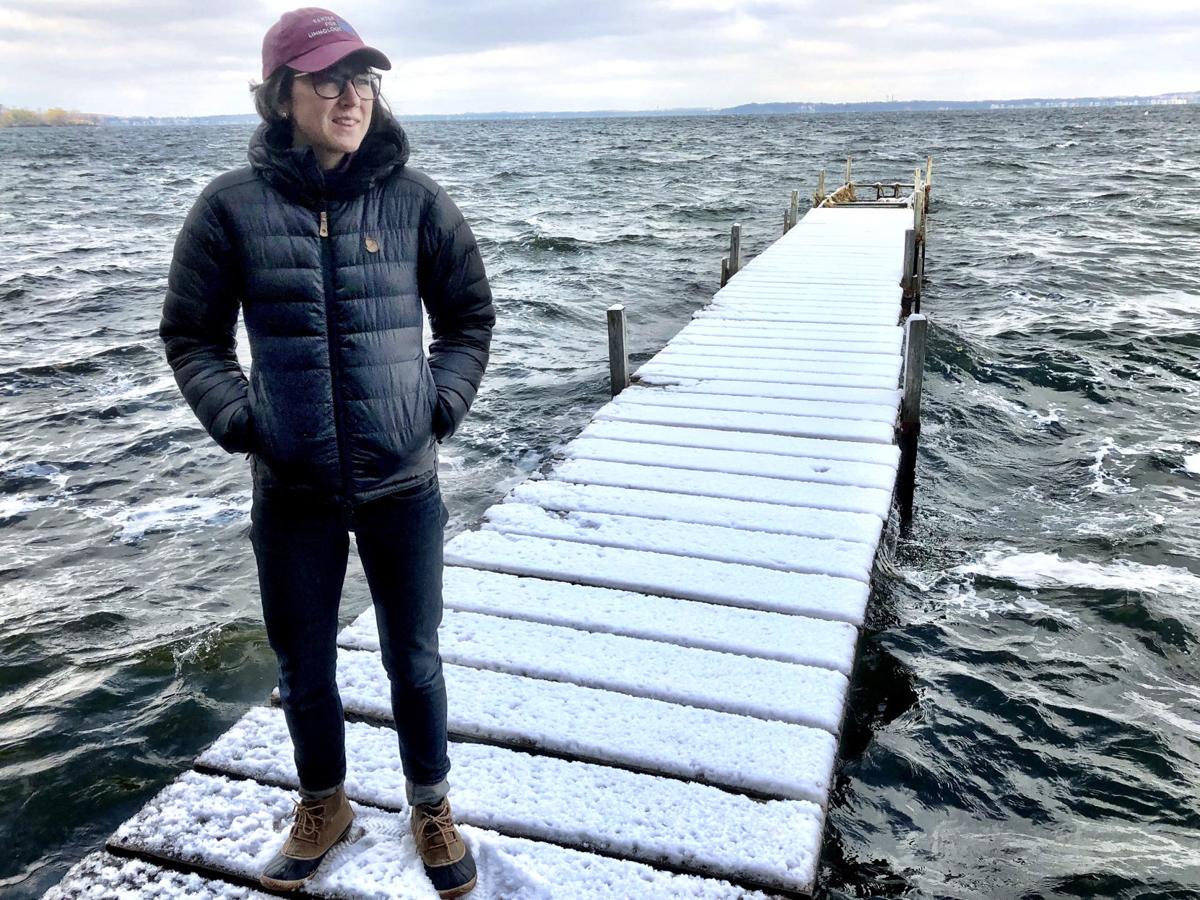 Hilary Dugan is researching rising salt levels that are showing up in water across much of the U.S.
Overuse of the corrosive chemical to melt ice on pavement is altering the biology of lakes and posing risks to drinking water. As a UW-Madison professor, Dugan has been analyzing historic records, and examining the ways salt interacts with soil and with lake water.
After work, she often goes straight back to the water for fun. In winter, playing in pickup hockey games in Madison parks is one of her favorite leisure activities.
When she was growing up in western Ontario, Canada, Dugan sought out summer jobs near lakes so she could swim, canoe and water-ski. University studies took her to the Arctic and Antarctic. In 2014 she came to UW-Madison, where she has been studying the ways Wisconsin lakes are being changed by climate and pollutants.
I see you were in Minnesota with Mayor (Paul) Soglin speaking at a conference on road salt.
Once you publish, people find you. ... We published some results in 2017 and since then people who are on the policy side talk to me a lot about the policy side, which is great because I want to be an advocate for the environment.
How widespread is the problem?
Historically there's been an incredible increase in chloride in lakes in Wisconsin. You see a steep line shooting upwards starting in the 1940s and really accelerating in the 1960s. ... Wisconsin is by no means the only place. It goes all the way to the Eastern Seaboard.
The city of Madison and the state are changing the way they are using salt. There's been emergence of new technology. Now they know much more about how much salt they are putting down. ... There's always going to be places where you use road salt, but you want to just be more proactive in selecting when and where you put it down, (and) realize in April that the sun's going to come out, and maybe they don't have to put down as much. ... The major concern is private applications on large parking lots. When you think about all the parking lots that are in the city, it really adds up.
What can be done about that?
There are some states that are trying to enact regulations and starting to really limit the liability (of applying less). Right now there's no incentive for using less salt. There needs to be a stronger stance taken.
Is there more that should be done?
We've all seen piles of salt on the sides of the road. ... You need to change the system to recognize that using less saves money and saves your car from rusting and saves the bridges and helps fresh water too. Salt wrecks everything.
Are there things people can do individually?
It kind of comes down to personal decision-making, too. Do we have to have the roads 100 percent bare, or should we take some personal responsibility? If you're in the Midwest and have lived through a few winters, then you know the dangers of it. You know, I slipped on frozen leaves this morning outside my house. It's really dangerous, but I was wearing slippers at the time. Instead of doing that, I can think: "It might be slippery. I should watch where I'm going — maybe wear boots. Maybe put snow tires on my car." There's a lot of decisions that can drastically improve your safety without 100 percent dry pavement (and) in the end it will probably save everyone money.
Speaking of ice, tell me what it was like when you were doing research in the Arctic?
I was on a remote island doing field work in 2007, which was one of the first big warm years in the Arctic when there was sea ice loss (and) massive amounts of permafrost melt. You start thinking about how these landscapes had been stable for thousands of years. ... (Warmer temperatures) there made a more productive ecosystem. But when you translate (climate change) to more temperate situations like here in Wisconsin, you've got more storms and precipitation that are really stressing our water systems with more nutrients rushing in (and) pushing these lake and rivers into really precarious states with constant algae blooms and making conditions that are really good for invasive species.
You spend a lot of time looking at problems in lakes. Do you still enjoy them?
Especially in the winter. ... Skating on the lakes in Madison last year was heavenly. The conditions were unbelievable. ... I tell people the Madison lakes in winter are the Central Parks of Madison, because you can just go out and play on them. If there's no snow you can skate. If there's snow you can ski. It's like this giant playground in the middle of the city.
— Interview by Steven Verburg