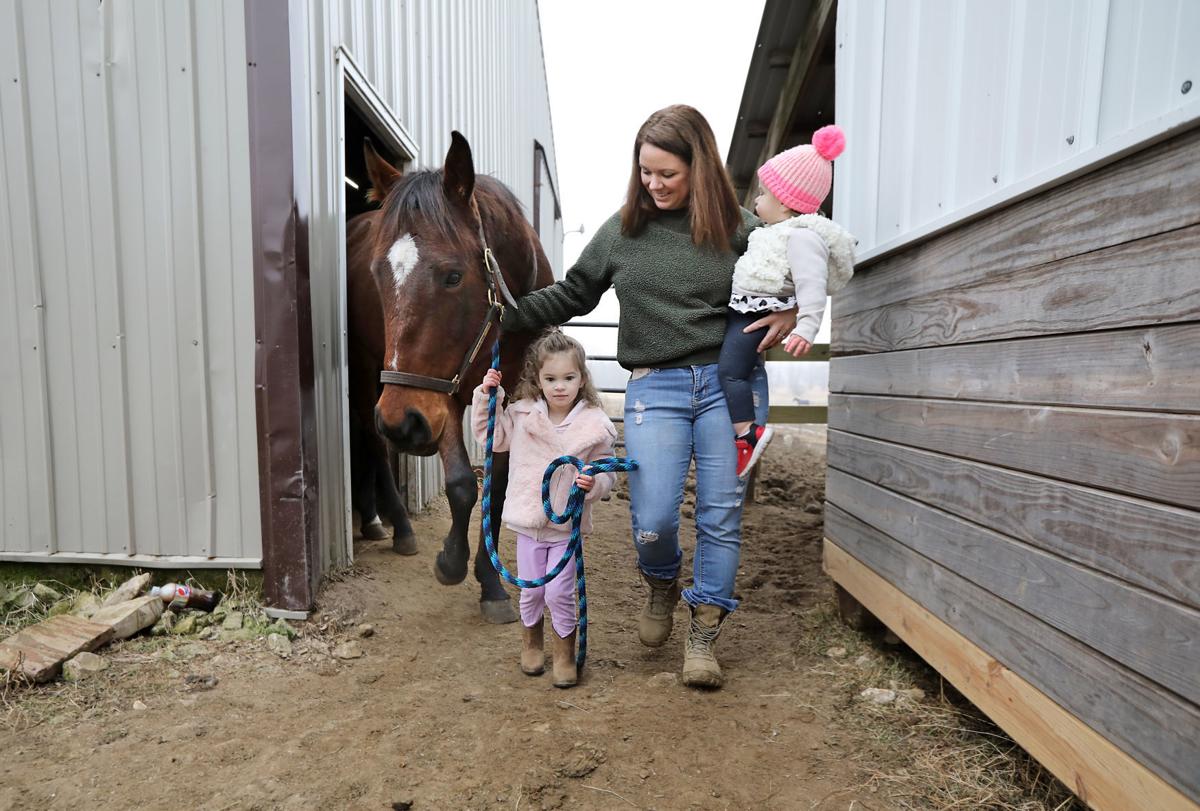 UW-Madison nursing student Cassie Dietrick graduates Sunday, and she cannot pinpoint the School of Nursing building on campus.
In fact, she has spent just one day in a physical university classroom. The rest of her UW-Madison nursing education has been online or in clinicals at an area hospital.
The flexibility of the school's online nursing program is ideal for nontraditional students such as Dietrick, who came to UW-Madison last spring with an associate's nursing degree, a full-time job at St. Mary's Hospital, a part-time job with the Wisconsin Air National Guard and two young children in tow.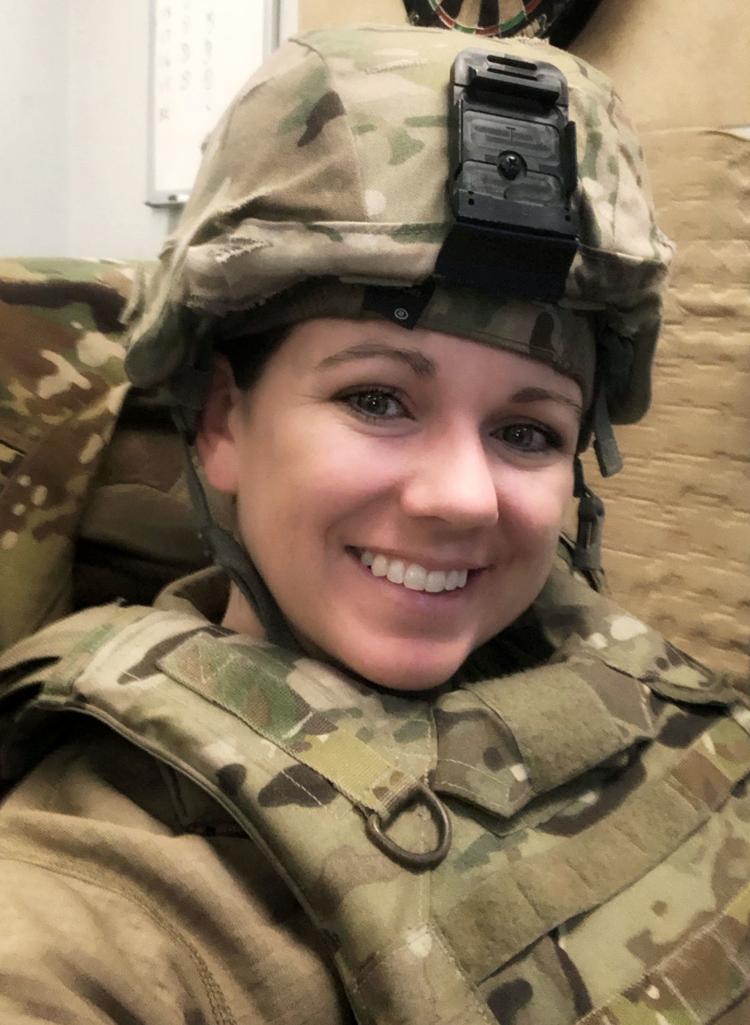 Most students take 2½ years to complete the program. Dietrick, 31, managed to finish it in one, even though she spent four months of the year serving in Afghanistan.
The DeForest resident worried her deployment that ended last month would stall her degree to the spring, but she will be among about 1,200 students participating in commencement Sunday at the Kohl Center.
Busy schedule
Dietrick tried the traditional route when she studied business at UW-Whitewater from 2006 to 2008. It wasn't the right fit.
Seeking a sense of something bigger than herself, Dietrick joined the Guard.
There are thousands of other professional adult students like Dietrick in Wisconsin — those who have accumulated some credits, but haven't earned a bachelor's degree.
Faced with a projected drop in the number of high school students entering college in the coming years, the University of Wisconsin System is working to enroll more nontraditional students in online programs like the one Dietrick chose. The System aims to double the number of students in its online programs from about 4,800 to nearly 10,000 by 2025.
Nontraditional students need flexible programming, much of which can be completed online and at their own pace, to accommodate their hectic lives.
Busy barely scratches the surface of Dietrick's schedule in recent years.
She has balanced a job with the 115th Fighter Wing of the Guard — a position that took her on deployments to Japan, Texas, Iceland, Poland and Alaska — with work at St. Mary's Hospital and courses at Madison Area Technical College. All of these responsibilities took time away from her husband, two daughters, two dogs, two cats and a horse.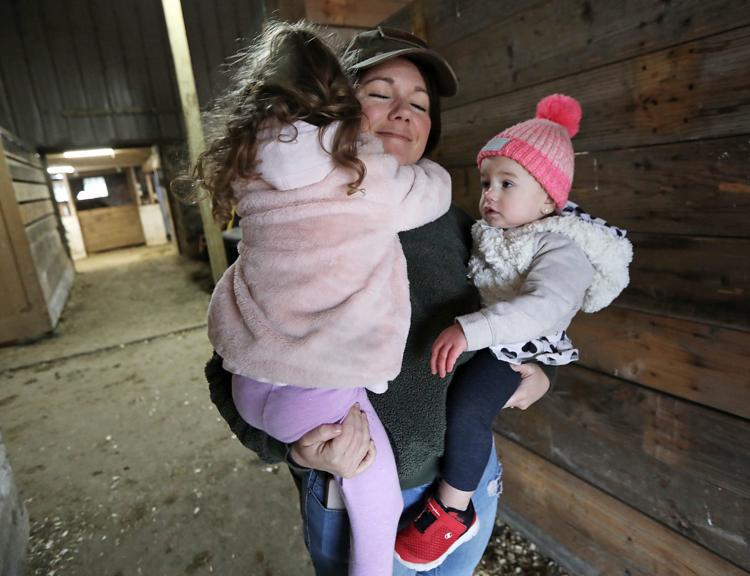 "I kind of overextended myself, but feel like I do better when my plate is full," she said.
Dietrick made a decision last winter. What she lacked in time — her second child was just 3 months old and she was then working full-time at the hospital and part-time with the Guard — she made up for in motivation to pursue what she began in 2006: a bachelor's degree.
Desert life
Over the summer, and about halfway through her UW-Madison program, the Guard called on Dietrick, a tech sergeant, to be deployed for several months in Afghanistan.
Her youngest hadn't even turned 1. A veterinarian diagnosed her horse with a fast-growing tumor that would take the animal's life during her deployment. And she feared a poor Internet connection overseas would push back her studies, delaying her self-imposed December deadline to graduate.
But the Truax Field's education office reassured Dietrick the Wi-Fi at the Bagram, Afghanistan, base would be strong enough to continue her coursework.
"And they delivered," she said of the Wi-Fi's reliability.
Dietrick lived a life of routine in the desert, working maintenance on a flight line seven days a week for 12-hour shifts and volunteering once a week at the base's hospital.
At the beginning and end of each shift, Dietrick made a video call home to her kids to wake them up or say good night, hoping her face would remind them she was still there but also fearing her children wouldn't recognize her when she returned home.
She threw herself into her coursework, finishing five classes and writing papers on pain management, opioid use and umbilical cord blood donations.
"I wanted to get as much done as possible so I could spend time with my family when I got home," Dietrick said.
But a potential setback soon emerged.
Overcoming obstacles
Dietrick's deployment, expected to last three months, was extended to four. This pushed back her return home to mid-November, with 60 required hours of clinical observation still unmet and just weeks before graduation.
Her mentor, Tara Kempfer, picked up extra shifts at UnityPoint Health-Meriter to ensure Dietrick shadowed Kempfer for the number of hours needed to complete the degree, Dietrick said.
It worked. Dietrick will carry the nursing school's flag during Sunday's commencement ceremony.
Dietrick looks forward to completing what she started more than a decade ago, but it will pale in comparison to the day about a month ago when she flew home from Afghanistan.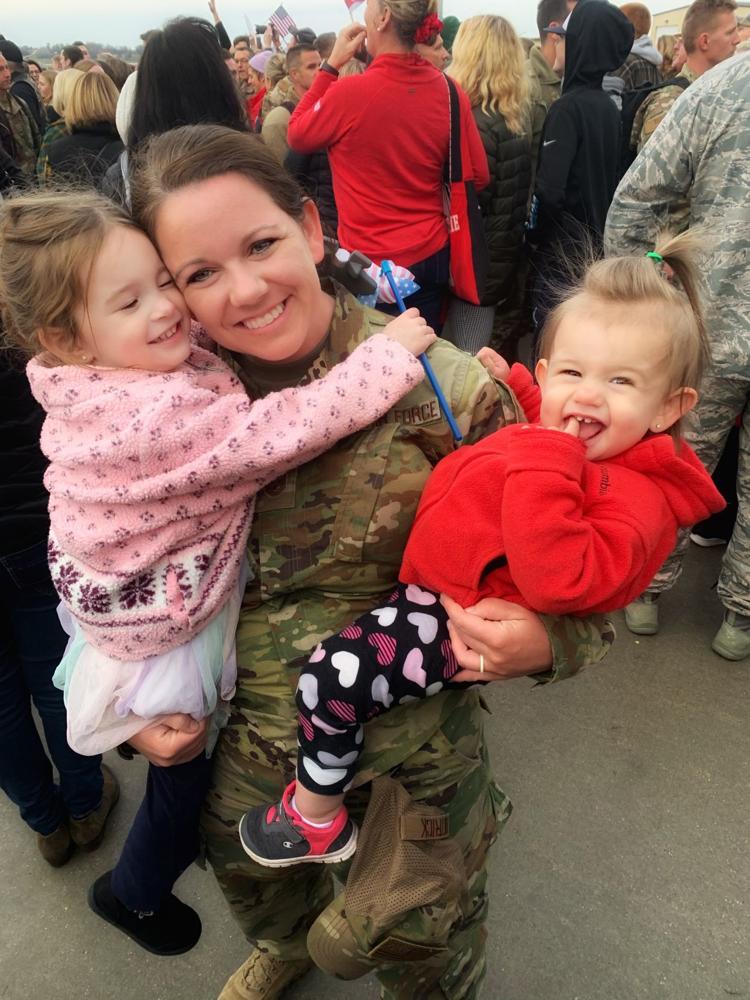 Landing at Truax Field, she anxiously awaited reuniting with her daughters, Thea, 3, and Vivian, who marked many milestones in her mother's absence. She celebrated her first birthday, got her first tooth and started talking.
The mother had acknowledged to herself that Vivian would likely not remember her, that it was OK if this happened.
But it turns out she had no reason to worry.
Dietrick's daughters ran right to her and didn't let go.
Be the first to know
Get local news delivered to your inbox!