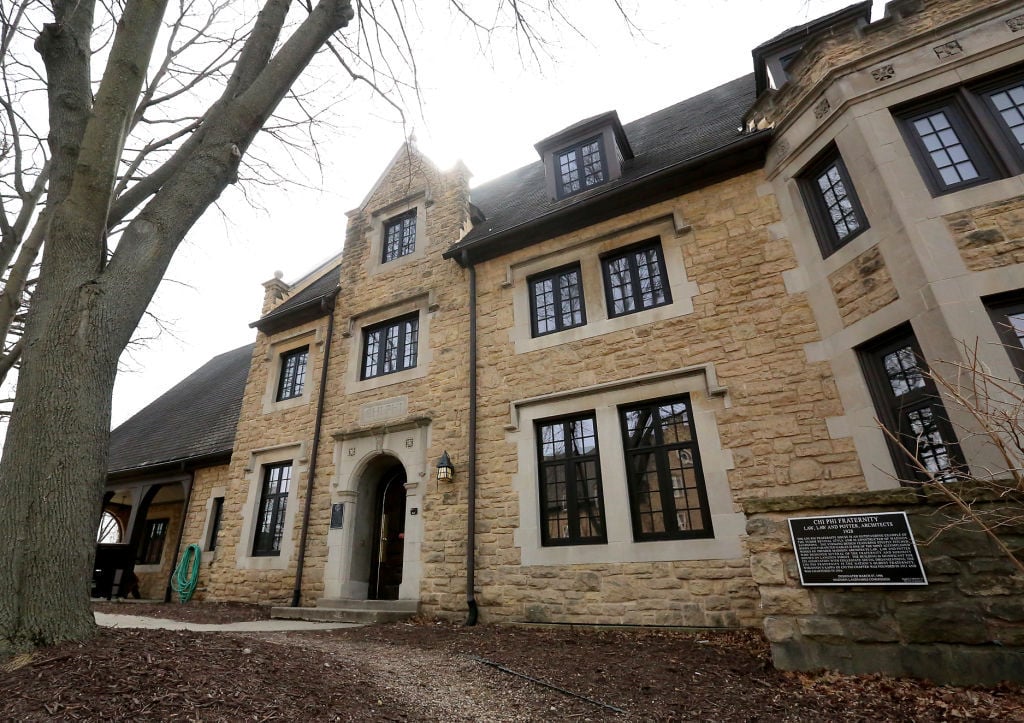 UW-Madison said Wednesday that it shut down a fraternity for the first time since 2006 after learning of a hazing weekend in December that included a freshman pledge suffering a concussion when an older member hit his head accidentally as the freshman lay in a closed crate meant to simulate a grave, a university official said.
The fraternity also reportedly made pledges sleep in the attic and wear pillowcases over their heads.
Chi Phi, which has about 65 members, has been terminated as a student organization on campus after an investigation by the Committee on Student Organizations.
It's no longer recognized by the Interfraternity Council and won't be able to associate with other fraternities or the university in any way, said Eric Knueve, an assistant dean in the student life office.
The fraternity will be able to apply for reinstatement in four years, Knueve said. It can appeal the termination but it's not clear if it will.
Chi Phi chapter president Sam Ferdig and national executive director Michael Azarian did not respond to messages left for them on Wednesday.
Knueve said a freshman who had signed up to join the fraternity told campus officials of being put in a crate meant to simulate a grave during an initiation weekend Dec. 5 and 6, 2014.
He said that older members banged and stomped on the crate, with one of them accidentally breaking the top of it and connecting with the young man's head. The victim was taken to a local hospital by fraternity members, treated for a concussion and released, Knueve said.
After hearing of that incident, the university opened a broader investigation into the fraternity's conduct that weekend. In interviews with the 20 new members and an unknown number of older members present that weekend, university officials found that Chi Phi had repeatedly violated a no-hazing policy, Knueve said.
Offenses included forcing the underage pledges to drink beer, forcing them to eat disgusting and very spicy food concoctions, wear pillowcases over their heads and lie in the closed crate as older members pounded on it and made loud noises meant to terrify, Knueve said.
You have free articles remaining.
They also learned some of the same pledges had been subjected to other hazing earlier in the semester, including fetching coffee for older members, being forced to drink alcohol and smoke marijuana, and sleep in the attic, Knueve said.
University policy forbids any hazing and each fraternity and sorority goes through an anti-hazing workshop annually.
Interfraternity Council executive president Conner Feldman said the council does not condone the actions of Chi Phi.
"The circumstances involving Chi Phi fraternity are unjustifiable and inappropriate," Feldman said in a statement. "Hazing is strictly prohibited at all times by any persons affiliated with, or under the jurisdiction of, the Interfraternity Council at UW-Madison."
The statement said federal law prevents UW-Madison from discussing any disciplinary action that may be taken against individual students.
The future for the fraternity depends on whether it appeals the termination and what the owners of its historic house near the Lake Mendota shore plan to do with it in the meantime.
The UW-Madison chapter of Chi Phi voluntarily disbanded for about four years during the mid-2000s over concerns about some of its then-active members, said William Kirchen, a Cedarburg accountant who is treasurer of the chapter's alumni association. The house was rented to another fraternity and Chi Phi ceased to operate, he said, before deciding to re-start the chapter about four years ago.
In 2006, Sigma Alpha Epsilon was terminated by the university, which was the last time the university shut down a chapter due to misconduct, Knueve said. The fraternity disbanded and stopped activities during the four-year ban before requesting to be reinstated, which the university granted.
Chi Phi may continue to operate as a fraternity independent of the university, Knueve said, as long as the national organization doesn't suspend it. Operating outside the university's authority in the coming years would make eventual reinstatement very difficult, Knueve said.
The fraternity's house at 610 N. Henry St. has been designated a Madison historic landmark. It was built in 1928 in the Tudor Revival style of Madison sandstone, according to the city. It's owned by the organization's alumni association, with Kirchen listed as the group's agent, according to city land records.
Chi Phi is the nation's oldest fraternity, according to the landmark designation. It was founded at UW-Madison in 1912 and chartered in 1915.
Bill Novak of madison.comcontributed to this report.