Hundreds of UW-Madison students and professors marched through the university Thursday, protesting the recent arrest of a black student and racist incidents on campus, and accusing UW officials of doing more to protect the institution's image than they have to solve long-festering problems with its racial climate.
Up to 400 people gathered at the top of Bascom Hill at 11:30 a.m. Thursday, about the time one week earlier when a UW-Madison police officer entered a classroom to talk with Denzel McDonald, a senior who police say spray-painted several buildings with anti-racist messages. McDonald was later arrested on vandalism charges.
The arrest became another flashpoint for students and professors near the end of a semester in which the university was rocked by several high-profile, racially charged incidents.
Like their peers at colleges across the country, minority students at UW-Madison have pushed administrators in recent months for changes to improve their experiences on the predominantly white campus. They have also shared examples of racism they have encountered on social media under the hashtag #TheRealUW.
"How many times do we have to do this?" graduate student Michael Davis said at the start of the demonstration Thursday.
"The university wants us to believe that this is weird, it's rare," Davis said of racist incidents. "It's been happening since the inception of UW-Madison."
At Thursday's protest, students taped a list of demands to the statue of Abraham Lincoln at the heart of campus, calling for McDonald not to face criminal charges, for the officers who arrested him to resign and for students and faculty to wield control over the UW Police Department's hiring and firing decisions. The last demand echoes calls from local activists, some of whom helped organize Thursday's protest, for community control over police in the city of Madison.
Students also marched down Bascom Hill behind a "Black Lives Matter" banner, occupied College Library for about 45 minutes and shut down several intersections before ending their demonstration at the spot on Library Mall where McDonald was arrested last week. Several wrote messages of support for McDonald in chalk on the sidewalk.
Some of the students held signs repeating a message McDonald is accused of writing on a university building: "Racizm in the air. Don't breathe."
Chancellor Rebecca Blank acknowledged in a statement after the demonstration that "this has been a difficult and exhausting semester for our communities of color," and said she understands people are frustrated that changes haven't come more quickly.
But Blank also pushed back against the students' demands.
"Embedded in the student demands are requests for actions that I do not believe are reasonable, or even lawful, for me to take," Blank said. A UW-Madison spokesman said that included the students' call for McDonald not to face criminal charges and for the UWPD officers to resign.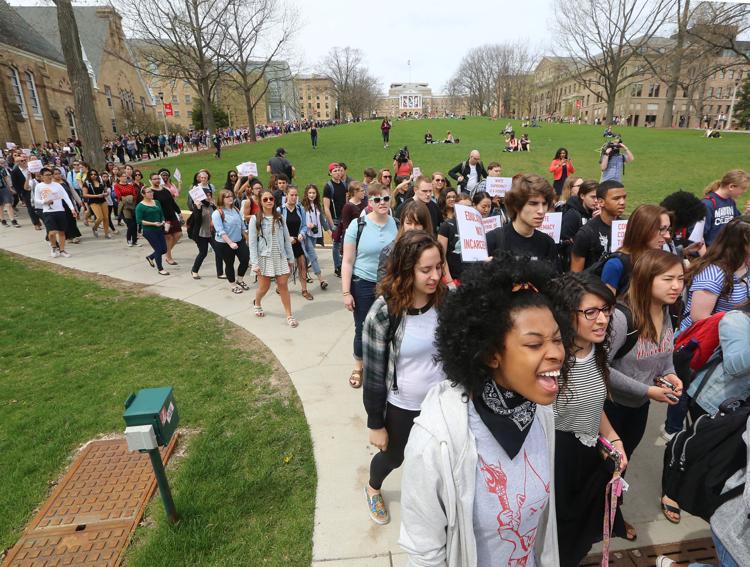 No decision on vandalism charges
Several speakers at Thursday's protest said they believed police went after McDonald more aggressively than they have other students involved in a string of high-profile incidents that have made news on the campus this semester, such as an Asian student who spat on and pushed a black student and her friends in a campus dorm in March. That student, Matthew Hsieh, was not charged criminally for the incident but received citations for underage drinking and disorderly conduct.
UW police have apologized for interrupting McDonald's class to make contact with him last week, but said his graffiti caused more than $4,000 in damage and officers had tried several times to contact him through other means before going to the class.
Police have recommended McDonald face 11 criminal charges for the graffiti, as well as a charge of disorderly conduct for threatening a bystander who tried to stop him from spray-painting.
The Dane County District Attorney's Office said Thursday that prosecutors have not made a decision on charges against McDonald, but said he has been tentatively scheduled to make an initial appearance in court on May 12.
Action or just talk?
Blank also defended the steps she said UW administrators have taken to improve the racial climate on campus. Officials plan to require cultural competency training for all new students starting next fall and will fund more mental health support services for minority students.
"UW–Madison is committed to fostering a campus environment where every student can learn, feels safe and valued and is able to thrive," Blank said. "We have not sat idly by as these problems have grown more difficult."
But many students at Thursday's protest criticized UW administrators — including Blank, Dean of Students Lori Berquam and UW Police Chief Sue Riseling — for what they describe as a tepid response to problems on campus that has prioritized the university's public image over real changes.
"They love to put us on brochures, they love to put students of color (and) black students on the webpage," Davis said. "But when we ask for student power there is no response."
The steps UW officials have announced are a good start, said African-American studies professor Michael Thornton, but the measure of the university's commitment will be whether administrators commit to funding programs that tackle long-standing problems with race.
"We've had this conversation for the last 20, 30 years," Thornton said. "What's disheartening, especially for students, is that the university talks a good game, but it really doesn't follow up on it."