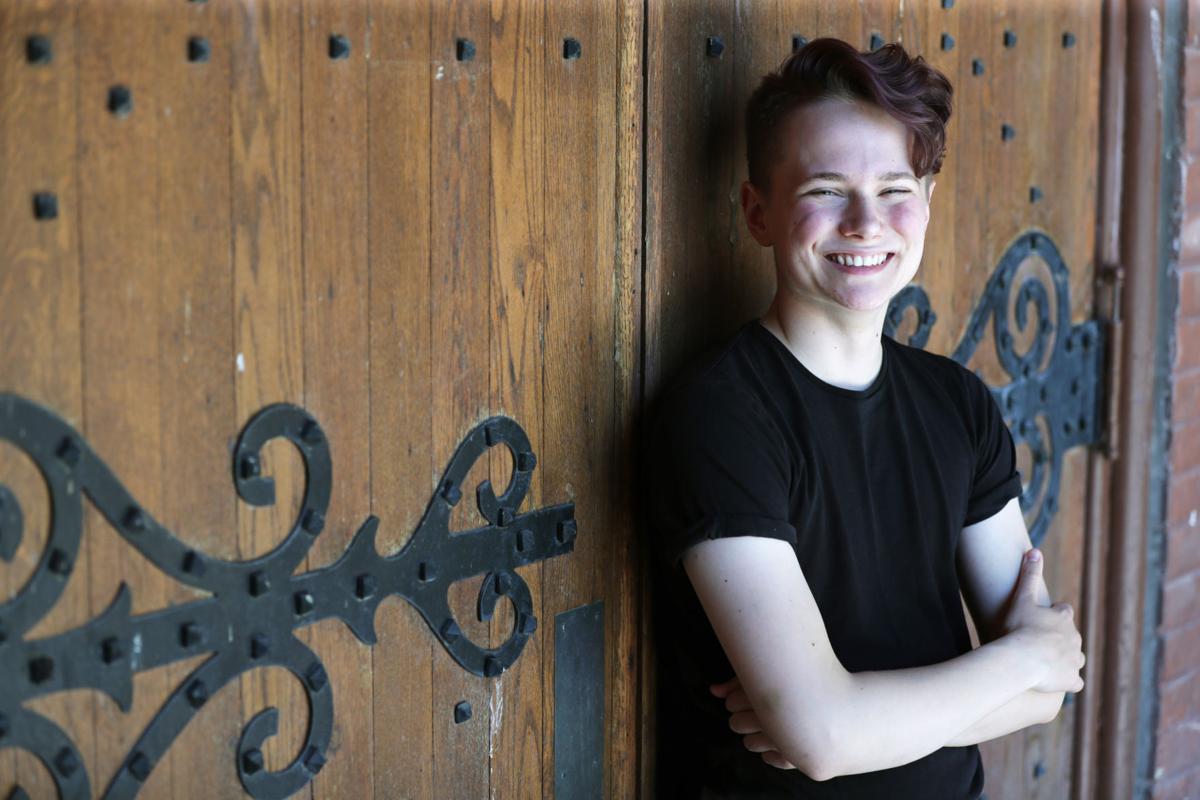 Adrian Lampron graduated from high school with a resume that included varsity athlete, Model United Nations team captain, city council campaign volunteer and student senate president.
But Lampron is most proud of the small signs installed outside six bathrooms and one locker room designating the spaces as gender-neutral. The bathroom campaign began sophomore year when Lampron struck up a conversation with an assistant principal and "basically kept talking and bugging him about bathrooms until the end of my senior year."
Lampron does not identify as male or female and came out in high school as non-binary, using they/them pronouns.
Pressure to add gender-neutral bathrooms had been building at the Minneapolis school for awhile — some transgender students relied on staff facilities that were only available by request — but Lampron said district officials were concerned about inciting backlash. Renovations were eventually made.
"It definitely gave me an introduction in how to deal with administration and bureaucracy," Lampron said.
Lampron will take the lessons learned in high school and apply them at UW-Madison, where the incoming senior was elected student government chairperson for the next academic year. The 21-year-old is believed to be the first non-binary individual to hold the position at UW-Madison, and among just a handful of college student leaders nationwide to identify as gender-neutral, according to the American Student Government Association.
Lampron shrugs off the historic nature of being elected to lead Associated Students of Madison (ASM).
"There's been a lot of other queer folks involved in ASM, so I don't know if it's super groundbreaking," Lampron said.
Lampron's attitude in some ways illustrates how widely accepted a more expansive concept of gender identity is on campus. Many students, staff and professors include their pronouns in email signatures and as part of their introduction at meetings.
A 2019 Pew Research survey found that young adults are much more comfortable with gender-neutral pronouns than older generations, and those in their 20s are also more likely to know someone who identifies as gender-neutral.
Recent efforts
Even as a culture war over LGBTQ rights heats up nationally, UW-Madison and colleges across the country for years have been making moves to accommodate the gender-neutral student population.
The Gender and Sexuality Campus Center, which supports LGBTQ students, outgrew its space in the Red Gym and has been relocated in a move that doubled its space.
Earlier this year, UW-Madison officials announced that students would now be able to indicate their pronouns on Canvas, the learning platform used by most instructors to post assignments and grades.
Lampron hasn't faced pushback when reminding others about preferred pronoun usage, but noted others who had different experiences. The student leader said the voluntary Canvas option was long overdue and will help reduce cases in which transgender or nonconforming students are referred to with pronouns that don't match their gender identity.
"It's about respecting people and seeing them for who they are," Lampron said.
UW-Madison is also offering for the first time this fall a new gender-inclusive dorm option where gender-neutral bathrooms are available and roommate preferences can be of any gender regardless of a student's assigned sex or gender identity.
The university map identifies more than 75 buildings with gender-neutral bathrooms. But some large academic buildings, such as Van Hise Hall and the Humanities Building, still lack such a space, sending Lampron and other non-binary students to nearby buildings.
A UW-Madison policy adopted in 2019 requires at least one gender-neutral bathroom in new buildings and in facilities that are renovated.
Overall, Lampron said UW-Madison "is better than average but definitely not where it needs to be" in regard to gender inclusion. For example, University Health Services has medical and mental health staff trained to work with LGBTQ students, but it also has a Women's Health Clinic that Lampron said should be renamed more broadly as a reproductive health clinic.
A look ahead
As Lampron looks ahead to the coming school year, equity will be on the student government agenda.
But the incoming chairperson appears willing to extend an olive branch, saying their leadership will inevitably differ from their predecessors.
Lampron fostered some positive relationships with administrators while leading an ASM committee on equity and inclusion in the 2019-20 school year. The political science and history major also comes into the position with a relatively rare understanding among student leaders about ASM's authority, or lack thereof.
"We don't really have that much power on our own," Lampron said. "We need key buy-in from administrators. I think it's important to think strategically, but you also need to establish a level of trust so when you have a hard ask to support students, maybe they'll listen."