UW-Madison will make its Super Bowl debut thanks to a canine cancer survivor and his appreciative owner.
A 30-second commercial featuring UW-Madison's School of Veterinary Medicine will air Sunday during the game's second quarter. WeatherTech, an automotive accessories, home and pet care products manufacturer, is footing the $6 million bill and also supplying the star talent — company founder and CEO David MacNeil's dog, Scout.
The ad has all of the elements needed for an uplifting, feel-good commercial: a furry friend confronted with a grim diagnosis, hard-working heroes, a happy ending and a plug to donate to the cause.
MacNeil, a dog lover who had lost three previous pooches to cancer, was devastated when an ultrasound identified an aggressive cancer on Scout's heart that left him with no more than a month to live, according to the university. A recommendation from a local veterinarian led MacNeil last summer to UW Veterinary Care, the school's teaching hospital.
Oncologist David Vail and other hospital specialists stabilized Scout's condition and came up with an aggressive treatment plan. Some of the faculty and staff will appear alongside the 7-year-old golden retriever in the commercial that follows Scout's journey to recovery.
The ad allows UW-Madison to showcase its research reputation to more than 100 million viewers during one of the most-watched TV programs in the country.
"We wanted this year's Super Bowl effort to not only raise awareness, but also financial support for the incredible research and innovative treatments happening at the University of Wisconsin School of Veterinary Medicine, where Scout is still a patient," MacNeil said in a university announcement. "We wanted to use the biggest stage possible to highlight Scout's story and these incredible breakthroughs, which are not just limited to helping dogs and pets. This research will help advance cancer treatments for humans as well, so there's the potential to save millions of lives of all species."
Viewers are encouraged to donate to the school's cancer research efforts at weathertech.com/donate. All funds raised by the commercial will be used to support research and purchase specialized equipment that will help clinicians better diagnose, treat and prevent cancers.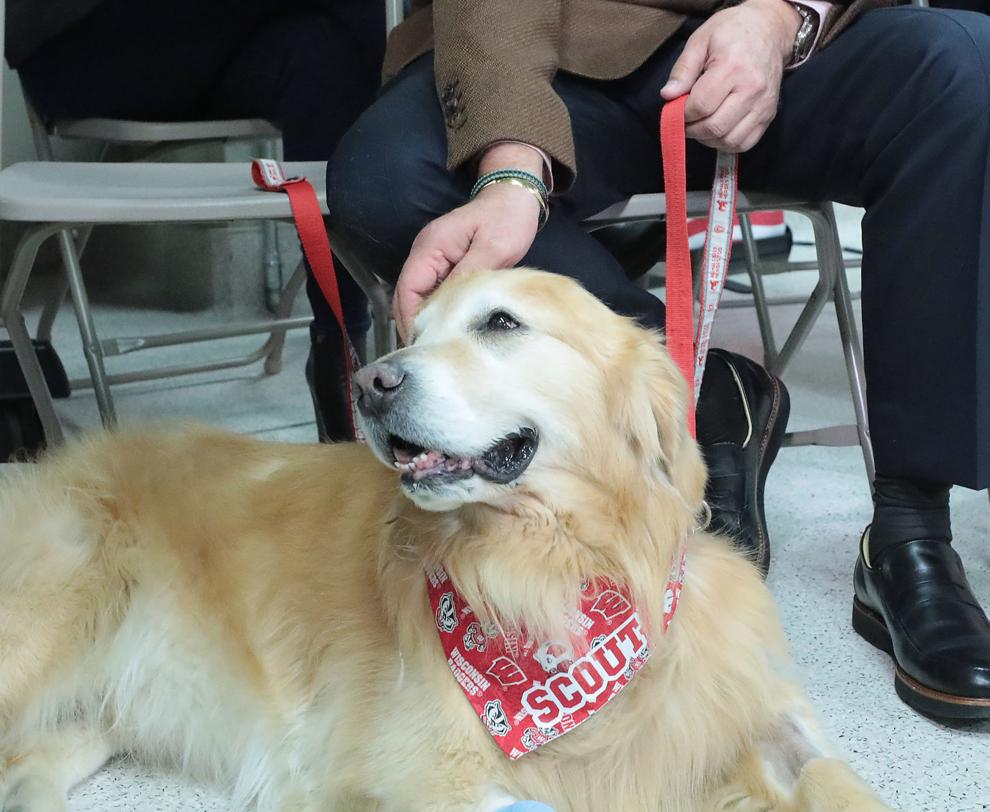 "So much of what's known globally today about how best to diagnose and treat devastating diseases such as cancer originated in veterinary medicine," School of Veterinary Medicine Dean Mark Markel said. "We're thrilled to share with Super Bowl viewers how our profession benefits beloved animals like Scout and helps people, too."
Dogs and people have similar cancer rates — about one in four dogs and one in three people will develop cancer in their lifetime. Naturally occurring tumors in dogs often share almost identical characteristics to human cancers in terms of recurrence and spread, response to treatment and more.
Three veterinary centers from across the country, including the UW School of Veterinary Medicine, are participating in the largest clinical trial of a veterinary medicine in history to test whether a vaccine could prevent many types of cancer in dogs — and eventually in humans. The five-year study began last year.
While the commercial airing on Fox marks UW-Madison's first time as the subject of a Super Bowl commercial, Scout is no stranger to the stage. He appeared in WeatherTech's Super Bowl commercial last year and also advertises the suburban Chicago-based company's pet products.
Chicago-based agency Pinnacle Advertising created the commercial, titled "Lucky Dog." Filming took place at the school and hospital in December.