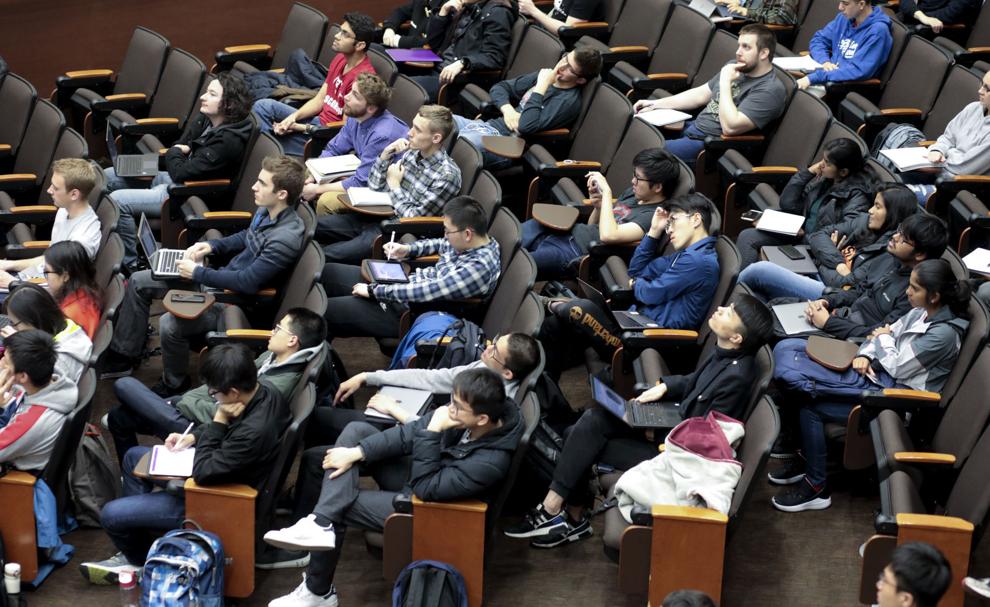 A series of Republican-backed bills would ban public schools, universities and technical colleges from teaching students and training employees about concepts such as systemic racism and implicit bias.
The draft bills introduced Thursday would prevent University of Wisconsin System campuses, state technical colleges, public K-12 schools and independent charter schools from teaching "critical race theory," which argues that racism is baked into social structures and policies.
The academic concept has made headlines in recent months as Republicans across the country have introduced bills banning schools from teaching what they consider to be divisive concepts about race and sex. At least 16 states are considering such bills or have signed them into law.
Among the bills' sponsors are Sen. André Jacque, R-DePere; Rep. Rick Gundrum, R-Slinger; and Rep. Chuck Wichgers, R-Muskego. They said they introduced the bills "at the request of the hundreds of parents who have talked to us in our districts about the growing concern of the materials being taught to their children in their primary and secondary schools."
Democratic Gov. Tony Evers would likely veto the bills if they reach his desk though a spokesperson did not respond to a request for comment on Thursday.
State Superintendent Carolyn Stanford Taylor, who is Black, said in a statement that the legislation would strip away local control of curriculum and that local school boards are best positioned to decide on which classroom materials will help students become critical thinkers.
The bills would ban eight concepts from the classroom, including that one race or sex is superior to another; a person is inherently racist by virtue of his or her race or sex; a person's moral character is necessarily determined by race or sex; a person should feel guilty for past acts committed by people of his or her race or sex; and systems based on meritocracy are racist or sexist or designed to oppress people of another race.
Schools that engage in such instruction would lose 10% of their annual state funding.
Jacque in an interview declined to offer any examples of specific classroom lessons he finds objectionable, saying he wanted to protect constituents who are public employees from repercussions. He later sent a link to a story written by MacIver, a conservative think tank, that included information about seven school districts with various diversity initiatives.
"Certainly there has to be a full discussion of the civil rights movement, of slavery, of Black history," he said. "It's moving from things that are a historical point of fact to what would be, I guess, a point of indoctrination. Things that have happened can certainly be discussed but to put forth a rationale as to why some things happened … there's a political agenda that comes into play at a certain point."
Those against the bill, including many educators and people of color, worry the bills would limit classroom conversations about the role of racism in U.S. history. On college campuses, there are also concerns about threats to academic freedom, the principle that scholars should be free to research and teach controversial ideas regardless of whether it offends a political party, business or sense of political correctness.
UW-Madison education professor Gloria Ladson-Billings, who has written about how critical race theory can help explain racial inequalities, chalked the bills up to a political distraction ahead of the 2022 election.
"This particular movement at the legislative level is a red herring, a way to gin up fear," she said. "It's a political move, a way to rally the troops. Critical race theory is not the problem. The problem is our suspension rates are disparate, our graduation rates are disparate, and who gets into advanced placement classes and who is placed in special education is disparate."
Jacque argues the bills would provide the public with more transparency by requiring colleges and universities to post all course syllabi to their websites. School boards would also need to post curriculums to district and school websites, as well as provide a free, printed copy to any individual who requests it.
The bills set up a complaint process for students and employees on UW campuses and at technical colleges. Individuals can also sue institutions and school districts for alleged violations.
UW System spokesperson Mark Pitsch declined to comment beyond saying staff are reviewing the bills. A spokesperson for the Wisconsin Technical College System did not return a request for comment.
Assembly Speaker Robin Vos, R-Rochester, said Thursday he hadn't read the bills, but that "the idea that we want to ensure that people are not ever instructed that one race is superior and another race is not seems to be something I think everybody in Wisconsin should agree with."
Contrary to what Vos is suggesting, critical race theory espouses that white supremacy is built into the nation's laws, but it doesn't promote one race over another.
"They are trying to bastardize this and frame it in a way that changes what critical race theory is," said state Rep. Lakeshia Myers, D-Milwaukee, who is Black and has served as an education director for the state Department of Corrections and as a student support coach in Milwaukee schools. "When you look at trying to erase history and couch it in a way to not hold people responsible, that's dangerous territory."
A spokesman for Senate Majority Leader Devin LeMahieu, R-Oostburg, didn't immediately respond to messages.
State Journal reporter Elizabeth Beyer and the Associated Press contributed to this report.
"Critical race theory is not the problem. The problem is our suspension rates are disparate, our graduation rates are disparate, and who gets into advanced placement classes and who is placed in special education is disparate."

Gloria Ladson-Billings, UW-Madison education professor