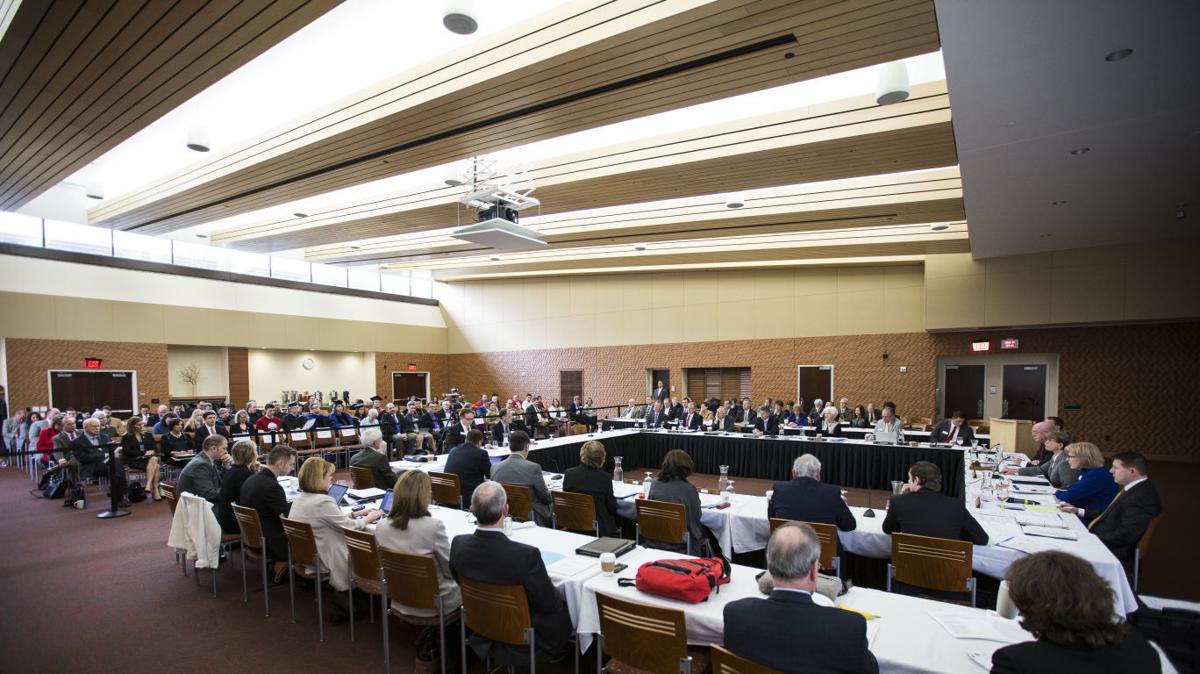 A slate of Republican-authored changes to the state budget includes new rules to ensure University of Wisconsin System chancellors can come from non-academic backgrounds and a requirement that lawmakers weigh in before any taxpayer money can be sent to UW- Oshkosh's troubled private foundation.
Those are two of 23 provisions the Joint Finance Committee approved Thursday in a wide-ranging motion that changed or approved pieces of Gov. Scott Walker's executive budget for the UW System.
The most significant changes to Walker's budget involved removing his proposal to cut tuition for in-state UW students by 5 percent in the 2018-19 school year, and reducing by about $7 million the amount of new funding the System stands to receive in the 2017-19 biennium. The committee instead voted to keep UW System tuition frozen through the 2018-19 school year, continuing the cap that has been in place since 2013.
System President Ray Cross wrote in a statement that he has "concerns with some of the provisions" in the budget, though he did not specify what they were. Cross said the "vast majority" of UW's requests were approved.
Chancellor rule: The budget would bar the Board of Regents from enacting any rule that requires chancellors of UW institutions or the System's president to be tenured faculty members or those who hold terminal degrees such as doctorates.
It's not clear, though, whether the System has any such rules on the books, or if the budget change is meant as a preemptive move. A System spokeswoman did not provide an answer Friday to an emailed question about existing UW policies.
The change was not mentioned during the committee's two-and-a-half-hour hearing on the UW budget, but seems aimed at ensuring System leaders could come from the worlds of business or politics, not just academia.
Examples of that approach include the University of Iowa, whose president, Bruce Harreld, worked as a business consultant and executive, but had no higher education experience — a fact that rankled faculty members, according to the Chronicle of Higher Education.
UW-Oshkosh Foundation: As UW officials consider a settlement deal that could use System money to pay the creditors of the UW-Oshkosh Foundation, another budget provision would require approval from the Joint Finance Committee to transfer any money to the private nonprofit.
You have free articles remaining.
Two former UW-Oshkosh officials approved guarantees pledging the university's credit on millions of dollars' worth of foundation loans for various building projects on and around the campus. Those guarantees were illegal, according to System lawyers who are now suing the former officials, but they could mean that UW is left on the hook for the foundation's debts.
System leaders said last week they are in "preliminary discussions" on a settlement.
The Milwaukee Journal Sentinel reported in January that the foundation was considering bankruptcy, and had $14.5 million worth of debt.
Tommy Thompson Center: A new research and leadership center at UW-Madison named for former Gov. Tommy Thompson would have to spend at least $500,000 over the next two years to bring speakers to UW System campuses under the budget changes.
Committee members agreed to provide $3 million in total funding for the center, which Republican lawmakers and UW officials announced on Tuesday.
Democrats have raised concerns that the center could produce right-leaning research, and noted its board of directors would be almost entirely made up of Republican appointees.
Supporters say it will fund nonpartisan faculty research into government and public policy, improve connections between academics and state lawmakers and inspire the next generation of leaders by inviting engaging speakers.
One of the lawmakers who pushed to create the center — Assembly Speaker Robin Vos, R-Rochester — has complained that UW institutions don't invite enough guest lecturers from the political right, and has said he believes conservative ideas aren't presented fairly on college campuses.
Other pieces of the budget include:
Providing $10,000 for the UW System to "review and revise policies related to academic freedom." Walker proposed that funding in his executive budget.
Requiring the System to contract with a private accounting firm for an audit of financial statements.
Authorizing the creation of a new engineering school at UW-Green Bay.
Requiring the System to standardize how it classifies different types of student fees. Students are charged segregated fees for a variety of services, but how the fees are classified often varies between campuses, lawmakers said.