Former U.S. Sen. Herb Kohl's foundation announced Sunday a $10 million donation to UW-Madison's La Follette School of Public Affairs — the largest gift in the school's history.
JoAnne Anton, director of Herb Kohl Philanthropies, made the announcement to graduates, their parents and faculty at the school's commencement ceremony in the Assembly Chamber at the state Capitol. As soon as she said "$10 million," gasps and murmurs of excitement flitted throughout the room.
Susan Webb Yackee, La Follette School of Public Affairs director and professor, exclaimed, "Wow," to laughs of agreement from the audience.
"We're so appreciative of this amazing investment," she said. "We promise to be good stewards of these funds."
Fifty-one students received their master's degrees in public affairs or international public affairs at the ceremony.
Afterward, Kohl, who represented Wisconsin in the U.S. Senate from 1989 to 2013, said it was not a hard decision for him to give such a large contribution to the school. He said he keeps up with the school's activities and research, and has been an "interested observer" for several years.
"I think it's a very important institution … and it needs support," Kohl said. "I wanted to make a significant contribution."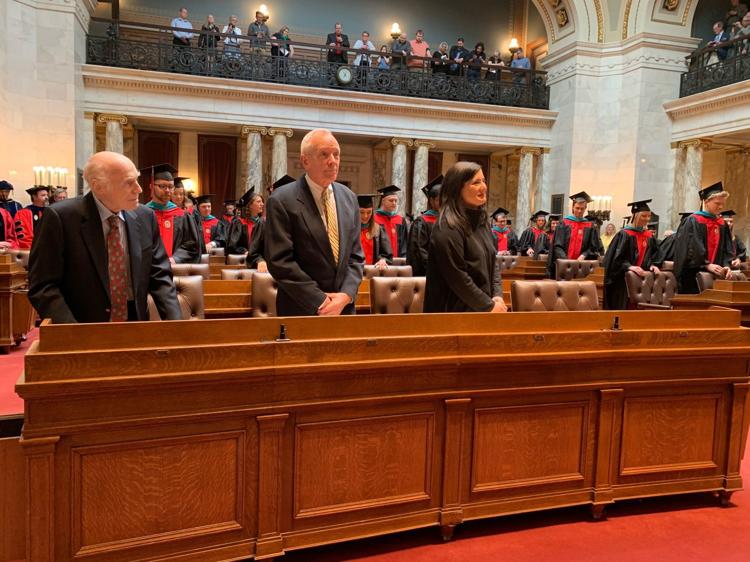 Kohl is a Milwaukee businessman and philanthropist who owned the Milwaukee Bucks and Kohl's, a chain of department and grocery stores. He also provided the lead donation for the Kohl Center arena at UW-Madison.
His donation to the La Follette School of Public Affairs, called the Kohl Initiative, will allow the school to educate more students, support undergraduate internships, fund more research, expand partnerships with nonpartisan organizations, host conferences, and teach more high-demand classes.
Kohl said he had spoken with Webb Yackee and UW-Madison Chancellor Rebecca Blank about the donation on several occasions.
You have free articles remaining.
Register for more free articles
Stay logged in to skip the surveys
Blank was not at the ceremony but said in a statement that the funds will help the school expand its impact in Wisconsin and the nation.
"Senator Kohl has shown lifelong dedication to UW-Madison, and this gift will provide tremendous opportunities for our students, faculty, staff, and community," Blank said.
Former Wisconsin Gov. Jim Doyle, who was the keynote speaker at the ceremony, called Kohl a "humble warrior" who has helped thousands in the state and fights to do the right thing.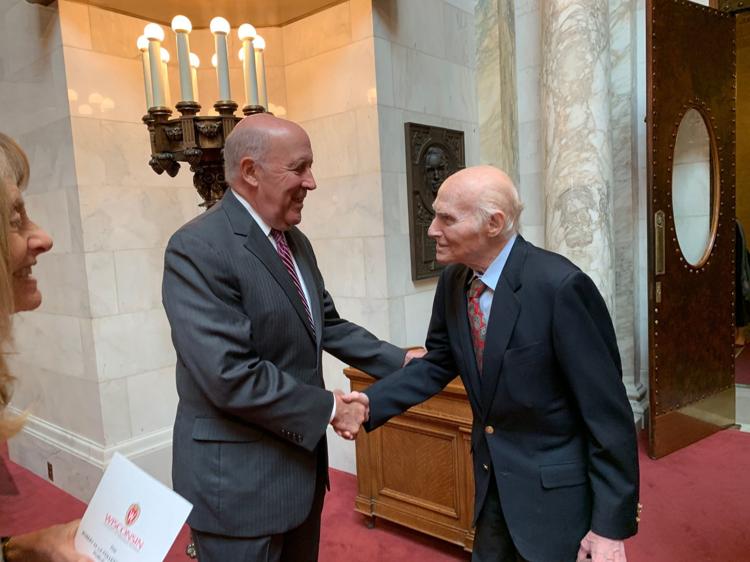 In 2016, Kohl made a $1.5 million contribution — the largest gift the La Follette School of Public Affairs had previously received — that funded the creation of the Herb Kohl Public Service Research Competition. The program funds collaborative student-faculty research into public policy and evidence-based solutions. The new funds also will extend the competition.
Anton said she, Kohl and everyone at his foundation are "big fans" of the school. She lauded the research and public service that graduates have contributed.
At the ceremony, three students were recognized for outstanding achievements — Benjamin McBride for his academic record, Abigail Swetz for her paper "Ending Child Sex Trafficking" and Tyler Gross for his paper "Closing the Digital Divide."
"We know that La Follette is preparing leaders that are going to make a difference in other people's lives," Anton said.
Doyle said he hopes the school's graduates can help solve some of the problems facing society, including those within the criminal justice system and the health care system, immigration and environmental protections.
"More than ever we need bright minds. We need people with good, solid educational backgrounds. We need people with strong values," Doyle said. "La Follette grads, you have work to do."