Whatever reasons drive someone in the pursuit of higher education, former Major League Baseball Commissioner Allan "Bud" Selig urged UW-Madison graduates Sunday to "dream big dreams, limitless dreams, because only then can you reach your full potential."
To a crowd of thousands at the Kohl Center for the university's fall semester commencement ceremony, Selig recalled his dream of living a "baseball life" that led him to founding the Milwaukee Brewers in 1970 and leading the MLB as its top executive for more than 20 years.
On his last day as commissioner in January 2015, the UW-Madison alumnus said he was addressing baseball writers at an event in New York and told them an impromptu thought: "This is the story of a little boy's dream that came true."
"If it happened to me, it can happen to you," Selig, 84, said to the graduates.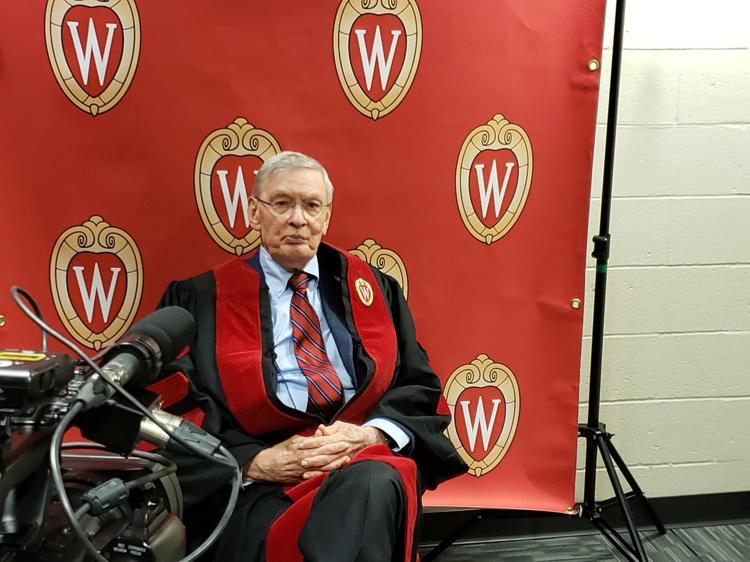 About 1,300 students took part in Sunday's ceremony with family and friends putting the attendance inside the Kohl Center at nearly 8,000 people. About 3,300 students are expected to be awarded a degree this semester. Those who graduate in the fall can either participate in the December ceremony, the larger spring semester commencement or both.
"December graduates are an interesting group, some of you took a little more time to reach this milestone, and some of you took a little less time, and some of you have overcome some enormous obstacles to get here," Chancellor Rebecca Blank said.
Eliza Godfrey, 21, of Highland, participated in the ceremony Sunday after earning a bachelor's degree in psychology and a certificate in educational services with the goal of attending graduate school.
"I want to be a school psychologist to address inequities in education and help distribute mental health services to rural communities in particular," Godfrey said.
You have free articles remaining.
Thanks for visiting our newly updated site!
njoy unlimited articles FREE for a limited time by signing up or logging in. No credit card required.
As the selected student speaker, Jamie Dawson shared her experience as a first-generation college student. Dawson, of Tampa, Florida, spoke about how her great uncle transformed his garage into a space for Dawson and her mother to live in when they had nowhere else to go. Dawson said the man who took her to church and taught her to sing became an inspiration for her. She received a bachelor's degree in Afro-American studies and psychology.
"Your uniqueness is an asset, embrace your story, your voice, your creativity," Dawson said.
Blank offered three pieces of advice to the degree earners. First is to focus on communicating well.
It is easy to collaborate with people like yourselves, Blank said, but "the challenge is working with people not like you."
"But I don't want to sound too optimistic, there are some chasms that can't be crossed. Wisconsinites will never understand why Minnesotans love the Vikings," Blank joked. "Some of our students from the east and west coasts will never understand the appeal of a deep-fried cheese curd on a cold Wisconsin night."
"Third, when you face challenges in painful moments, learn from them," she said.
Selig, who earned a bachelor's degree in political science and history from UW-Madison in 1956, co-teaches a seminar in the history department on baseball and society since World War II. Reflecting on the present, Selig said "we're living in difficult and uncertain times," but the education UW-Madison graduates received "has prepared you with the knowledge and character to confront these issues."