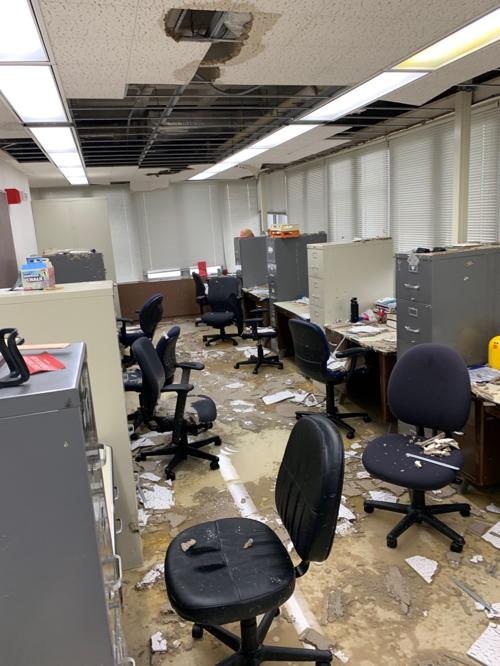 Flooding from broken water pipes damaged UW-Madison's Vilas Hall and Chemistry Building over the weekend, closing both buildings and forcing classes to be relocated.
University spokeswoman Meredith McGlone said Sunday a pipe burst overnight inside a stairwell of Vilas Hall, 821 University Ave., sending water throughout several floors of the communications building and damaging classrooms, offices and studio space.
On Friday, a water main break at the Chemistry Building, 1101 University Ave., largely affected the first floor, basement, sub-basement and elevators.
Both buildings were closed Sunday to most students, faculty and staff, McGlone said.
Classes in those buildings will need to be relocated Monday and Tuesday. Students and faculty are asked to check their university emails for where the classes will take place. Many chemistry laboratory components have been canceled for Monday and Tuesday.
McGlone said a burst pipe in a stairwell between the sixth and seventh floor of Vilas Hall caused damage across the lower levels. She said the university did not yet have a dollar estimate on the damage. It was discovered early Sunday after a fire alarm was triggered, sending the Madison Fire Department to the building, she said.
The cause of the burst pipe has yet to be determined, but the assumption is the sub-zero temperatures followed by a rapid thawing in the past few days might have weakened the pipes, McGlone said.
Work on removing water from the Chemistry Building was ongoing since the water main break Friday afternoon, she said. It caused damage to some chemistry laboratories and prompted the building to be evacuated.
Vilas Hall is home to the university's Department of Communication Arts, School of Journalism and Mass Communication, Department of Theatre and Drama, The Daily Cardinal student newspaper and other media- and communication-focused programs.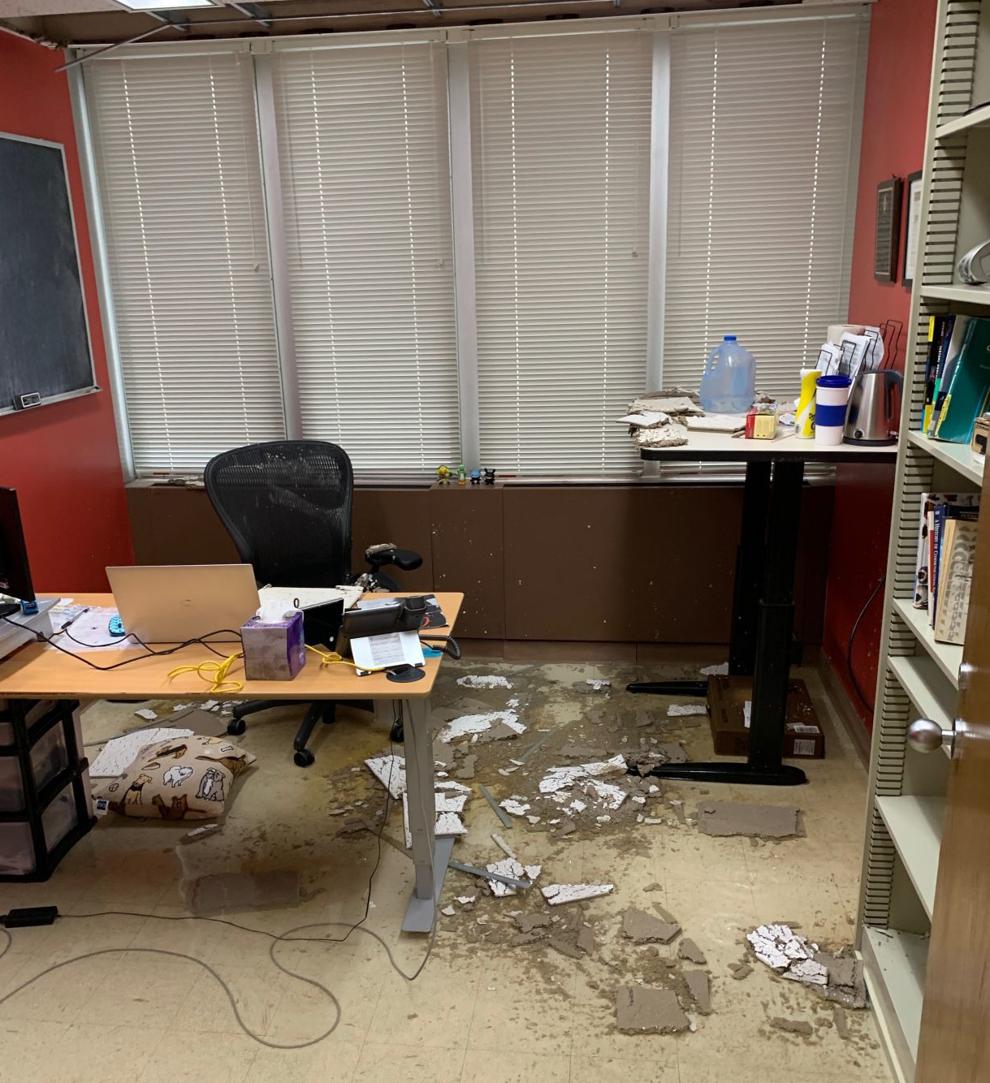 Public TV, radio
The building also houses offices and studios for Wisconsin Public Radio and Wisconsin Public Television, both of which were continuing to broadcast.
The impact of the flooding on those operations is being assessed, but water has affected some studios and offices for WPT, said Gene Purcell, director of Wisconsin Public Media, which is the parent organization of WPR and WPT.
"Right now, our operations aren't dramatically affected," Purcell said. "We're going to stay on the air, that's for sure. It's just a matter of what that looks like and where we're broadcasting from."
WPR, which has offices and studios at the top of Vilas Hall on the seventh floor, was minimally affected and remained broadcasting Sunday, he said.
Despite having offices and studios scattered throughout Vilas Hall, WPT's broadcasting happens at the Educational Communications Board building, which is off the Beltline near the UW Arboretum, Purcell said.
"We know there is some water in some of those, but we haven't fully evaluated what that looks like," Purcell said of the WPT facilities located on the first, second, third and seventh floors of Vilas Hall.
'Days behind'
Across the School of Journalism and Mass Communication on the fifth floor, broken, water-logged ceiling tiles dotted desks, couches and computers, and there was standing water throughout most of the floor.
Journalism professor Mike Wagner said he expects he won't be able to conduct experiments in the Physiology and Communication Effects Lab that he runs, which could impact a graduate student who hopes to use physiological data in a dissertation.
"It's especially tough for the classes that need to have lab meetings as they will be days behind, at minimum, given the building closure. But, it will be a good lesson in how reporting and engaging in strategic communication often is done while improvising," Wagner said.
Students with questions about accessibility over relocated classes can contact the university's McBurney Center at mcburney@studentlife.wisc.edu.