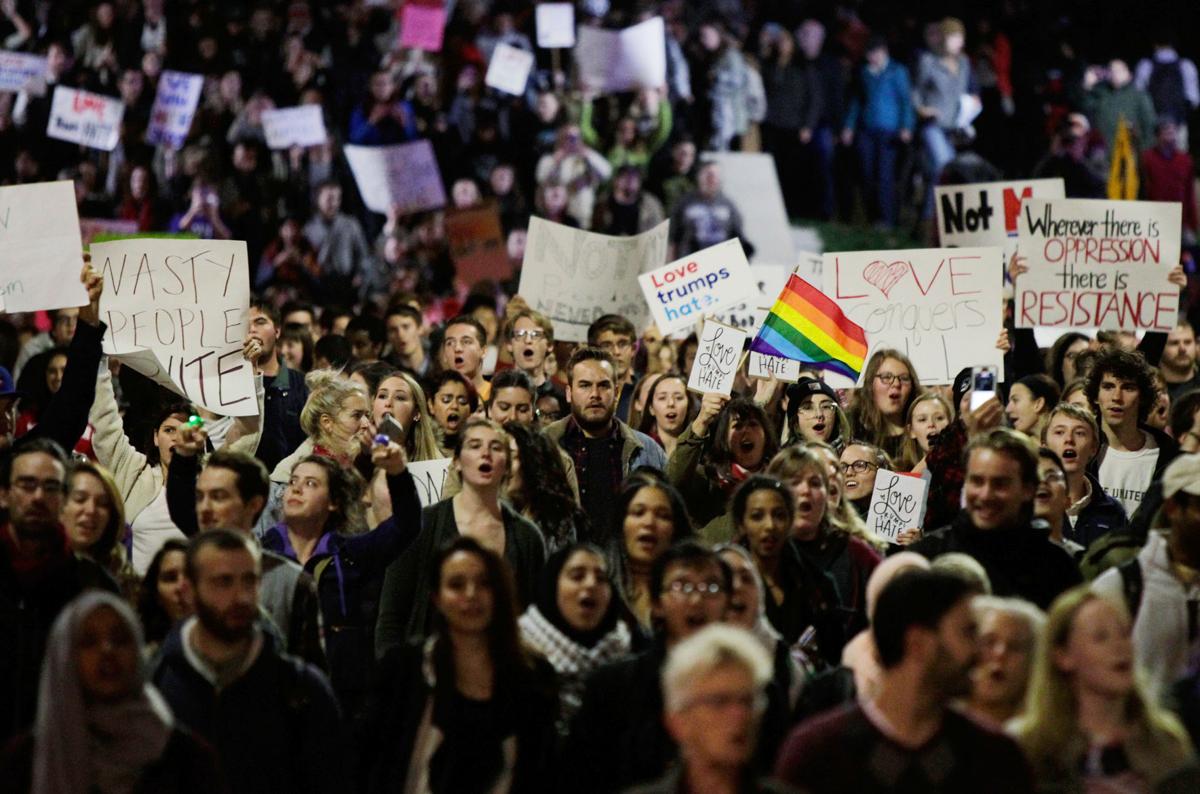 First Amendment watchdogs say a Republican bill that would require University of Wisconsin System officials to punish students and employees who interrupt speeches could help address what they see as growing hostility to opposing ideas among some on college campuses.
But they also say aspects of the legislation take that goal too far, and are calling on lawmakers to dial back mandatory punishments for students involved in disruptive protests, prohibitions against broad categories of speech and language that tells universities not to weigh in on political controversies.
The Campus Free Speech Act, as the bill is known, was circulated for co-sponsorship last week. Its authors — who include the Assembly's Speaker and the leaders of the Legislature's higher education committees — say the bill is meant to preserve the free exchange of ideas at universities, and was spurred by recent high-profile protests at colleges across the country against conservative speakers.
The legislation would direct the UW Board of Regents to create a free speech policy that requires campuses to be open to all invited speakers, as well as rules for disciplining students or others affiliated with a university who interfere with free expression, such as by interrupting a speech.
The bill borrows many of its provisions from model legislation drafted by the conservative Goldwater Institute of Arizona. Lawmakers have proposed similar bills in North Carolina, Virginia, Tennessee and North Dakota, according to the Chronicle of Higher Education.
Gov. Scott Walker signaled support for the bill during an appearance on WISN-TV Sunday, saying people on college campuses should not be able to "shut down" others with whom they disagree.
Democrats say the legislation is unnecessary, and have along with UW officials noted that disruptive protesters can already face university discipline and even criminal charges under existing laws and policies.
Joe Cohn, legislative and policy director at the Foundation for Individual Rights in Education — a national civil liberties group that tracks college speech policies and worked with Rep. Jesse Kremer, R-Kewaskum, to draft the bill — said the proposal is a necessary step to ensure open debates at universities.
"People have the right to criticize any speaker or any idea, but you don't have the right to prevent other people from hearing those points of view because you don't like them," Cohn said. "And schools shouldn't be passive and just ignore it when people act like mobs."
Call to alter punishments
The American Civil Liberties Union of Wisconsin — which at the national level last week defended conservative commentator Ann Coulter's planned speech at the University of California-Berkeley — took issue with mandatory discipline spelled out in the bill. Universities would be required to hand down suspensions of at least one semester to students who violate the policy twice, and could expel them.
Such a requirement is "unnecessarily draconian and actually chills the potential exchange of ideas that controversial speakers provoke," said Larry Dupuis, legal director for ACLU-Wisconsin.
Cohn also questioned that provision, saying FIRE believes lawmakers should "use a light touch" and let universities tailor discipline based on the severity of a student's conduct.
"Some forms of heckling … don't necessarily need to be treated with the same severity as the person who assaulted a professor," Cohn said, referring to a protest at Middlebury College in Vermont that turned violent.
He also said lawmakers should change a section of the bill that listed types of speech that would be prohibited. The legislation bars "violent, abusive, indecent, profane, boisterous, obscene, unreasonably loud or other disorderly conduct that interferes with the free expression of others."
Cohn said profane and boisterous speech are protected under the First Amendment, and that the description of "abusive" speech is too broad.
"That's just unconstitutional," he said.
But, Cohn added, "I feel good that before this bill is passed, I think those changes will be made."
Political stances
Free speech advocates also questioned a section of the bill that appears to tell UW officials not to take political stances.
Two of the bill's authors, Kremer and Rep. David Murphy, R-Greenville, have said the section is meant to prohibit UW institutions from requiring that students or employees agree with certain viewpoints, and does not seek to stop universities from lobbying on issues such as the state budget. But another author, Assembly Speaker Robin Vos, R-Rochester, said he believes UW institutions should not take political stances.
Cohn noted the legislation says universities must only "strive to remain neutral" on political topics, and doesn't explicitly bar political activities.
UW-Madison professor emeritus Donald Downs, a First Amendment scholar who helped draft a 2015 Board of Regents statement on free expression, said he appreciates that the bill seeks to protect controversial speakers and open debate. But Downs said he is wary of using state law to accomplish that goal, and of telling UW officials their institutions can't officially comment on issues.
"It's a good idea for the university to be neutral, especially when it's an issue that has nothing to do with the university," Downs said. "But to make this a formal part of legislation, I think that could be an issue."