Fewer Wisconsin high school students are filing for federal financial aid this school year in what education experts fear is a sign that some students are putting college plans for fall on hold, or abandoning those dreams altogether.
Filing the Free Application for Federal Student Aid, or FAFSA, is an important step in the college planning process because it determines eligibility for federal grants, loans, scholarships and work-study funding.
Roughly three months into the financial aid application cycle, the number of Wisconsin high school seniors who have completed the FAFSA is down 13% from the same time last year, according to U.S. Education Department data analyzed by the National College Attainment Network (NCAN), a nonprofit trying to close equity gaps in higher education.
The decline is even worse at schools that serve a large number of low-income students and students of color.
MorraLee Keller, a former financial aid coordinator who works as NCAN's director of technical assistance, said Wisconsin's data mirrors what's happening nationally and is yet another repercussion of the COVID-19 pandemic. With many schools operating online or in a hybrid format, sustaining students' attention in class is already a challenge. Then consider all of the steps a school typically takes in shepherding students onto college.
"They have to get you engaged in classes, then engaged with a school counselor, then engaged with the idea of going to college, then engaged with submitting college applications and then engaged with FAFSA," Keller said. "If you envision all of those sequences, in many cases all of them having to occur virtually, the engagement level is really difficult. How many hours a day can a student be engaged with their screen?"
The sharp drop in submissions this cycle follows what was already a bruising enrollment year at many colleges and universities across the country. The National Student Clearinghouse reported an "unprecedented" 13% decline in freshman enrollment compared to fall 2019, with the largest declines affecting public two-year institutions.
From Oct. 1 — when the FAFSA became available — through Jan. 8, about 29% of Wisconsin high school seniors, or a little fewer than 21,000 students, completed the form. The completion rate ranks 33rd in the country, according to NCAN data.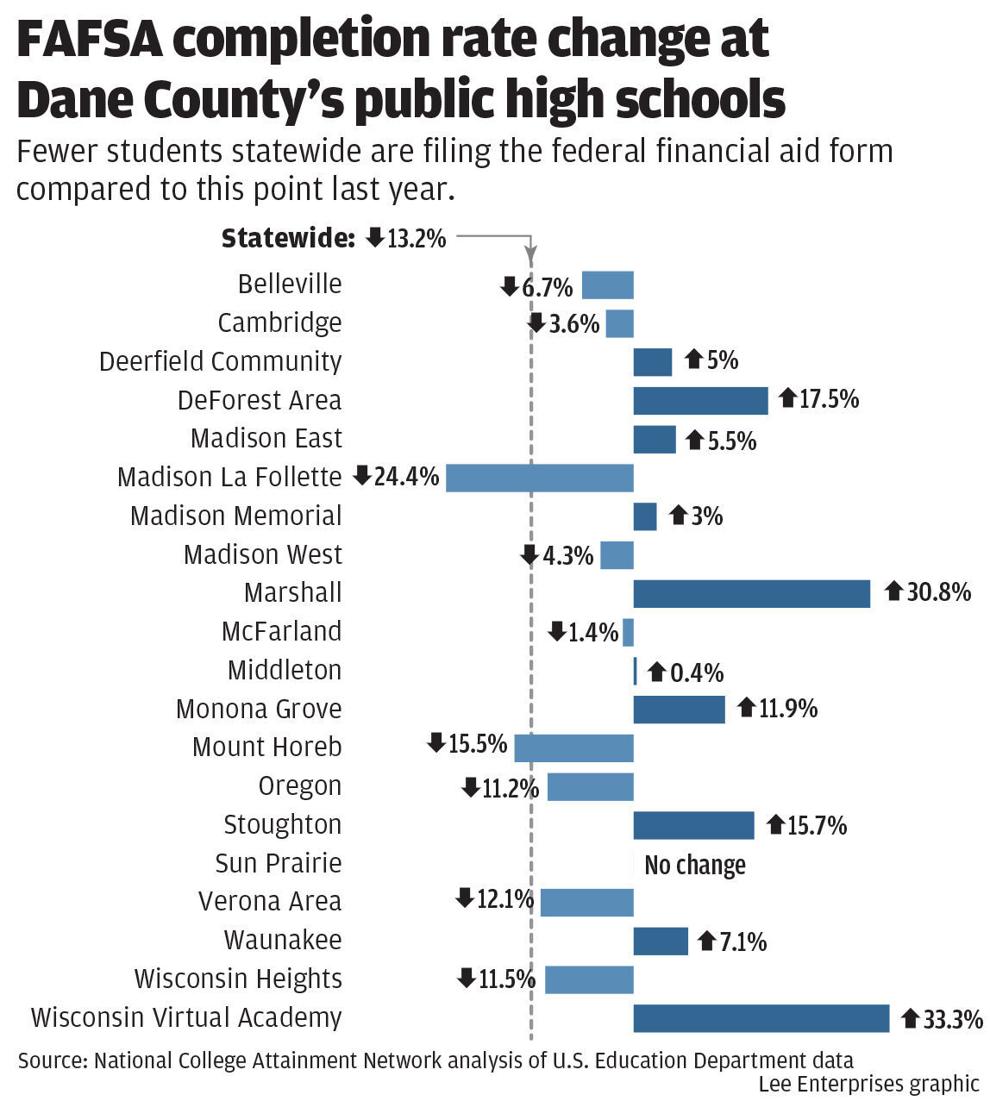 "If you're not seeing your guidance counselor, hearing daily announcements about filing the FAFSA, receiving reminders about filling out scholarship forms, I think we probably have a lot of students unsure about what steps to be taking," Keller said.
Completing the form can unlock thousands of dollars in aid, helping kick-start conversations about college plans. But experts say the students most in need of help are least likely to apply for it. The tedious form can be daunting, especially for students who will be the first in their families to go to college, come from a low-income household or have parents who are not native English speakers.
College Goal Wisconsin, a statewide group helping students through the financial process, held FAFSA nights at high schools across the state before the pandemic. The events were attended by well over 1,300 students and families, whereas online sessions this past fall brought out a couple of hundred, said Kim Pick, secretary of the group's executive board.
Less contact
The Madison School District moved its outreach online and by phone, said Mindy Willard, the district's school counseling coordinator.
Counselors created "senior launchpads" on their websites, where students could access how-to videos, informational links and a checklist of tasks to be completed before graduation. The district also has regular social media blasts and a monthly newsletter with reminders that mention the FAFSA.
"Kids typically have access to their counselor down the hall," Willard said. "Being virtual just adds another layer. (Counselors) are still accessible but not as accessible as 'let me just walk into their office.'"
In normal years, the district's FAFSA completion rate has been 45 to 50%, she said.
NCAN data shows the districtwide completion rate is down about 6% from this time last year.
Viral roadblocks
The troubling trend reflects how the pandemic scrambled students' postsecondary plans, Willard said. More are working to support their families. Others are unsure about enrolling if their college experience remains mostly online. For example, counselors heard last spring from many students who decided to defer college for a year or two after learning their school would operate remotely.
Sometime in the next few weeks, the district expects to receive student-level data on FAFSA completion from the state Department of Public Instruction, a relatively new tool the agency will provide districts. The information will help counselors target their outreach to specific students, she said.
Another complication in this year's cycle is that students will use 2019 tax information, which may not capture a job loss or pay cut in 2020. Students can appeal to their college's financial aid office after they are accepted.
'Moving target'
Counselors encourage all students, regardless of income level, to file a FAFSA. Even if a student is ineligible for federal aid, some schools and states rely on the form for their own scholarships and grants.
One sign of hope, Keller said, is that FAFSA completions have picked up slightly in recent weeks, somewhat closing what was an even larger gap reported in the fall.
"For a lot of students, there's this constant moving target of what going to college will look like next year," she said. "We feel like there's a lot of students in 2021 who are in wait-and-see mode."
---
Photos of the year: A look back at the Wisconsin State Journal's top photos of 2020