Right next to the three-drawer storage container filled with packs of ramen noodles sits a bowl of cat food. On top of the twin-size sheets are cat toys. And underneath the shelf holding the microwave is a kitty litter box.
Inside Unit #5 of Edgewood College's Siena Hall is a two-bedroom apartment junior Riley Culver shares with a roommate and Frankie, her 6-year-old tabby.
Move-in at the college took place over the weekend, bringing many of the college's roughly 1,200 undergraduates back to campus — along with several furry friends for the first time in the school's history.
Shower caddies, laptops and wall tapestries are all common fixtures of campus life. Catnip, kennels and dog treats? Not so much.
But upperclassmen living in one of the college's three apartment buildings have the opportunity to bring their critters to campus.
Edgewood College is starting small with Siena Hall, a 10-unit apartment building along the shore of Lake Wingra that originally housed the college's nuns. Dormitories for freshmen and sophomores still do not allow family pets.
Officials decided last year to offer the perk to juniors and seniors in response to repeated requests from students over the years, according to Claire Mand, director of residence life. It's also a relatively low-cost amenity the college can offer to compete with what students can find off campus.
"While we can't build a pool on the roof, we can allow students to bring their pets," Mand said.
Edgewood College senior Derrick Byrne lived last academic year in an off-campus apartment building that allowed dogs. But after the college announced last fall that Siena Hall would be pet-friendly, he decided to move back on campus.
Byrne enjoys taking Bailey, his 1-year-old English shepherd, for walks along Lake Wingra.
"A lot of my friends are excited to meet her," Bryne said.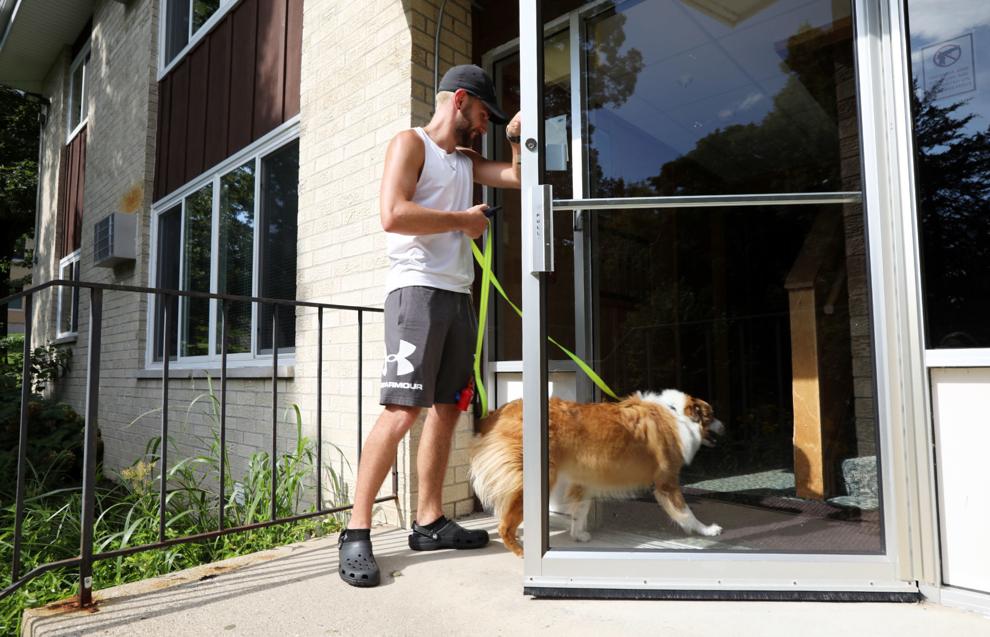 In this first year, the college is allowing cats, dogs that are under 40 pounds and over 1 year old, and fish in a 10-gallon tank or smaller. Other animals may be approved on a case-by-case basis.
The college's newly devised pet policy is four pages long and intended to address a wide range of concerns that the Edgewood community had when the policy was announced, Mand said. Those include allergies, damage to furniture, animal emergencies and inadequate cleanup.
Pet owners must supply veterinarian and vaccination information, as well as identify a "back-up" home for the animal to live in during academic breaks — or if Edgewood isn't a good fit. Human roommates must sign off on the arrangement.
Dogs must be housebroken and kept on a leash when walked outside. Residence life staff conduct at least one inspection each semester for fleas, ticks and other pests.
Students are responsible for making sure their pets don't violate quiet hours. There's a two-week grace period for students to get their animals adjusted to campus life.
Growing trend
Across the country, a small but growing number of colleges and universities are adopting pet-friendly policies.
Southeast Missouri State University allowed students to bring their feline or canine companions to their dorm rooms beginning last academic year. Others include the Massachusetts Institute of Technology, Pfeiffer University in North Carolina, the University of Northern Colorado, Eckerd College in Florida, and Stephens College in Columbia, Missouri, according to a 2018 Washington Post story.
But the Post also reported at least one school that tested its pet program, Lincoln Memorial University in Tennessee, decided to abandon it after two years.
At Wisconsin's two largest universities, family pets aren't allowed.
UW-Madison housing prohibits pets other than fish in a 20-gallon tank or smaller, according to university housing spokesman Brendon Dybdahl. Approved emotional support or service animals are also allowed.
In university-owned apartments geared toward graduate students and faculty, a few other small pets are allowed, including caged birds, lizards, gerbils, frogs and hedgehogs, he said.
At UW-Milwaukee, only service animals are allowed in campus buildings, spokeswoman Michelle Johnson said.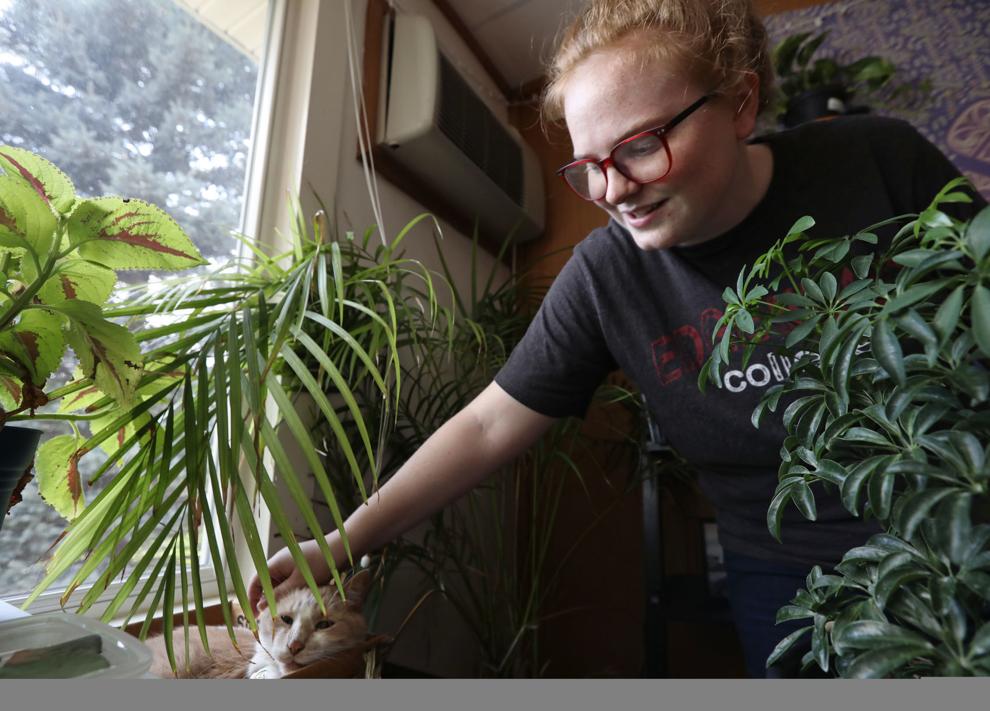 Source of comfort
Just a handful of Siena Hall tenants have brought their pets to campus so far, but officials said they anticipate more students to take advantage of the perk this year.
Mand said it was too early to say whether Edgewood College would expand the perk to other apartment buildings or dorms.
About 475 students, including Culver, live on campus this year.
"Feel free to make yourself at home," she told a State Journal reporter and photographer.
Frankie sure does. The cat soaked up sunshine in a cardboard Staples box near the window for most of the visit.
Culver, a mathematics major, lived in a dormitory during her first two years on campus. Apartment-style living has been a welcome transition, with more privacy and space. The fact that Culver could bring Frankie from her family's home in Windsor was a bonus.
Siena is the oldest of the college's three apartment buildings and lacks central air conditioning. Because of that, it's typically less popular with students, Culver said. But students reconsidered its merits when the hall went pet-friendly.
Culver works at the mental health clinic on campus, a job she says can be taxing on her own well-being.
"Coming back here, it's nice to see Frankie," she said. "He can comfort me after a stressful day."