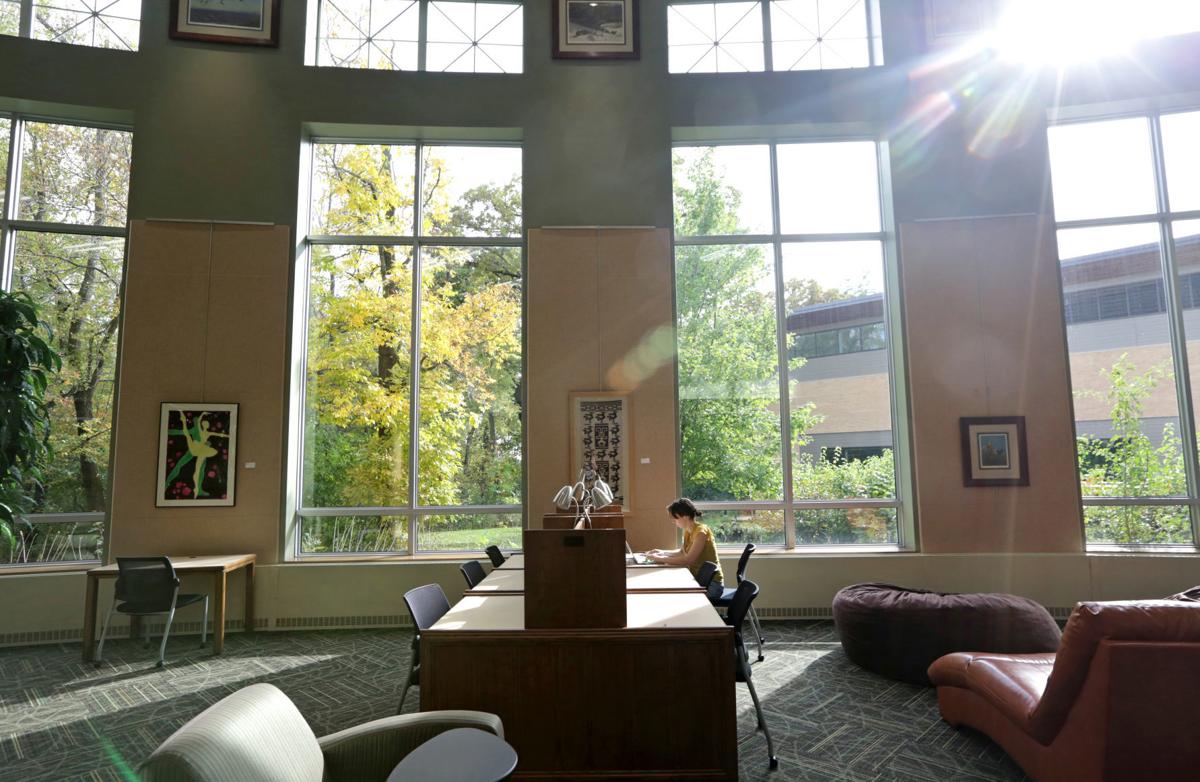 Edgewood College offered buyouts to more than three dozen faculty members earlier this academic year in response to a decline in student enrollment.
The college will cut about 30 full-time positions, or about 5% of its 600-person employee base, at the end of the spring semester. It also plans to increase its student-to-instructor ratio from 9:1 to 15:1 over the next several years by eliminating about 10% of course sections offered.
The changes will encompass one of the largest shifts the small Dominican university has experienced in decades.
Edgewood College President Scott Flanagan said it's the first time he can recall faculty members being offered a buyout since he arrived on campus in the late 1990s, a time of rapid expansion for colleges across the country.
But student enrollment is declining nationally and that trend will continue over the next several years.
At Edgewood College, full-time student enrollment dropped below 2,000 students in the fall of 2017. For about a decade prior, enrollment fluctuated between 2,100 and 2,400 students.
"It became clear that we couldn't responsibly assume that the future could look like the past," Flanagan said in an interview. "That's not the way to go forward in higher education. … We're looking at how we maintain our mission and values and how we live that differently in a world that changes really quickly."
The news was first reported by On the Edge, the college's student newspaper.
The majority of the losses come from vacancies, though there were also six faculty members who accepted the voluntary separation agreement. A handful of other staff positions currently filled will also be eliminated. College officials declined to specify the title of those staff positions out of respect for those employees.
Faculty whose age plus years of service at the college equaled or surpassed 80 received offers last fall to earn one year of pay and benefits in exchange for leaving, Flanagan said. About 38 professors were eligible for the buyout.
Edgewood College business ethics professor Denis Collins, 63, was eligible for the buyout. He turned it down because he plans to work three more years before retiring.
"It's change and change is hard," he said. "We're being challenged to respond to economic issues in a compassionate and humane way. The challenge is not how you do this when times are good but when the times are bad and do you continue to live up to your core values?"
Collins, who serves on the college's faculty affairs committee, commended administrators for seeking faculty input throughout the process.
Flanagan said he anticipates enrollment for next fall to decline, though by how much is unclear at this point.
Administrators plan over the next few years to phase out the smallest course sections in which other sections of the same course are still offered.
But for many students, the draw to campus is specifically because of its small class sizes.
Flanagan said that in his conversations with students, many told him that 15 to 20 students was an ideal class size, so bringing sections up to that range would not change the university's mission.
"It's still smaller than at a lot of high schools," he said. "We think we can still deliver on our promise for small class sizes."
Be the first to know
Get local news delivered to your inbox!