Edgewood College has landed one of the largest donations in its 90-year history, receiving an anonymous $7 million donation that will boost its endowment nearly 18 percent.
It's encouraging news for the small Dominican school, which is often overshadowed by the neighboring UW-Madison and, like many liberal arts schools, has grappled in recent years with a decline in student enrollment and rising tuition.
For the first time since 2008, the college's full-time enrollment dipped below 2,000 students last fall. And the number of full-time undergraduate students dropped about 20 percent — from 1,681 students in the fall of 2013 to 1,361 in 2017 — though part-time students have helped offset some of this.
Raising money has become a much larger, and more prominent, part of the gig as the tuition-driven model continues to dominate the landscape and college presidents scramble to offset it by offering enough scholarships and grants.
"It's a challenge to get people to give," said Rolf Wegenke, president of Wisconsin Association of Independent Colleges and Universities (WAICU), of which Edgewood College is a member. "You want to pay for quality faculty, you want to have good study abroad programs, then you don't know how many students are going to enroll. It's a complex arithmetic. That's what keeps a college president awake at night."
Philanthropic gifts in the multi-million dollar range tend to be directed toward a specific building project or academic program, but the $7 million donation comes in the form of an estate gift, meaning Edgewood College receives it upon the donor's death and can spend it on whatever officials determine the college's needs are at that time.
The unrestricted nature of the gift speaks to the donor's "confidence in the long-term health and direction of the college," Flanagan said.
The school lacks a long history of philanthropy, mainly because of its small size — the number of students receiving degrees in recent years has ranged from 613 to 697 — and relative youth. While the college was founded in 1927, about three-fourths of its alumni have graduated within the last 20 years, Flanagan said.
The donor is not an alumnus of the college but made anonymous contributions to the college previously, according to college officials. The college's endowment is valued at $40 million as of its most recent financial audit.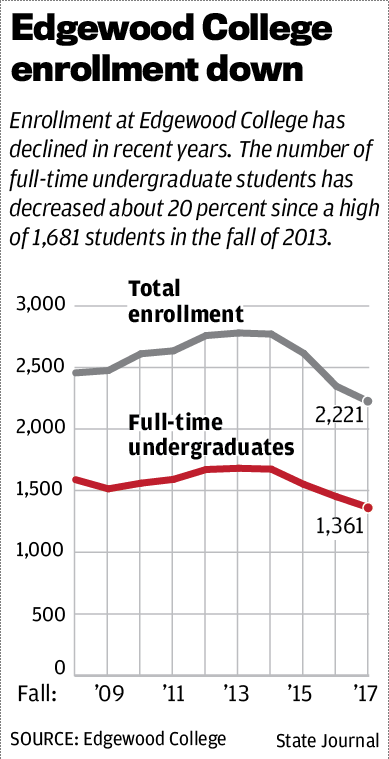 Edgewood College also received two $500,000 donations, one in late 2017 and another earlier this summer. One will be used to triple the size of the college's Bonner Leaders program, which allows students to earn up to a $2,000 tuition scholarship by completing 220 hours of community service and learning about civic leadership. College officials will meet with the other benefactor next week and expect to discuss how the donor family would like their gift to be directed.
"This is an institution that is beginning to attract and support benefactors that see the value that we bring today and into the future," Flanagan said.
This summer marked Flanagan's 20th year working on the 55-acre campus, which is bounded by Monroe Street and Lake Wingra. Sonderegger Science Center — where staff welcomed incoming Eagles for summer orientation — was a "hole in the ground" back in 1998, he said.
Flanagan, 48, worked his way up from dean of admissions and financial aid to vice president for planning and enrollment to executive vice president. In 2014, an executive board considered four finalists and named Flanagan, the only internal candidate, president.
Flanagan, who graduated from UW-Madison in 1992, now competes with the flagship university and other UW schools for an increasingly smaller pool of students due to a declining state birth rate.
"The competitive set is almost exclusively UW System schools," he said. "Students are choosing Edgewood or UW fill-in-the-blank."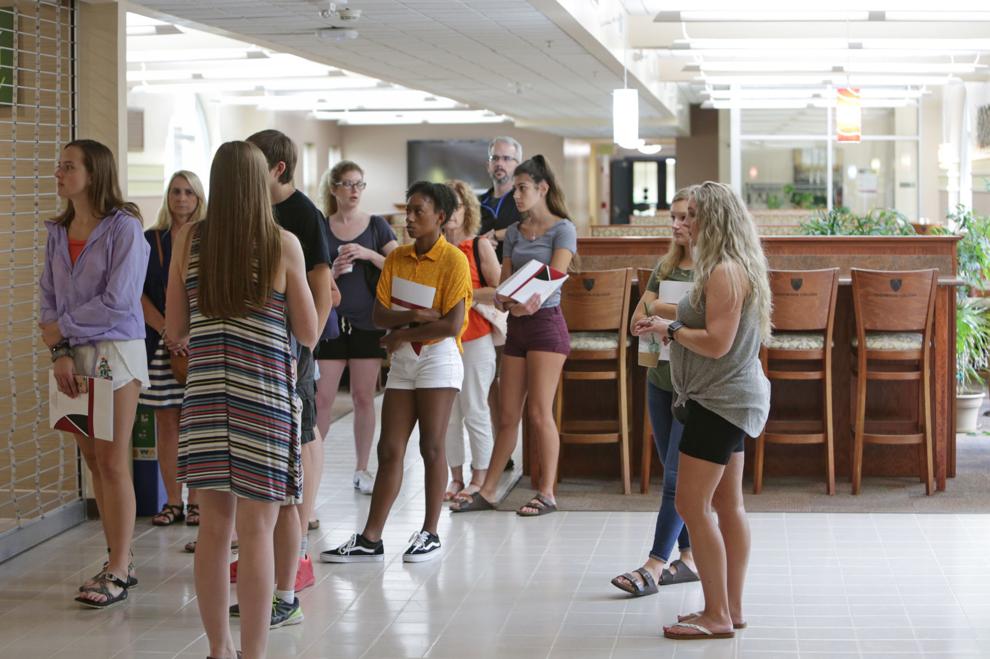 Nicole Wall, a freshman business major, was one of those students. Graduating from Middleton High School in January 2018, she was accepted at both Edgewood College and UW-Madison.
Wall chose Edgewood College, in part, for the small class sizes. One semester into her college career, Wall said her Religious Studies course has been the largest class size, at about 20 students.
As four-year state campuses enter their sixth year of frozen undergraduate tuition for Wisconsin residents, Edgewood College can be a tough sell. And frozen in-state tuition could continue either under Gov. Scott Walker, if he is elected to a third term in November, or under one of many Democratic gubernatorial candidates that have pledged to do the same.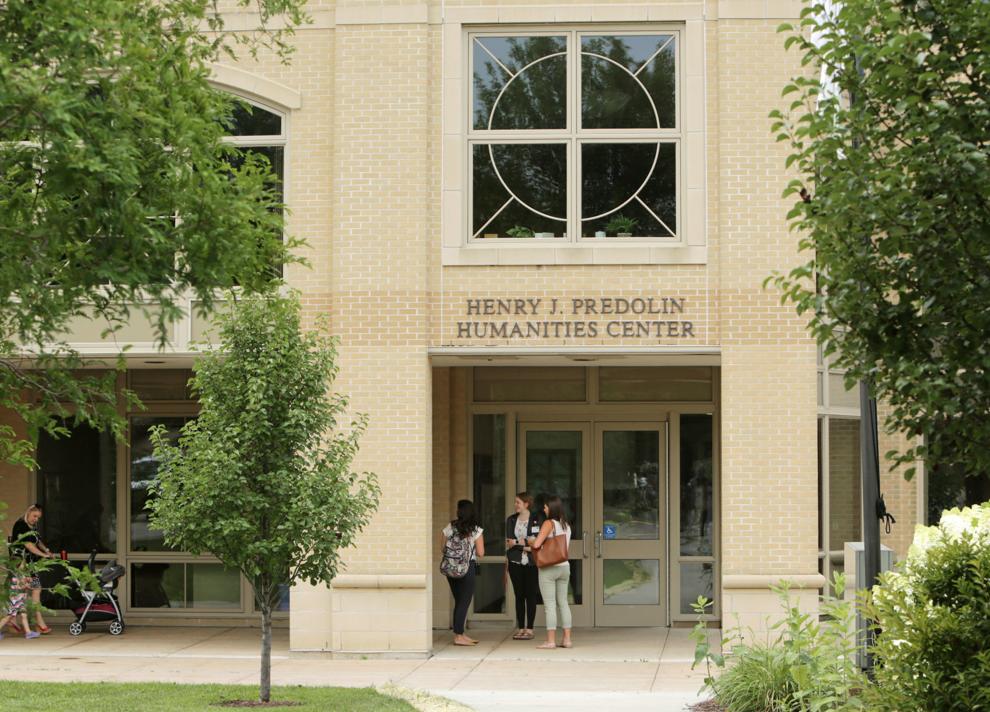 Since 2014, Edgewood College's tuition has increased by about $1,000 each year from $25,590 in 2014 to $29,500 for incoming freshmen this year. An asterisk on the school's web page detailing tuition rates indicates tuition will rise 3 to 5 percent in the following year as well.
The college offers freshmen an average of $16,000 in scholarship or grant money that does not need to be paid back. When state and federal grants are included, the college's average first-year student aid package is $21,300, college officials said.
"We have been able to do that while sustaining our commitment to our mission and core values, building financial strength, enhancing the diversity of our student body and, most importantly, delivering on the transformational learning experiences our students seek to prepare them for success after graduation," Flanagan said. "We're proud that the indicators that are most important to us — figures like retention and graduation rates, the diversity of our student body, and post-graduation measures — are strong and improving."
That number is a "moving target," Flanagan said, adding that enrollment fluctuations year to year are "moving quicker than it ever has …. That's not an Edgewood thing. That's an across-higher-education thing."
Between 45,000 and 46,000 students enrolled in one of WAICU's member schools from 2008 to 2012. But over the next four years, enrollment has decreased, falling to just shy of 40,000 students in 2017.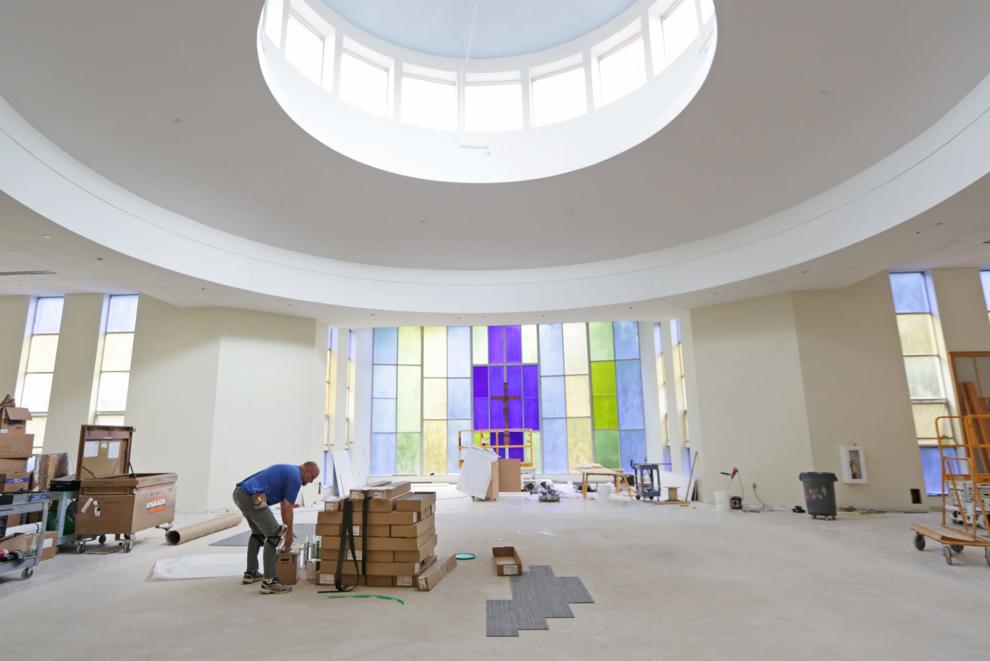 Given the state's demographics, Flanagan said the college's focus needs to be on stabilizing enrollment instead of growing it.
One section of Edgewood College's population that is growing: minority students.
In 2004, just 6 percent of incoming freshmen were minorities. Last fall, that number had grown to nearly 17 percent.
Officials expect a quarter of this year's incoming freshman class to be students of color.
Incoming senior Kimberly Rodriquez, an economics major, works as an intern in the college's admissions office and has seen the student body become more diverse since she stepped foot on campus in the fall of 2015.
Hailing from a Chicago high school with a graduating class of about 800 students, Rodriguez wanted to attend a smaller school in a smaller city. As a first-generation Hispanic student, she said she found Edgewood College to be a perfect fit.
"As soon as I got my acceptance letter (from Edgewood College), I said yes," she said.