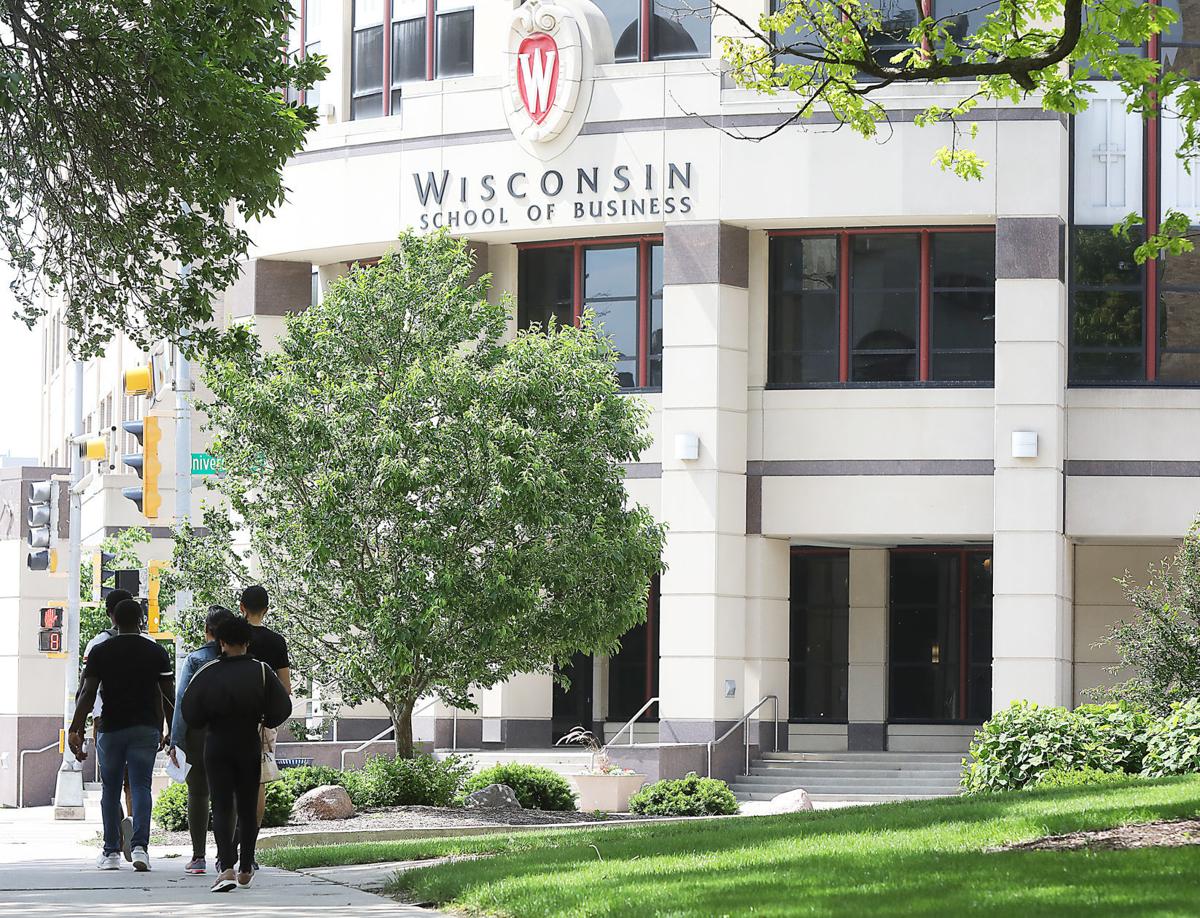 Despite receiving fewer applications and enrolling its smallest class in at least a decade, UW-Madison's traditional, full-time graduate business program won't be shuttered anytime soon.
Dean Vallabh Sambamurthy, who took the helm of the Wisconsin School of Business in August, said the school's commitment to the traditional, two-year MBA is "strong" and efforts to aggressively strengthen the program are underway.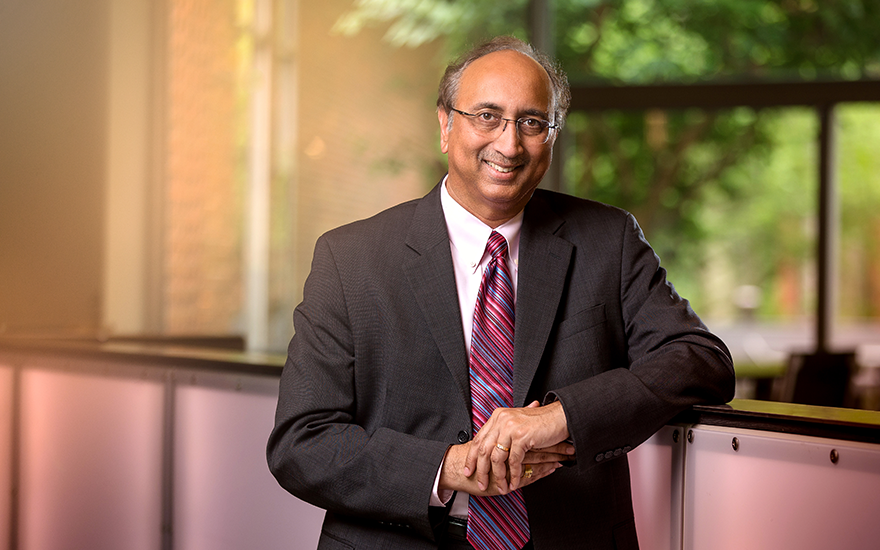 Young professionals, many of whom are reluctant to remove themselves from the job market and pursue a pricey graduate degree, have shown more interest in online degrees and specialized, one-year master's programs, which is where many institutions are funneling resources.
The Wisconsin School of Business has adjusted its own curriculum in recent years to meet student interest and the school may soon switch up its three-year, part-time MBA program in the hopes of increasing enrollment.
The changing business school landscape led former Dean Anne Massey to announce suspension of the full-time MBA program in the fall of 2017. The idea drew backlash from some alumni and donors who feared the potential phasing out of the program could reduce the value of their degree.
Massey — who now leads the School of Management at the University of Massachusetts-Amherst and did not return an email seeking comment Friday — withdrew the proposal within a week of her 2017 announcement.
Two years later, Sambamurthy found himself this fall on a "listening tour" to meet with students, staff, faculty, alumni and donors. He said the full-time MBA program did not come up in those conversations nor did anyone offer their opinion on whether it should stay or go.
"Nobody asked me that question," he said in an interview. "There is an implicit recognition that that's my decision."
Pressed on whether that could really be the case considering how so many people were quick to provide their thoughts on the suspension when it was announced, Sambamurthy said one constant throughout his conversations was people's desire to be involved.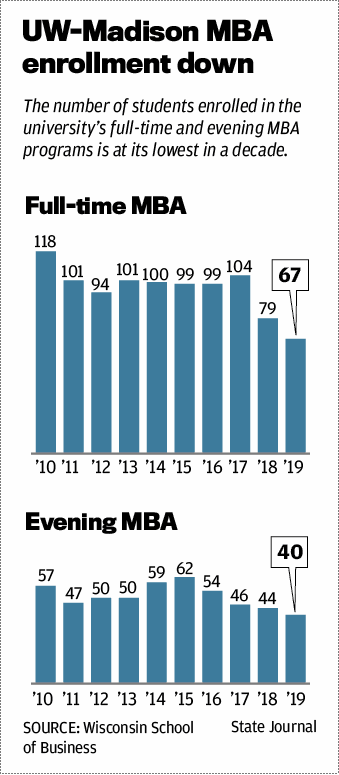 "Many of them said, 'Remember it's a great institution. Don't be in a hurry to make decisions. Involve folks,'" he said.
The Wisconsin School of Business is holding steady to its commitment to the program even as popularity continues to wane.
Applications for fall 2019 were down for the fourth straight year, according to school data. The admissions office received 311 applications for those seeking to enroll in fall 2019. That's down 33% from the 465 applications received the previous year.
Sixty-seven students enrolled this fall, slightly below the 80-member class size the school set as its target enrollment.
But business school officials said applications for the incoming fall 2020 class are up 19% from last year. And the program is considered a "high priority" in the school's strategic planning process, another indicator of the school's long-term commitment to the full-time MBA.
Sambamurthy said the demand for MBA degrees is strong from an employer perspective.
"The decline is in applications, not in the job opportunities," he said, adding that UW-Madison's program has a 90% job placement rate within three months.
Other changes, plans
MBA degrees are like any product in the marketplace, said Juliane Iannarelli, senior vice president for the Association to Advance Collegiate Schools of Business, which accredits business schools.
Demands shift. Strategies change.
"There are a lot of stories written about the decline of the MBA that don't tell the full story about the MBA marketplace," Iannarelli said. "If we look at online, part-time, one-year models, all of the programs that have started, we see it as a sign of business schools becoming agile and responding to market demands and market needs."
The Wisconsin School of Business is considering shifting to a "hybrid model" — a blend of both face-to-face and online education — for its part-time MBA program. Currently, all evening MBA classes are taught in person.
Market research shows students would prefer the mixed delivery format, opening up a potential area for growth, Sambamurthy said.
The "hybrid" model proposal is in its final stages of approval from other groups on campus, according to business school spokesman David Giroux.
The school launched in early 2019 several specialized, one-year master's degree programs in the fields of business analytics, real estate and supply chain management. Thirty-two students are on track to graduate from those programs this spring.
The specialized, one-year degrees are key to the school's revenue strategy, Sambamurthy said.
Another area for growth is expanding the school's undergraduate enrollment, he said. About 3,100 students enrolled this fall and there's enough demand to reach the school's maximum capacity of about 3,800 undergraduates.
Those revenue sources are important because a 2016 report by the school's accrediting agency showed the school could not cover its expenses under its operating model at the time, according to The Capital Times.