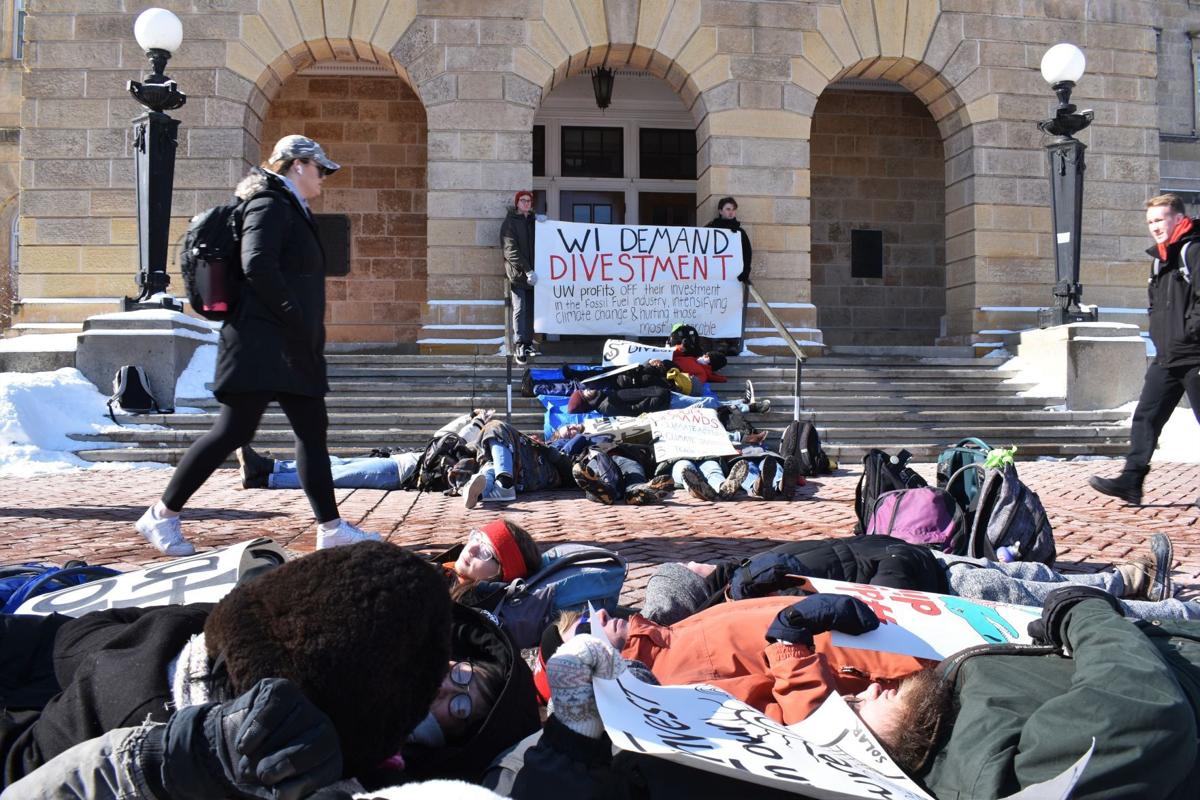 Climate activists on the UW-Madison campus have long argued that the university foundation's investments in fossil fuel companies are immoral.
Now they're arguing that those investments are illegal, too.
The Climate Defense Project, a nonprofit legal group, recently lodged a complaint with the state Attorney General's Office and the Department of Financial Institutions (DFI) on behalf of nearly 200 students, faculty, alumni and community members.
The Wisconsin Department of Justice received the complaint, but spokesperson Rebecca Ballweg said the office doesn't have authority to take action on it and referred questions to DFI, which has the power to conduct investigations and hold hearings into charitable organizations.
A 2020 report from Gov. Tony Evers' climate change task force recommends divesting state funds from fossil fuel companies, though it also said there is no clear mechanism to require private university foundations to do so.
The Climate Defense Project argues there is one — by enforcing a 2009 state law that stipulates nonprofit entities have a duty to invest in line with their charitable missions.
"There's this law on the books that hasn't been that strictly enforced in the past," said attorney and Climate Defense Project co-founder Ted Hamilton on what led the group to pursue this avenue.
The group alleges that the UW Foundation's investment in fossil fuel companies that are driving climate change is in direct conflict with UW-Madison's mission to provide an environment where students and staff can "discover, examine critically, preserve and transmit the knowledge, wisdom and values that will help ensure the survival of this and future generations and improve the quality of life for all."
Attorneys also allege that the foundation's continued investment in oil, gas and coal companies is "failing to act in the best interests of the institution" because it "directly imperils" the lives and prospects of the young adults UW-Madison serves, in addition to threatening the university's physical campus.
The foundation said in a statement that it is not a part of UW-Madison, that its fiduciary responsibility is to donors and that it manages funds to provide the best risk and return trade-off available.
"(The foundation) stays true to that responsibility, and operates in accordance with all laws established by the State of Wisconsin governing charitable investments," the statement said. "(Foundation) leadership shares the concerns over the impacts of climate change, and as an organization, we will continue to take steps to reduce our carbon footprint."
DFI received the complaint against UW Foundation in May and it is still under review, chief legal counsel Matthew Lynch said on Wednesday.
The Climate Defense Project has filed similar complaints against three East Coast institutions. One of them, Cornell University, announced it would pause new investments focused on fossil fuels a few months after receiving the complaint. Climate activists have met with the Massachusetts Attorney General's Office regarding the other two institutions, Harvard University and Boston College, but no decision has been made, Hamilton said.