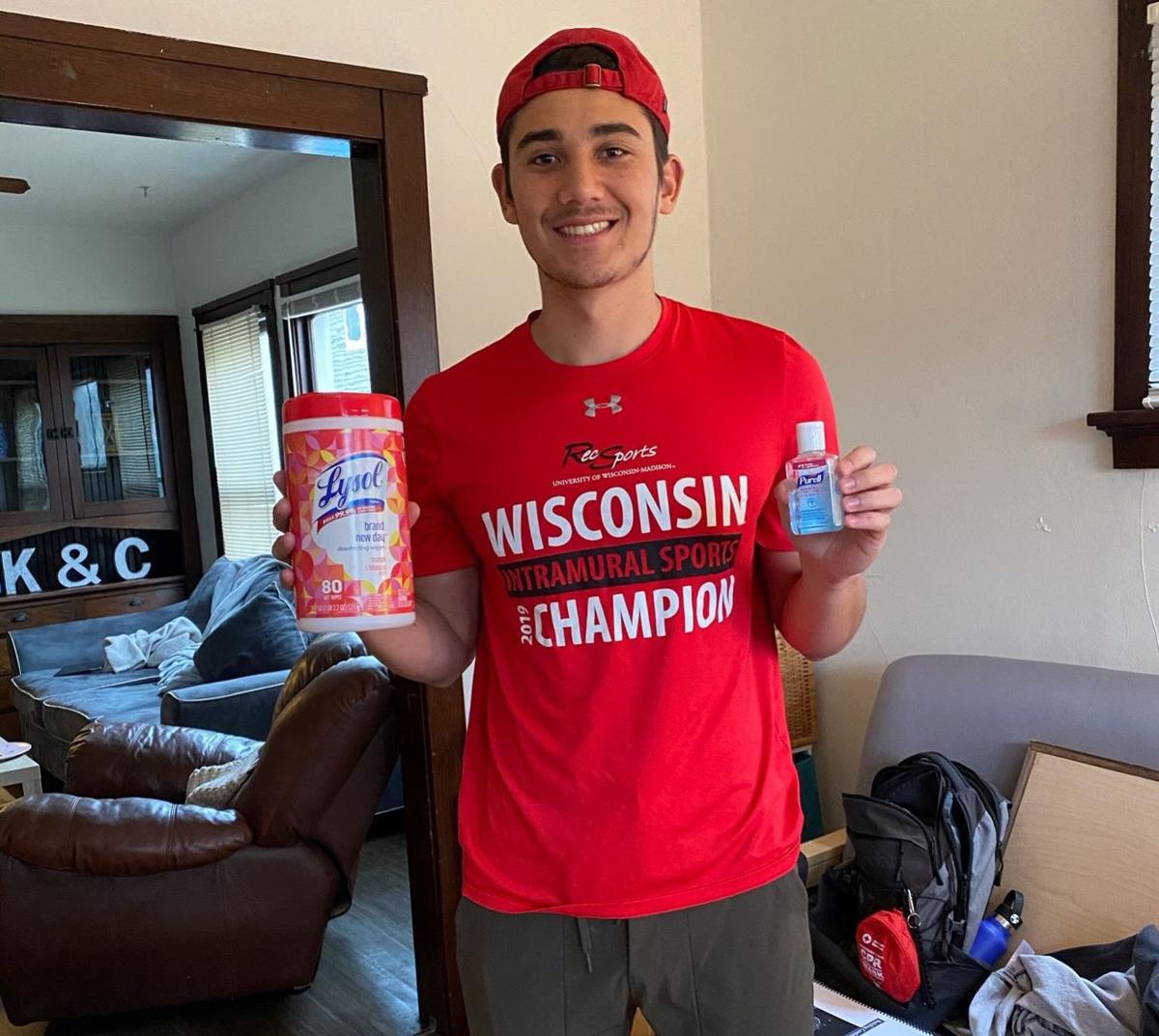 Nathan Ng doesn't feel sick, but he does feel guilty about taking a four-day trip to the Alabama oceanfront with a group of friends over spring break.
An exercise science major at UW-Madison, Ng, 21, is aware of the severity of the COVID-19 coronavirus pandemic, and regrets traveling across state lines with about a dozen of his friends.
"Seeing how everything has transpired, I feel a certain sense of guilt for going on vacation," he said. "Taking my own enjoyment, my vacation, and placing that above the health of others … I certainly don't want to have a negative impact on the health of the community. If we were to make the decision again, I don't think we would go."
Ng has been self-quarantining in his girlfriend's apartment in downtown Madison since returning on March 20. Aside from taking a couple of walks, he said, they haven't gone outside since getting back.
"Everybody who went on the trip has been quarantined by themselves for the past eight or nine days," he said. "I don't think anybody feels sick whatsoever."
On Friday, University Health Services issued an advisory telling all students who traveled over spring break to quarantine themselves for 14 days, whether or not they have symptoms of the respiratory disease.
The advisory came after an unspecified number of students tested positive for COVID-19 after returning from spring break. Of the roughly 600 students who remain in on-campus housing, none have tested positive, said university spokeswoman Meredith McGlone.
"We don't have a comprehensive number for students who've tested positive," McGlone said Saturday. "Many of our students are no longer on campus or even in Madison."
Nearly 150 new cases of COVID-19 were reported in Wisconsin on Saturday as the state's total number of reported cases approached 1,000. The Wisconsin Department of Health Services reported 989 people have tested positive for the highly infectious respiratory disease, while the state's total of COVID-19 deaths remained at 13. The state reported 842 COVID-19 cases on Friday.
Students 'on the same page'
Laura Downer has been at her parent's house in Victoria, Minnesota, missing the campus community as much as anyone. As student body president at UW-Madison, she supports the university's guidelines for those returning from spring break travel.
"It's difficult to think about isolating ourselves from that community, but I do think it's important that students are taking the same precautions as other people in Dane County," said Downer, 21. "Personally, I have a lot of friends who have gone to some of the higher risk areas, and I think it's reasonable that they're being asked to self-monitor and self-quarantine, and isolate if they have symptoms."
Students in high-density housing and shared living situations may find it especially challenging to self-quarantine, she said. Shared restrooms, kitchens and other spaces — and elevator buttons — all represent hard-to-avoid transmission hot spots. Downer can't help being concerned for some of her friends in Madison.
But from her perspective in student government, she said, most of her peers are heeding the call to distance themselves from each other.
"For the most part, students are on the same page," she said. "They know they have to put their own health and the health of community members first."
The group of friends that Ng vacationed with in Alabama had been on the fence about whether to cancel their trip, but decided the risk was minimal because they wouldn't be in a "big horde of people on the beach," he said.
"We were in a secluded part of Alabama," he said. "We were 30 or 40 minutes away from the biggest city, Gulf Shores, in an Airbnb by ourselves. We interacted with workers at Walmart when we got food on the first day, and the rest of the four days were just us on the beach."
Ng believes that if they had planned to leave even a day or two later, they would have canceled the trip. His mother, a nurse at UW Health, was wary of the venture to begin with, he said.
Now that they're back in Madison, Ng and his girlfriend have been taking precautions such as disinfecting surfaces in their apartment, washing their hands frequently and giving pedestrians on the sidewalk a wide berth when they go for walks.
A lot of his friends are health and exercise majors, and he knows they're being cautious, too.
"They're aware of the seriousness of COVID-19 and the people in the community who might not be fortunate enough to have a healthy immune system," he said. "I think everyone, for the most part, is taking this seriously."
Concerned about COVID-19?
Sign up now to get the most recent coronavirus headlines and other important local and national news sent to your email inbox daily.