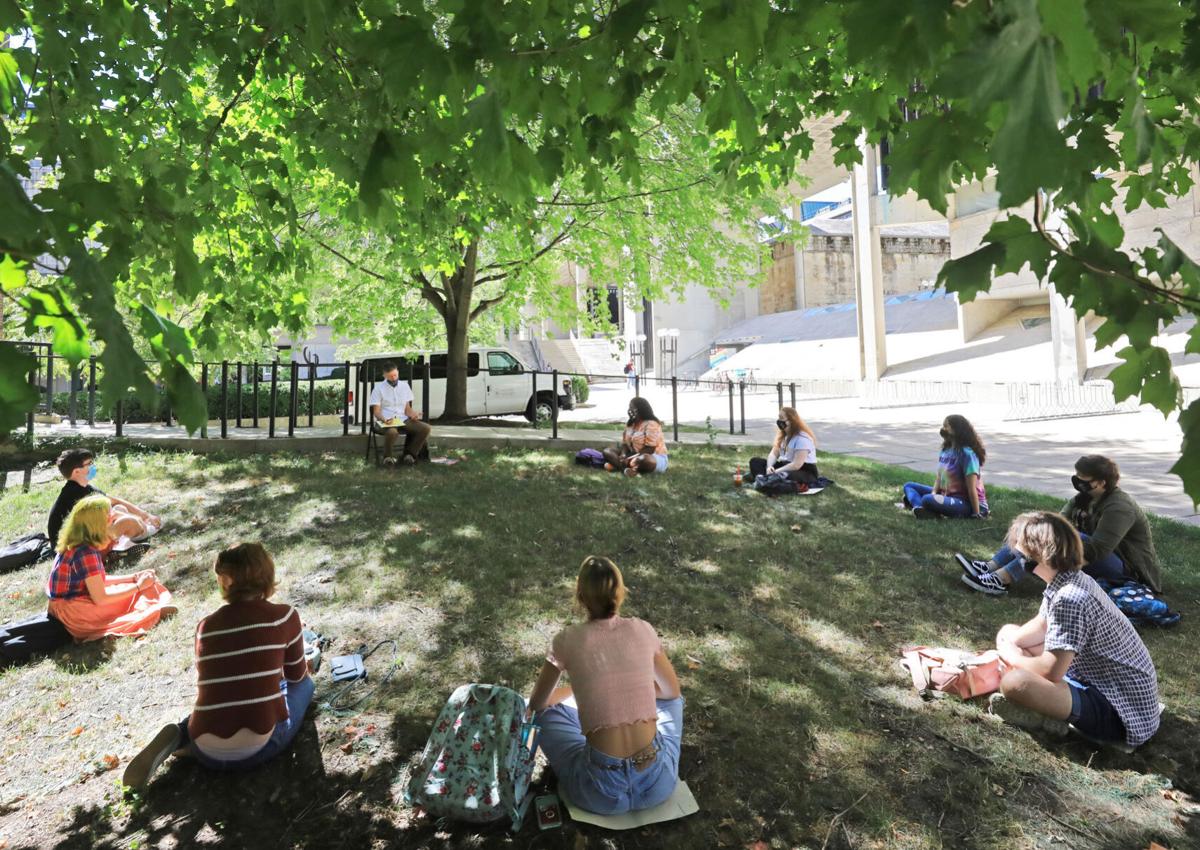 Everyone on UW-Madison's campus seems to be scratching their head.
After a mid-September spike in COVID-19 cases at a rate that university officials said exceeded its Big Ten peers, UW-Madison's latest coronavirus data is on an enviable decline.
The average positivity rate among students tested on campus dipped to less than 1% on Sunday. Over the past week, 137 tests came back positive among sites both on and off campus, roughly a tenth of the 1,000 cases that piled up over the first week of classes.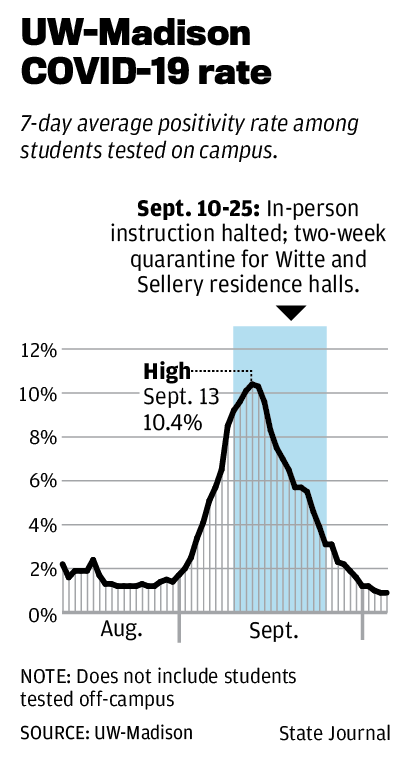 The downward trend began during a two-week pause in face-to-face instruction and quarantine of two large dorms. Even amid a statewide surge in COVID-19, the university's decline has continued for 23 consecutive days, outlasting expectations that cases would again spike seven to 10 days after the lockdown lifted.
Theories abound on campus: Some say more students are following the rules. Others suggest UW-Madison is meting out more punishment. University data show fewer tests administered weekly on campus in the past two weeks than at the beginning of the semester. Some people point to the hundreds of students who moved out of the dorms. There's also an idea, debunked by public health experts, that so many students got infected at the start of the semester that a level of "herd immunity," or protection from the virus, has been achieved.
University Health Services director Jake Baggott, who was not available for an interview, said in a statement that a combination of factors helped UW-Madison. The lockdown illustrated to students the stakes of the semester and the university added stricter health protocols, such as a mask requirement while outdoors and more frequent testing in the dorms.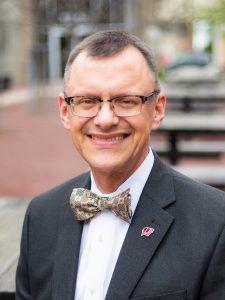 "While it's good news that the case count has remained low, it's critical that students, faculty and staff remain vigilant and continue following public health measures," Baggott said. "There has been no single 'silver bullet' responsible for cases staying low."
A lot of luck?
Public health experts interviewed for this story were at a loss as to how UW-Madison has recently kept its COVID-19 cases in check.
"I think the unsatisfying answer is that we really don't have any idea," UW-Madison epidemiologist Malia Jones said. "The fact is epidemiologists have been frustrated throughout the pandemic at how hard it is to predict what will happen with this disease. ... There's a lot of random chance involved."
Jones' best guess is that UW-Madison experienced a handful of superspreader events early in the semester where many cases were generated from just a few that arrived on campus.
Retired UW-Madison epidemiologist Craig Roberts, who serves on the American College Health Association's COVID-19 task force, said there isn't a one-size-fits-all approach for college campuses. Virus transmission isn't uniform across the population and some individuals are more infectious than others.
"A lot of it has to do with luck," he said.
Most outbreaks are unpredictable, and COVID-19 is even more so, Roberts said. Low numbers are relative, and probably the result of a combination of factors than can easily change direction at any time.
On-campus testing fell from about 9,100 in each of the first three weeks of the semester to about 6,800 and 8,400 in the fourth and fifth weeks, according to UW-Madison's data dashboard. The latest testing numbers are a bit short of the 10,000 to 12,000 tests university officials said they anticipated administering last week, which they attributed to a lack of demand.
The variance in testing numbers reflected the mandatory testing imposed on residents in the quarantined dorms, as well as students living in some Greek houses, Baggott said. UW-Madison expects to be able to test as many as 14,000 people per week.
Debunking claim
Experts all agree that herd immunity has not been reached at UW-Madison, nor should it be attempted.
Public Health Madison and Dane County reported in mid-September that about 7% of UW-Madison's undergraduate population had tested positive. By late September, the agency said the percentage of people testing positive in some dorms, fraternity houses and apartments was as high as 50%.
While Jones said the rate in those specific buildings is "approaching" herd immunity for some clustered populations, it's still far from what would be needed to protect the broader population.
The science is still evolving on what threshold would achieve herd immunity, with some experts saying the minimum is 70%. Jones said in densely populated places such as dorms, herd immunity would need to be even higher than that.
"Herd immunity is being deeply misunderstood and misused," she said. "We're nowhere near it."
Baggott called the claim of campus achieving herd immunity "untrue and dangerous." Even if a large percentage of students test positive in a particular building, they interact with the broader community.
Trying to reach herd immunity hinges on the unproven idea that those infected with COVID-19 cannot be re-infected, which scientists are still studying, Jones said.
"I don't think we will reach herd immunity naturally, and if we did, it would involve really staggering loss of life even among college-age students," she said.
Dorms, discipline
UW-Madison took a number of recent steps to mitigate risk, such as increasing frequency of testing in dorms to weekly instead of biweekly and reducing dorm capacity.
About 14% of dorm residents — 912 of roughly 6,500 — have canceled their housing contracts since the start of the semester, UW-Madison spokeswoman Meredith McGlone said.
Post-lockdown, the university encouraged residents living in Witte and Sellery halls to consider moving to a single room or into a less crowded dorm. McGlone said 58 students moved into another hall and fewer than 10 opted for a single room. About 460 fewer students live in the two dorms now than when the quarantine began, suggesting most students either moved home or into an off-campus apartment. Currently, Sellery is operating at 70% capacity and Witte at 75%.
It's hard to say whether UW-Madison has taken a tougher stance on students who break the rules and to what extent student behavior has changed.
UW-Madison reported nearly 300 students and eight student organizations under investigation for public health violations about a week into the semester. Eight students were referred for emergency suspension at that time. Now about five weeks later, the university has completed or is currently investigating nearly 650 students and 20 student organizations, as well as 21 students referred for emergency suspension.
An online form encourages students and employees to report on those who break the rules. From Sept. 10-25, the university's Student Affairs office received 150 reports. Since then, it has received 50 reports.
City-county health department employees are conducting more public health compliance checks at businesses and bars across Dane County, but spokeswoman Sarah Mattes said the agency's approach hasn't changed in a way that would cause UW's numbers to decline the way it has.
Nasia Safdar, medical director of infection control at UW Hospital, consulted with UW-Madison on its plan to lift the dorm quarantine and return to in-person instruction. She said behavior at upcoming events, such as Halloween or gatherings to watch Badgers football games on TV, will dictate the rest of the semester's course.
"For the moment, I would say it's a success story, but it can change any time," she said.
---
Photos: UW-Madison graduates gather after virtual commencement ceremony