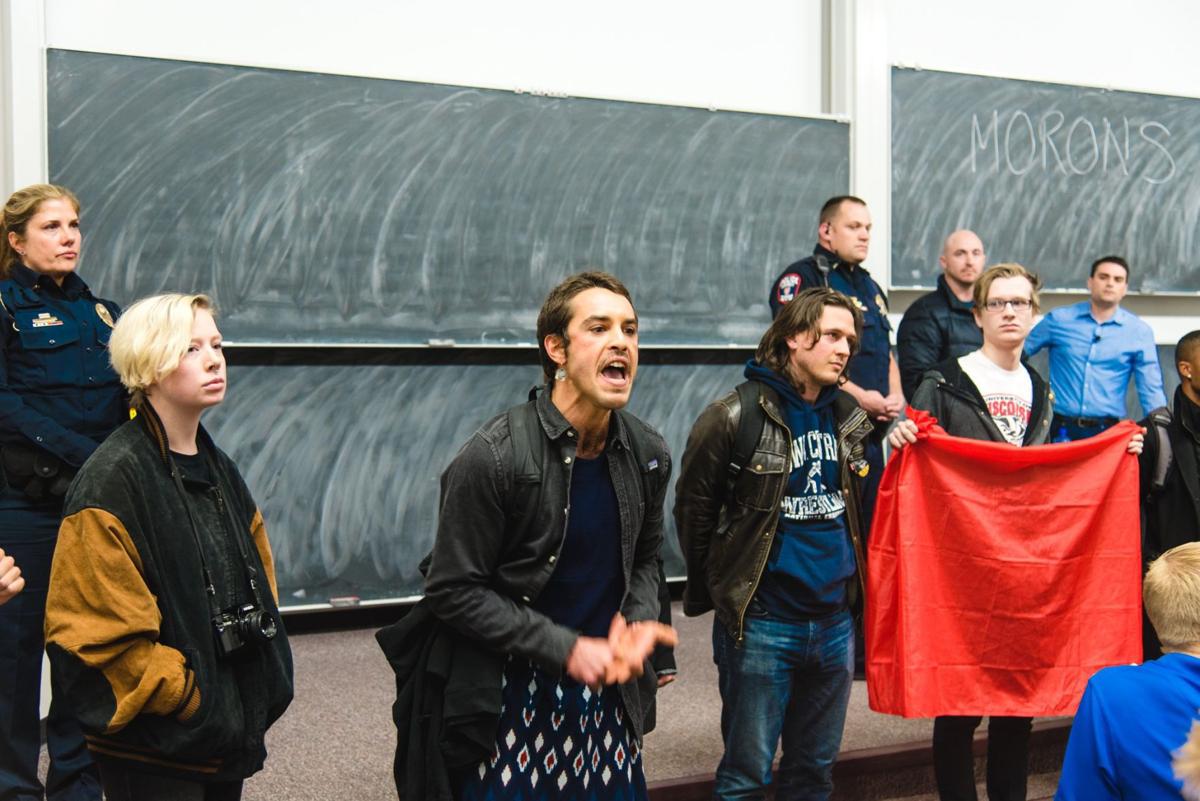 The state Assembly approved a Republican-backed bill late Wednesday night that aims to prevent disruptive protests on college campuses by requiring the University of Wisconsin System to suspend and expel students who repeatedly interrupt speakers.
The bill's supporters described it as a step to protect free speech by ensuring potentially controversial speakers, often conservatives, can present their ideas on UW campuses without being shouted down.
Democrats and several UW faculty members derided the proposal as a politicized solution in search of a problem, saying no one has faced violent protests or been denied the right to speak at Wisconsin's public universities.
The bill passed on a 61-36 vote after more than three hours of debate, with Rep. Bob Gannon, R-West Bend, the only Republican to vote against the proposal. All Democrats voted against it.
Debate over the legislation has reflected both long-standing conservative claims of liberal bias on university campuses and a growing sense on the right that left-leaning college students, faculty and administrators have become more hostile to differing opinions.
"It is imperative that our institutions of higher education remain a free marketplace of ideas, as intended," said Rep. Jesse Kremer, R-Kewaskum, a lead author of the legislation. "Sadly we are at a crossroads. … UW's base policies are not working."
Rep. Terese Berceau, D-Madison, called the bill a "gag rule" that comes on the heels of other Republican attempts to limit speech, including set times for floor debates and Assembly gallery visitors not being allowed to hold signs or wear T-shirts with messages.
"We do not have this manufactured problem of conservatives not being allowed to speak," Berceau said. "Republicans want to tell students how they should speak and what they should say.
"This bill is a violation of the right to free speech on campus."
Wisconsin is one of several states across the country where legislators, typically Republicans, have introduced bills that seek to punish disruptive protest tactics following high-profile cases in which conservative speakers were met with demonstrations that turned violent at colleges in Vermont and California. The bill is based on draft legislation from the Goldwater Institute, a national conservative think tank.
Kremer introduced the legislation along with Assembly Speaker Robin Vos, R-Rochester, Rep. David Murphy, R-Greenville, and Sen. Sheila Harsdorf, R-River Falls.
It would require UW institutions to create a process for investigating complaints and disciplining students whose protests "materially and substantially disrupt" the speech of others.
Any student who violates the policy twice would be suspended for at least one semester, under mandatory punishments laid out in the legislation. A third offense would lead to a mandatory expulsion.
The American Civil Liberties Union of Wisconsin criticized those punishments as "unnecessarily draconian," and warned they could chill free speech on campus. The Foundation for Individual Rights in Education, which helped draft the bill and supports many of its provisions, has also opposed the "mandatory minimum sanctions."
Berceau questioned why the bill sets mandatory punishments for disrupting a speech when there are no required penalties for offenses such as sexual assault or stalking. Kremer told reporters Wednesday he would be open to set penalties for sexual assault, but his bill addressed a different issue.
Murphy said protesters would still be able to demonstrate, distribute leaflets, carry signs outside a venue or bring to campus a speaker with an opposing viewpoint under the bill, but would not be allowed to disrupt someone else's speech.
"Disruption is not speech, disruption isn't protest — disruption is theft," Murphy said. "It's theft from another person's right to be heard."
Democrats have taken issue with other provisions of the bill as well, including its directive that UW institutions "strive to remain neutral" on political controversies, saying that risks stifling universities' ability to advocate for themselves.
The legislation would also require that UW institutions provide training on their free speech policies to new students at orientation and to campus employees each year.
Professor Donald Moynihan, director of the La Follette School of Public Affairs at UW-Madison and a critic of the legislation, said the requirement would mean thousands of System employees would have to take part in redundant annual training on unchanging speech policies.
Representatives approved an amendment to the legislation during Wednesday's floor session that eliminated a requirement to create a council on free expression that would have issued a report to lawmakers each year on free speech cases and controversies at UW institutions. The UW System's Board of Regents will create that report instead.
State Journal reporter Matthew DeFour contributed to this report.