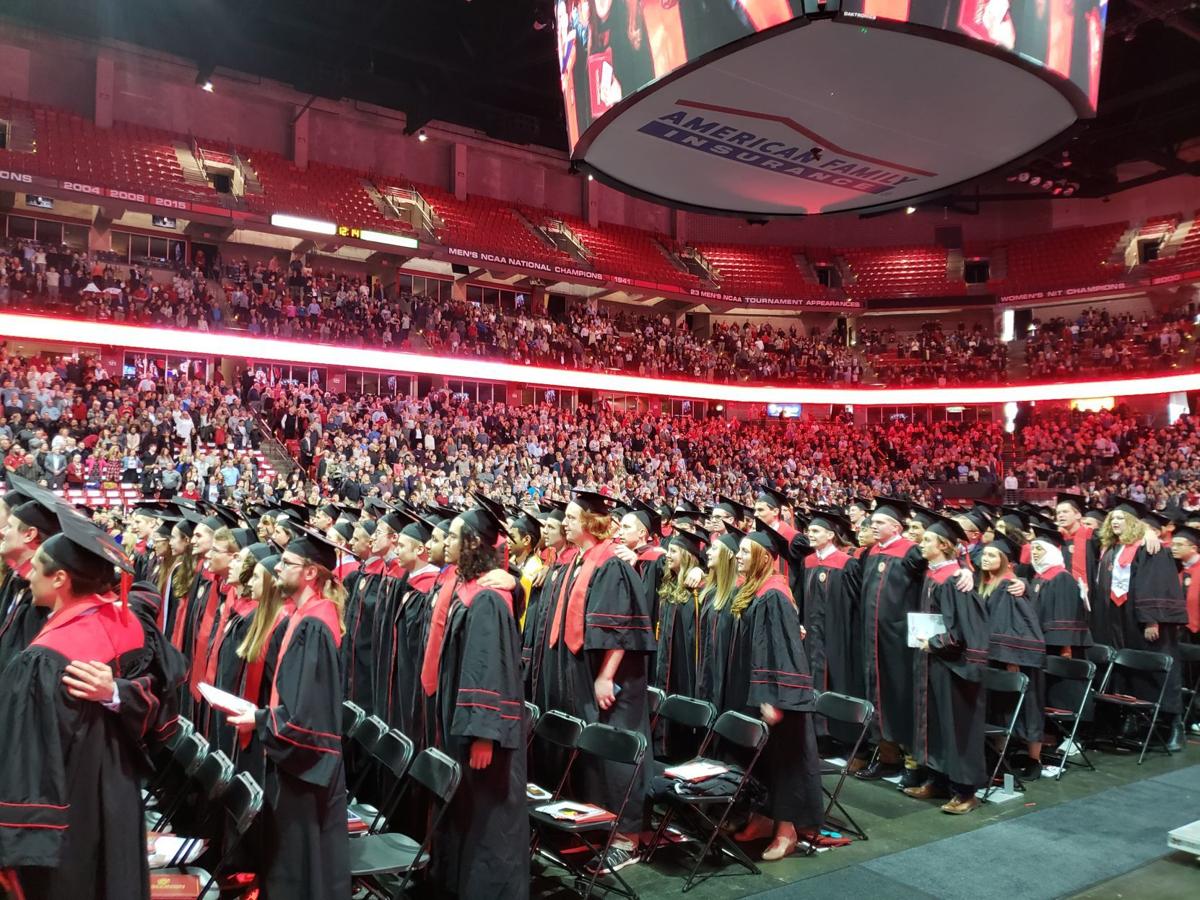 Forget the free snacks. Move over, gym memberships.
A Madison company this month launched a new employee benefit — paying off a portion of an employee's student loan debt — in a move that could become more mainstream as student loans continue to cripple many college graduates facing mountains of debt.
Esker, a Middleton software company, launched student loan assistance as a new employee benefit this month. The company pays an employee's student loan provider between $100 and $150 per month, depending on how many years the employee has worked there, for up to five years and a total of $9,000 in subsidies.
Student loan assistance is a benefit increasingly being offered in the private sector as companies recruit employees in a tight labor market with low unemployment.
Forbes called student loan repayment assistance the "hottest employee benefit of 2018," with companies such as PricewaterhouseCoopers, Aetna and Penguin Random House adding student loan payments to their lists of employee perks in recent years.
Of Dane County's five largest employers, representatives for UW-Madison, Epic Systems, Exact Sciences and WPS Health Insurance said their companies do not offer employees student loan assistance. Two messages to Sub Zero-Wolf Appliances were not returned.
Employees who graduated within three years of their hire date are eligible for a monthly $100 contribution to their student loan provider with a maximum of $10,000 paid by American Family.
"We believe it's part of an overall employee experience that encourages people to bring their best to work every day, and sets American Family apart as we recruit and retain talent," American Family Insurance spokeswoman Erin Johansen said.
Widespread need
Across the University of Wisconsin System, about 72 percent of students seeking bachelor's degrees borrowed money in the 2016-17 academic year, the most recent System data show. The average debt was $30,771.
At UW-Madison, 53 percent of undergraduate students in the class of 2018 graduated without debt, Chancellor Rebecca Blank said at last week's UW System Board of Regents meeting.
Offering student loan assistance helps less well-known companies compete for young talent, according to Greg Poulin, co-founder and chief executive officer for Goodly, which developed software for companies to automate student loan payments directly into payroll deductions.
Poulin established the San Francisco-based start-up last April. As a recent college graduate himself, he was working for another company and facing $900 monthly student loan payments. He said existing software on the market was "clunky" and didn't interact with a company's software, so human resources departments were manually processing checks to student loan providers for individual employees.
Companies pay between $6 and $12 to Goodly for each employee enrolled in the benefit. Employers have to pay payroll taxes on the student loan payments and employees have to pay income taxes.
Boost for diversity
Still, it's an attractive, meaningful benefit to many employers, he said, particularly for those trying to increase diversity among their workforce ranks.
The company is in conversations with other Wisconsin employers, including some in the Madison area, Poulin said.
"With unemployment so low, especially in the Madison area, companies are trying to find different ways to differentiate themselves in a competitive hiring environment," Poulin said.
'Bigger ideas'
Esker launched its student loan payment benefit this month through Goodly. Of its roughly 150-member workforce, 54 percent are millennials. Forty-one Esker employees signed up so far, according to company controller Anne Donarski.
Esker's website shows the company offers flexible scheduling in the summertime and "bring your pet to work" days. She said the company is always seeking new ideas from employees.
"We were getting suggestions like more forks in the kitchen or softer toilet paper," Donarski said of Esker employees' recent suggestions for new benefits. "We were brainstorming bigger ideas and kept circling back to student loan assistance."
Esker employees recruiting on UW-Madison's campus this semester will debut a new sign attracting potential employees: Ask us about our student loan assistance.
Donarski said the benefit could help employees take earlier advantage of another employee benefit, its matching 401(k) plan.
"Today's student loan debt is tomorrow's underfunded 401(k) plan," she said.
Matt Kulas, an Esker engagement manager, graduated from UW-Madison in December 2012 with a computer science degree and less than $20,000 in debt thanks to his parents paying a portion of his education. He said he has about five years of loans left to pay and was surprised to hear about the new benefit at the 2019 kick-off meeting.
"(This benefit) will basically double my payment per month," he said.