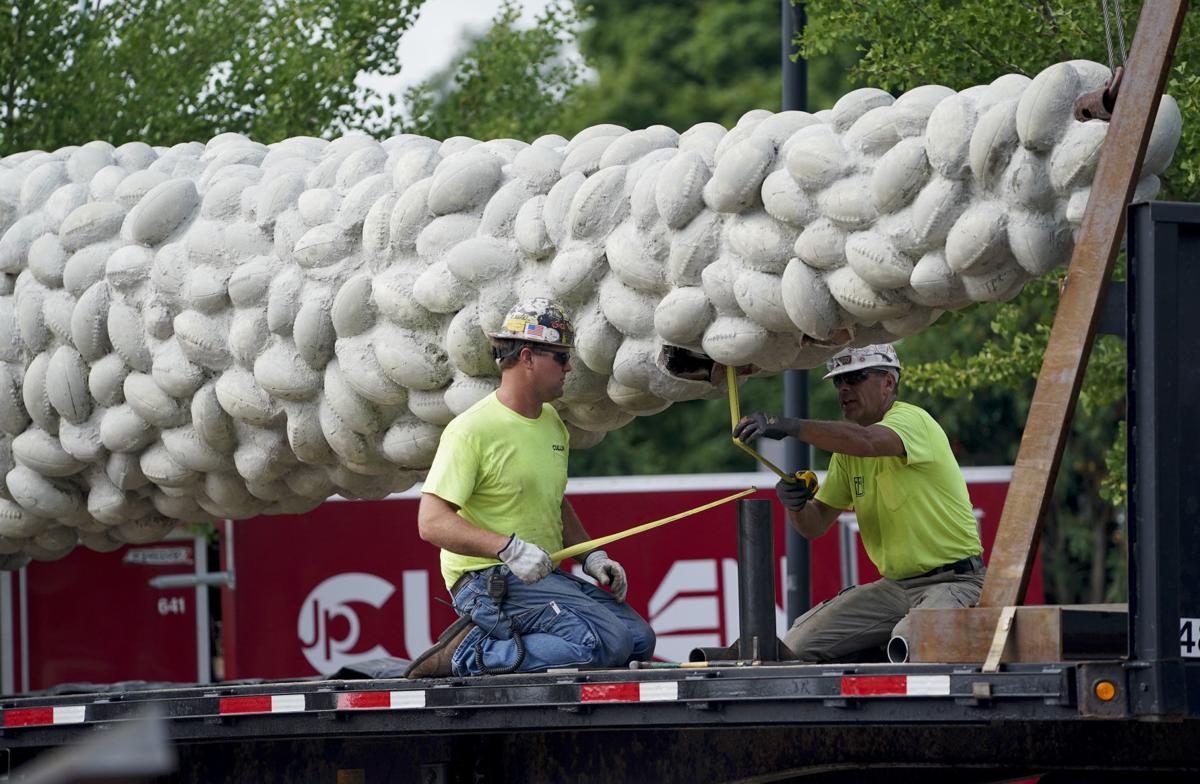 An ear of corn. Male genitalia. A pile of rodent droppings. Maggots.
These are not images the artist intended to evoke when creating the much-criticized "Nails' Tales" sculpture outside Camp Randall Stadium. Crew removed the obelisk of footballs Wednesday after more than a decade of it standing as a metaphorical punching bag for passersby.
The 50-foot concrete sculpture sparked fierce debate over its appearance and artistic value since its 2005 installation near the corner of Regent Street and Breese Terrace.
Many Madison residents have directed disdain toward "Nails' Tales" over the past 14 years and the criticism revived during the removal process. But art experts say "Nails' Tales" sparked conversation in the community, and for that it's been a success.
Peter Schmiedicke has had a view of "Nails' Tales" for the past four years from the cashier's window at Mickies Dairy Bar.
"I'm glad to see it go," he said.
Mike Moffatt, who is also celebrating the statue's removal, suggested one of Madison's lakes as a relocation site.
"About time," Madison resident Scott Zingg said of Wednesday's removal. He watched and briefly applauded as workers strapped the sculpture to a truck bed.
Others, such as Tim from Stadium Barber, located across the street from the sculpture, have used "Nails' Tales" as a conversation starter with visitors from out of town or as a landmark.
"Meet in front of the ugly statue," he said he often tells his friends.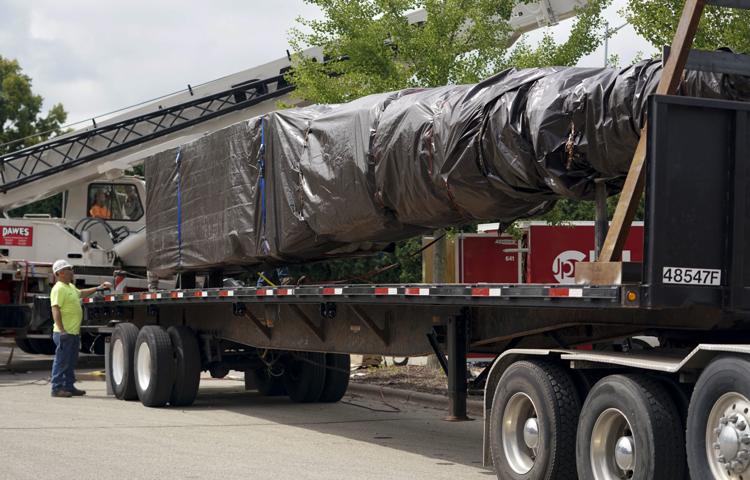 Some observing the obelisk being carted away from Camp Randall said they have come to appreciate "Nails' Tales."
"At first, it confused me," said Susan Hostetter, an employee of Budget Bicycle Center, a business near the stadium. "But it grew on me. I suppose I will miss it."
Public art's purpose
"Nails' Tales" is a town talker and its purpose in a public space is often misunderstood, art experts say.
"Do you want something that you glance at and never think about ever again?" asked Debra Brehmer, director of the Contemporary Gallery Portrait Society in Milwaukee. "Public art draws your attention to a certain place. It transforms the public's relationship with the place."
She said the sculpture's design is clever, unexpected and seems to suits the city's quirky culture. Madison's level of sophistication means the city should be able to engage with a work that some say isn't surface-level pretty, she said.
George Tzougros, executive director of the Wisconsin Arts Board since 1996, said "Nails' Tales" has had more visibility than other works installed through the board's public arts program, which the state disbanded in fiscal year 2012.
"This one has received the most feedback; let's say it that way," Tzougros said.
You have free articles remaining.
Despite all of the criticism "Nails' Tales" has weathered over the years, he said the sculpture has never been defaced or tagged with graffiti.
"The actual visceral reaction never got to that point and I think that says something about the piece," he said.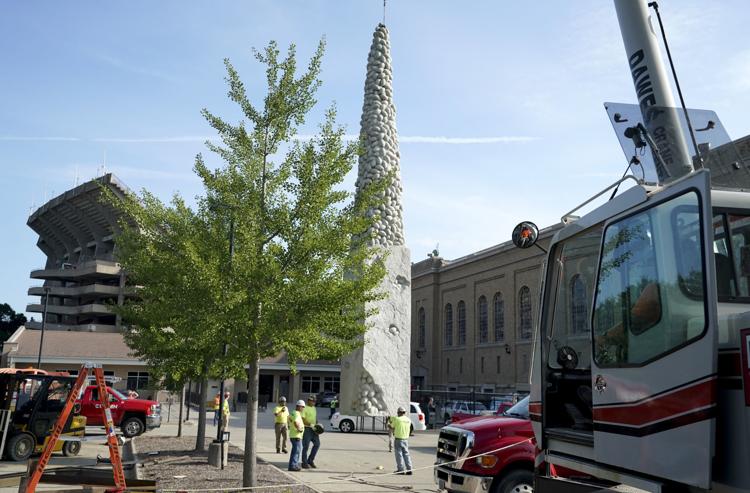 UW-Madison professor Gail Simpson, who specializes in public art and sculpture, said she finds "Nails' Tales" to be a "funny and smart" commentary on football culture.
"Everyone doesn't have to love the art for it to make a place more lively and memorable," she wrote in an email. "We could expect public art to engage people with their surroundings, to look up from their phones, to acknowledge the other people with whom we share public space, to wonder what else we might miss if we're not paying attention. To make us wonder what others think, to ask them, to see what we have in common or not."
She said "Nails' Tales" accomplished all of that and hopes it will be moved to a spot where conversation continues.
Relocation site unclear
The sculpture's removal is part of UW-Madison's plan to redesign the Field House South Plaza. It will be stowed away until officials identify a new site for it.
Gary Brown, university director of campus planning and landscape architecture. said UW-Madison has not yet identified relocation sites. He expected an announcement to be made next spring or summer.
The soonest relocation could happen is summer 2020, but the university first needs to secure funding, he said.
Brown estimated removal of the statue to cost $55,000 and it will be paid with university money, not state money. Storage costs are minimal because "Nails' Tales" is remaining on campus property.
Named for roommate
"Nails' Tales" artist Donald Lipski said Wednesday he never intended his sculpture to be controversial.
At the time it was commissioned, Lipski said his conversations with the university's athletic department led him to believe UW-Madison wanted a work to communicate celebration and strength.
Lipski, an acclaimed artist with works scattered across the country, selected an obelisk, which was commonly used in ancient times as an entrance to temples. He saw his design as establishing a temple to football. Lipski named the sculpture for his college roommate at UW-Madison, Eric "Nails" Nathan.
He said he doesn't need everyone to love "Nails' Tales," but wonders whether a new spot for the sculpture will change the conversation and foster more appreciation.
Chris Manke, who directed the state board's public art program at the time of "Nails' Tales" installation, passed by the Field House Wednesday afternoon hours after the sculpture's removal. There she saw two different groups of people taking pictures of the spot where the sculpture previously stood.
"It's still there in people's minds," she said. "Clearly it has sparked a conversation, even in its absence."
"Do you want something that you glance at and never think about ever again?" Debra Brehmer, director of the Contemporary Gallery Portrait Society in Milwaukee
"Do you want something that you glance at and never think about ever again?"

Debra Brehmer, director of the Contemporary Gallery Portrait Society in Milwaukee