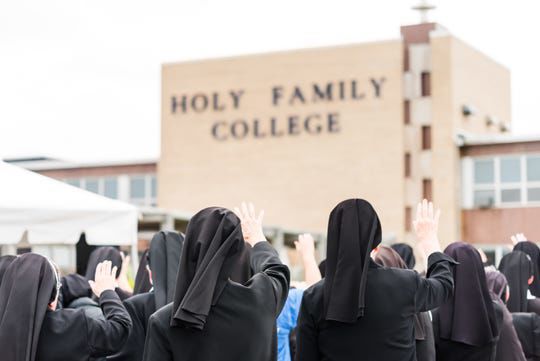 The COVID-19 financial pressures build at Wisconsin colleges with each passing week.
The state's public university system may bear the brunt of a $70 million spending cut across state agencies. Private liberal arts institutions are laying off some employees.
And a small Catholic college in Manitowoc announced Monday that it would close its doors by the end of August, likely marking the first coronavirus-related campus closure in the state.
Wisconsin colleges, many of which operated on thin margins even before the pandemic hit, face wave after wave of economic bad news as revenues dwindle and uncertainty about the fall semester mounts, all at a time when most campuses are up against a demographic challenge that could worsen because of COVID-19.
"It's a perfect storm," said Rolf Wegenke, president of the Wisconsin Association of Independent Colleges and Universities, an organization representing the state's private nonprofit institutions, some of which he said are preparing for enrollment to be down by as much as 20%.
"Across the board, they're struggling to adapt and (find) that fine line between being affordable and paying the bills," he said.
Edgewood College, for example, announced last week that it had offered buyouts to some faculty and notified some staff of layoffs. Spokesman Ed Taylor declined to provide the number of workers affected by the decision, which he said was pandemic-related. The layoffs were "limited" in number and some were partial layoffs, he said.
Trends 'too powerful'
Before Holy Family College made its Monday announcement, Wisconsin went nearly two decades without a private college closure, Wegenke said. The last one came in 2002 when Mount Senario College in Ladysmith shuttered its doors, he said.
Higher education experts anticipate a wave of small schools folding amid financial problems exacerbated by COVID-19.
Holy Family College, formerly known as Silver Lake College, faced fundraising and enrollment challenges for several years, but the pandemic pushed the liberal arts institution beyond the brink of sustainability.
"The trends working against us were just too powerful," President Robert Callahan said in an interview.
Callahan, who took over in January 2018, declined to specify the size of the college's deficit before the coronavirus emerged, saying only that leaders had been looking at Holy Family's financial position for several months. He also said he could not estimate the financial loss related to COVID-19.
The number of students submitting deposits for fall 2020 was "well behind" what the college saw in the previous year and COVID-19 brought almost all enrollment activity to a halt, he said.
The college enrolled 444 students in the fall of 2018, nearly a fifth of whom received Pell grants, according to federal education data.
About 120 employees work for the college, Callahan said.
Most workers' final day will be June 13. Some summer classes already scheduled will take place to allow some students to complete their degrees. College staff will help other students transfer to similar colleges that will accept their credits.
Wegenke said he did not see any others among the state's private nonprofit colleges immediately closing because of COVID-19.
"But I think everyone worries," he said. "Enrollment is critical."
Estimates grow
Most everyone expects state budget cuts at the state's public universities in the coming fiscal year.
But the University of Wisconsin System recently learned of a roughly $70 million spending reduction across state agencies for the current fiscal year ending June 30 — and one leader's estimates show the System would absorb two-thirds of the state's cuts.
Spokespeople for the state Department of Administration and System declined to provide estimates of how much each agency must shave from its budget, saying the numbers are still being finalized. UW-Madison Chancellor Rebecca Blank said at a Monday Faculty Senate meeting that the Systemwide total is between $46 million and $47 million, with UW-Madison's share amounting to $20 million.
"This is another hit to our funding," she said. "It does make our financial problems that much deeper."
The $20 million loss comes on top of the $100 million Blank previously estimated UW-Madison would lose due to the coronavirus, assuming life returns to normal by early summer.
UW-Madison vice chancellor for finance and administration Laurent Heller offered two new estimates at the Monday meeting based on less optimistic scenarios, cautioning that both figures were not precise but were meant to capture a range of outcomes depending on how the public health crisis plays out.
If long-term effects on revenue streams persist and the campus faces some snags in re-opening, UW-Madison may see as much as a $300 million loss over the coming year, he said.
And in what Heller dubbed a pessimistic, "worst-case" scenario in which COVID-19's disruptions to society cause significant and long-lasting changes in people's behavior and the business climate, he estimated a loss of upward of $500 million over the coming year.
Concerned about COVID-19?
Sign up now to get the most recent coronavirus headlines and other important local and national news sent to your email inbox daily.