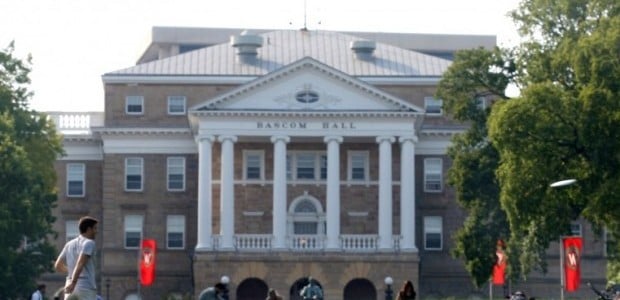 Come November, Badger fans may tailgate while armed but will still be forbidden from bringing their guns inside stadiums, classrooms or any other buildings at the flagship UW-Madison campus and the University of Wisconsin System's 26 campuses statewide, officials confirmed Thursday. 
"I would like that," said UW-Madison sophomore Roxolana Sklepova of keeping buildings weapon-free. "You would hope people wouldn't bring guns to those places anyway."
The shift — currently guns are barred on system campuses — comes to accommodate the state's concealed carry law and will likely change the look of campuses, with large "Firearms Prohibited in Building" signs expected to adorn every entrance to every campus building in accordance with the new law.
The concealed carry law takes effect Nov. 1 and gives people who obtain a permit and go through training the right to carry concealed weapons in public but not at places such as police stations, schools and courthouses. 
Weapons also will be prohibited in buildings where posted notices bar them. 
The new law represents "a very big, very complex kind of shift" for colleges where existing state law makes weapon possession illegal on campus, said University of Wisconsin System spokesman David Giroux. The new law has no such protection so the colleges have decided to ban weapons inside buildings, Giroux said. Carrying a concealed weapon will be legal on campus quads, parking lots and other spaces that aren't enclosed and in cars be they occupied or parked, he said.
With an estimated 10,000 or more campus building entrances statewide needing to be marked, sign makers should be busy. Giroux said a cost estimate is not yet available and that each campus is still deciding how best to integrate the signs into its landscape.
Jonathan Kaczmarek, a 32-year-old UW-Madison alumnus on campus to attend Thursday's Badger football opener, said he has no problem with the new policy but worried a bit about tailgaters with weapons and weapons left in cars, which he said pose a risk of theft. It's the responsibility of gun owners to deal responsibly with their weapons given the ban on them in university buildings, he said.
Giroux said university system lawyers have been working to educate officials at each UW campus of the changes and that so far all have agreed keeping guns out of buildings is the preferred approach.
"My understanding is that all campuses are going to move in that direction one way or the other," he said.