Fears of a pandemic-related drop in student enrollment were not reflected at UW-Madison this fall. The 7,306 students in this year's freshman class is the second-largest in university history.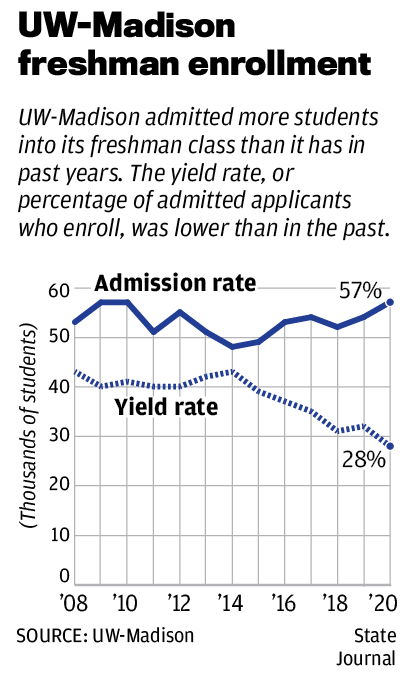 Look a little closer, though, and the effects of COVID-19 on college admissions become more clear.
UW-Madison admitted a larger percentage of students to join this year's class than in any year since the Great Recession, according to the university's freshman enrollment report. That was done to buoy enrollment amid uncertainty caused by the coronavirus, though admissions standards did not drop, according to André Phillips, UW-Madison director of admissions and recruitment.
Yield rate, or the percentage of admitted applicants who enroll, also shifted. More students turned down UW-Madison's admission offer than in any other year over the past three decades, a reflection of both the increased admittance rate and how the pandemic scrambled college options for some students.
Freshman Madelyn Mills said one of her high school friends ended up taking a gap year. She, too, said she may have seriously considered that option if UW-Madison announced all classes would be online this fall. Now a month into classes, Mills' schedule is entirely online.
Throughout the spring and summer, UW-Madison's admissions office fielded thousands of inquiries from prospective students and families.
Many, like Mills, wanted to know if classes would remain online in the fall and if dorms would be closed, questions administrators were working through at that time. Some students on the East and West Coasts weighed whether attending college halfway across the country was the best idea. International students sought clarity on travel restrictions and new federal guidance that threw their visa status into jeopardy. Parents of some admitted students lost their jobs in a virus-rocked economy, sparking increased calls and emails to the university's financial aid office.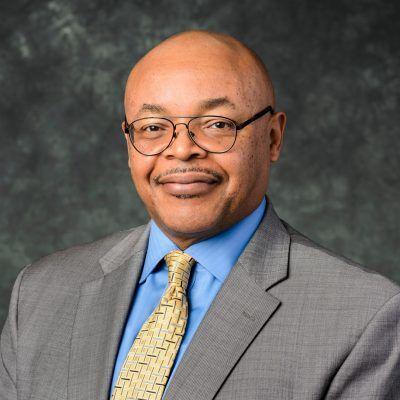 "Depending on residency, depending on distance, depending on family's fiscal position, any number of these dynamics were impacted by COVID and our campus had to address them all to the best of our ability in an environment that was ever-changing and continues to unfold," Phillips said in an interview.
Data crunching
Despite the whirlwind past six months for Phillips and his 70-person team, UW-Madison met its enrollment target of 7,300 students nearly on the nose. The 3% decline in this year's class compared to 2019 was planned, he said, because last year's cohort was a few hundred students larger than expected.
COVID-19 played some role in the lower yield rate, though university spokesman David Giroux said the trend in students applying to more institutions started before this year and likely would have continued even if the pandemic hadn't happened.
The composition of this year's class is relatively similar to the past few years, according to UW-Madison data. A little more than half, 52%, come from Wisconsin. Another 10% hail from Minnesota as part of a reciprocity program, in which the university receives in-state tuition amounts. About 31% come from other states, and the remaining 7% are international students.
Nearly three-quarters of Wisconsin applicants were admitted, compared to 58% of out-of-state applicants.
This year's class includes 755 recipients of Bucky's Tuition Promise, a scholarship program that covers full tuition for Wisconsin students whose families make less than the state median income.
Of the 7,306 freshmen enrolled this fall, 520 are Hispanic/Latino, 176 are Black, 17 are Native American, 676 are Asian, 298 are two or more races, 550 are international students and 4,849 are white. The 989 students of color in this class is up from 825 last year.
Phillips attributes the increase to a number of recruitment strategies.
Deferrals, withdrawals
A normal admissions cycle includes about 70 students who defer enrollment, Phillips said. This year, about 150 deferred for the fall or full year, though he cautioned that the number is still small when considering the size of the freshman class.
One data point that COVID-19 hasn't drastically changed: the number of student withdrawals. About 250 students withdrew from the university so far this fall compared to 208 at the same point in the semester a year ago.
Many freshmen told the Wisconsin State Journal that they toured UW-Madison in-person and committed to the university before the pandemic began.
That was the case for Riley Prinsen, who said COVID-19 didn't really play a role in her college search. She knew she wanted to attend a school a few hours from her Minnesota home, and Madison made sense because her mom is an alumna.
Recruiting next year's freshman class is perhaps an even greater challenge, said Phillips, who has worked in college admissions for more than 35 years.
A pillar of the college search process, the campus tour, is currently suspended. Student tour guides still host online tours, and UW-Madison offers many online open houses and events.
"We are trying our very best to pivot to how do you have conversations with students and families if you can't have them in person," Phillips said. "We've got to continue to think about how do we have the most informative conversation with students and parents so that we're able to tell our story, hear their story, answer their questions and really envision not just what's in the moment, but what will their four-year experience be."