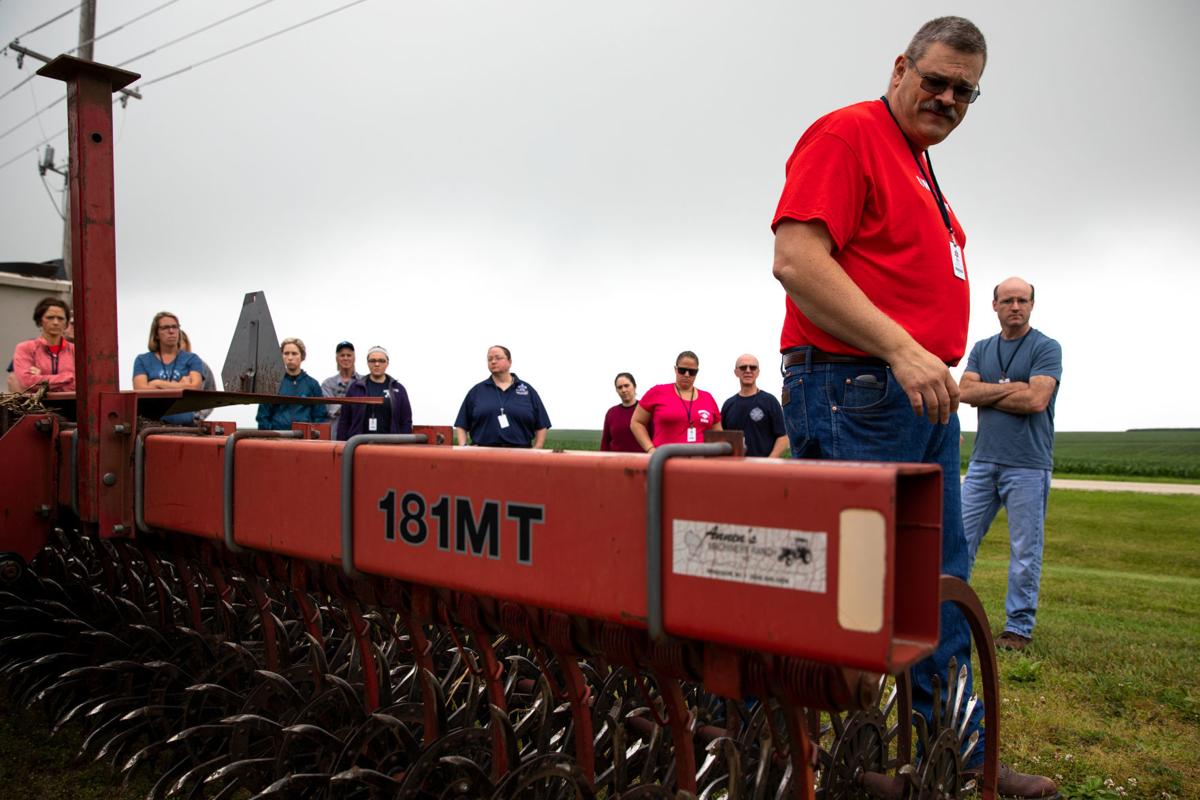 Few things embody the Wisconsin Idea more than UW Extension agricultural agents.
Scattered across the state, they offer expertise to farmers and connect them to the latest research coming out of University of Wisconsin System campuses about cows, corn, cranberries and more.
But steep budget cuts imposed during former Republican Gov. Scott Walker's tenure reduced the number of agents working statewide. As many as 23 of the state's 72 counties were without an agent in 2018. Staffing has slightly recovered since Extension shifted to UW-Madison oversight as part of a System restructuring. There are 62 agents this year, all of which are partially funded by counties and a dozen of whom cover multiple counties.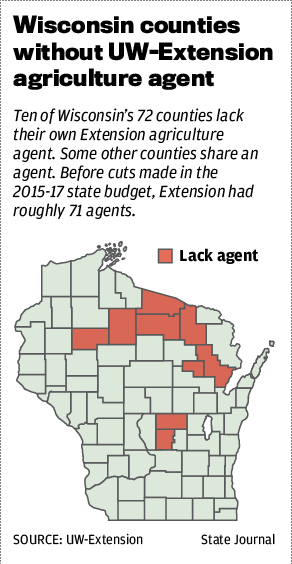 Democratic Gov. Tony Evers wants $2.5 million to fund 20 additional agents, a bill that could have rare bipartisan support during this period of divided government. Both Republicans and Democrats agree that the state's dairy industry is in crisis, with farmers suffering under low milk prices.
"I think we could always use more (ag agents)," Rep. Todd Novak, R-Dodgeville, vice chairman of the Assembly Committee on Agriculture, said in an interview. "More boots on the ground is a good thing and they're invaluable resources for farmers."
Several counties in Novak's district, which covers swaths of southwestern Wisconsin and is one of the most agriculturally diverse areas of the state, were without agents at some point in recent years but now have a dedicated Extension employee.
Ten of Wisconsin's other 72 counties are without their own agricultural agent, though Extension officials said those without one still have access to a statewide network of resources.
Marquette County lost its agent in the fall, and the County Board has already funded its portion, county administrator Gary Sorensen said. He said sharing an agent with another central Wisconsin county is a possibility.
Five counties took it upon themselves to fully fund the agent working for their communities.
Dane County did so last year, said Josh Wescott, chief of staff to Dane County Executive Joe Parisi. With the dairy industry facing its greatest challenge in decades and the county down 73 herds since 2014, officials pulled together nearly $53,000 in local tax dollars to hire a full-time dairy and livestock coordinator.
"Help to bring back state ag agents is incredibly welcome news," Wescott said of Evers' proposed bill to backfill some of the cuts Extension has made.
Interim Extension dean and director Karl Martin, who was not available for an interview last week, said in a statement that the proposed legislation would create new opportunities to connect and apply the latest university research with those who can benefit from it the most. More staff would mean more capacity to teach farmers and community members about topics such as commercial vegetable production, soil management and water quality.
Senate Majority Leader Scott Fitzgerald, R-Juneau, told reporters after Evers' State of the State speech in late January that the Legislature is "all ears" on the governor's series of agriculture bills.
"The governor is right; we're losing two dairy farms a day," he said.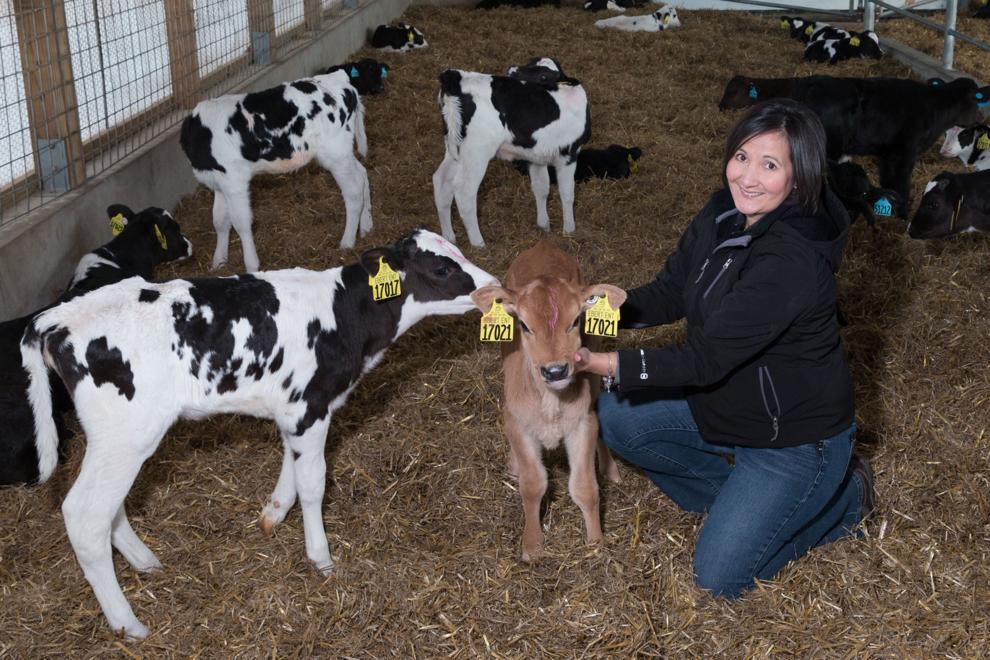 But others Republicans are signaling concern about the bills.
"Farmers are already telling us the governor's package does more to grow the size of government than actually help our rural areas," Assembly Speaker Robin Vos, R-Rochester, said in a statement last week. His spokeswoman did not respond to a request for comment last week on the Extension bill specifically.
Sen. Howard Marklein, R-Spring Green, chairman of the Senate Committee on Agriculture, Revenue and Financial Institutions, said he is willing to look at all of Evers' agriculture proposals, but that farmers' support for ag agents varies. Some are well-respected, but Marklein said he didn't know if that was true across the board.
"I want to deliver what farmers want, not what somebody in Madison thinks they need," he said.
Richard Halopka works as a crops and soil educator in Clark County, one of the highest milk-producing counties in the state. Previously a two-agent county, Clark County found itself down to one after budget cuts. County officials decided in the fall to fully fund their own part-time dairy educator, who is bringing in state specialists, working with at-risk farms and collaborating with the Wisconsin Farm Center.
Additional agents would reduce some of the stress, said Halopka, who also serves as president of the Wisconsin Association of County Agricultural Agents.
"You get spread thin some days," he said.
Agriculturists are accustomed to being reactive, he said. For example, programming plans went out the window last year when Mother Nature dropped a polar vortex, shifting agents' focus to the effect on perennial crops.
No matter the winds — political or literal — Halopka said the agents will do what they've always done: "We work with what we have."