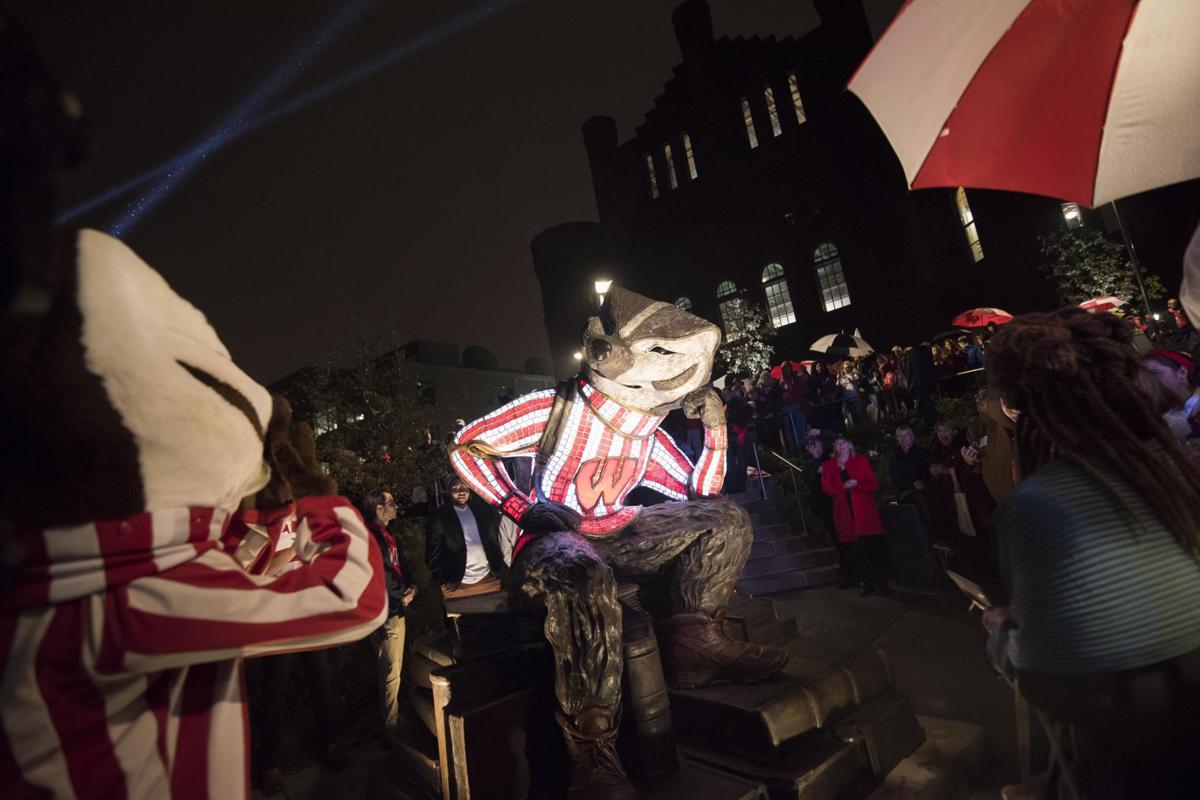 After an hour of celebration and exploration of UW-Madison's Alumni Park, visitors at Friday's grand opening gathered for the unveiling of the new Bucky Badger statue.
The statue, titled "Well Red," represents the forward-thinking vision of alumni and students who ponder what's to come.
Designed by Douwe Blumberg, the artist behind "America's Response Monument" at One World Trade Center, "Well Red" depicts a different kind of Bucky. He's not the Bucky you see on the sidelines at football games, but rather a studious Bucky.
Sitting atop a pile of books, Bucky looks into the distance across Lake Mendota. His bronze and stainless steel figure invokes the image of Rodin's "The Thinker," but Bucky still shows his school pride in a white-and-red striped shirt made of stained glass and illuminated from within.
The statue was unveiled to much fanfare. After remarks by Blumberg and Wisconsin Alumni Association president emerita Paula Bonner and a performance by the UW-Madison Gospel Choir, it seemed as if it was time for the sheet to be pulled. But first, Bucky himself had to arrive.
Bucky rode in on a Harley-Davidson motorcycle. William Harley was a graduate of the university and is represented in the park honoring notable alumni and their achievements, which occupies the green space between the Memorial Union and the Red Gym on Langdon Street.
With Bucky present, the statue was finally revealed to excited cheers.
You have free articles remaining.
'A great addition'
UW-Madison junior Sophie Frank said she was thrilled to see the statue.
With a Bucky that isn't cheering at sporting events, Frank said, the school now has a statue of the mascot that represents the well-rounded nature of the university rather than just its status as a Big Ten school.
The statue will become one of the school's landmarks, she said, like the Abraham Lincoln statue on Bascom Hill.
"Abe is so iconic, and so is the (Union) Terrace," Frank said. "This is just a great addition."
Bonner said she hopes Alumni Park will become an important part of the university landscape as well.
Filled with back-lighted quotes, illuminated objects related to alumni — such as the Capitol dome and the double-helix of DNA — and inscriptions noting UW firsts, Alumni Park met its goal to create a space worth visiting, Bonner said.
UW-Madison students are the focus of the university, as they should be, Bonner said, but any graduate of the university is part of it for life. She said Alumni Park shows that the work alumni do after graduation is what proves that the university is well worth its reputation.
"I hope (visitors tonight) are intrigued and want to come back ... a lot of times," she said.