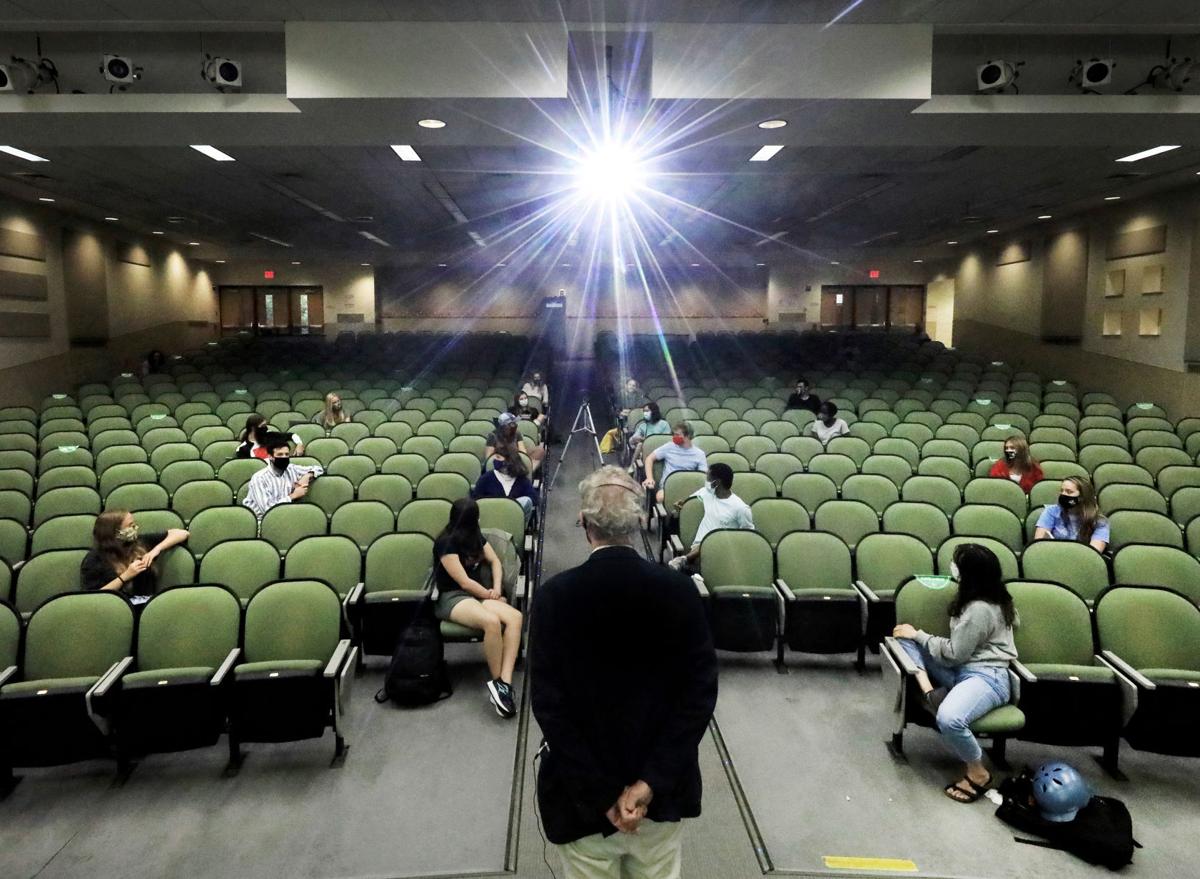 Freshman Caitlin Ott listened to her first college lecture from her bed.
Journalism professor Michael Wagner slipped on a mask, microphone and face shield to teach 34 students about mass media and political behavior in a 200-seat lecture hall.
And so began an odd, socially distanced semester unlike any other in UW-Madison's history where a lack of faith looms over the university's reopening plan and what appears to be its two competing goals: minimizing the spread of COVID-19 while also providing elements of the traditional college experience.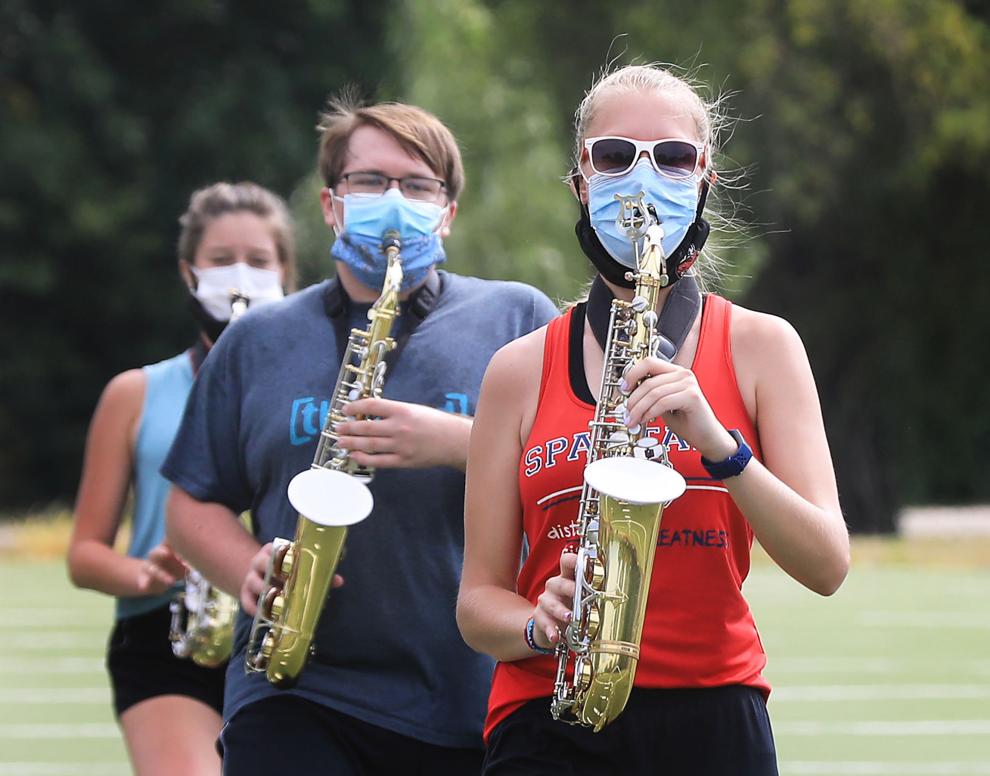 UW-Madison's return to the physical classroom nearly six months after shifting all courses online last spring stokes fear among some who say the safest option is to continue online and relief to others whose experience teaching or learning remotely was underwhelming.
In the last 10 days, 460 students and employees tested positive either at a university testing site or off-campus. The seven-day average positivity rate among students tested on-campus is 3.4%.
The university has filled 118 of its roughly 1,000 quarantine and isolation rooms, though this capacity doesn't capture what's happening off-campus. For example, UW-Madison on Friday ordered 420 members who live in some sorority and fraternity houses to quarantine for two weeks. While an unspecified number of isolation spaces were made available to Greek life members who tested positive, in general, the university's reopening plan does not provide rooms for students who live off-campus and become sick or were in close contact with someone who was.
Most students are following public health guidelines, according to Dean of Students Christina Olstad, but UW-Madison has already started taking action against those who are violating the rules, which could eventually lead to revoking dorm contracts and emergency suspensions.
"Remember it takes the actions of just a few to endanger the fall semester for many," she wrote in an email to the student body this week.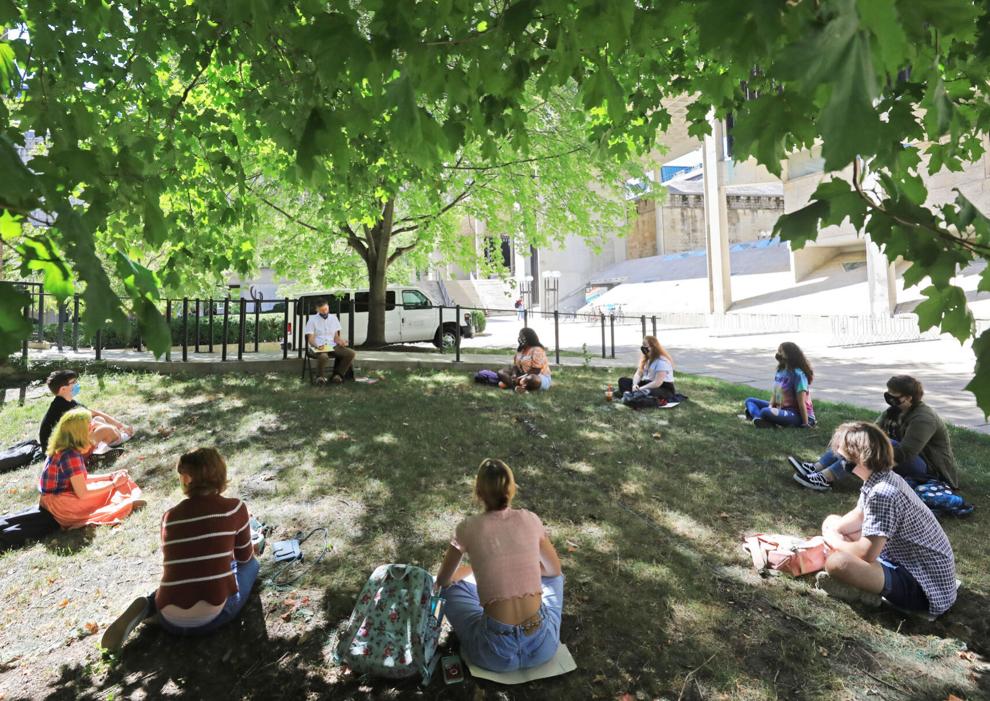 The new normal
UW-Madison's first week of classes looked strikingly similar in some ways to past years. The sun shined and students sunbathed, enjoying the last sliver of summer before the leaves turn and assignment deadlines approach.
But that picturesque image is juxtaposed with the pandemic's new "normal." Walk by Henry Mall and students stick test swabs up their noses. Madison Metro buses run their campus routes, but yellow school buses follow, providing additional seating because fewer people can sit in a single bus. Student groups still advertise upcoming meetings in sidewalk chalk, but there are Zoom links instead of building room numbers.
"It just doesn't feel the same," said Paige Bump, a senior studying anthropology who expects to be on campus just one day of the week for her single in-person class.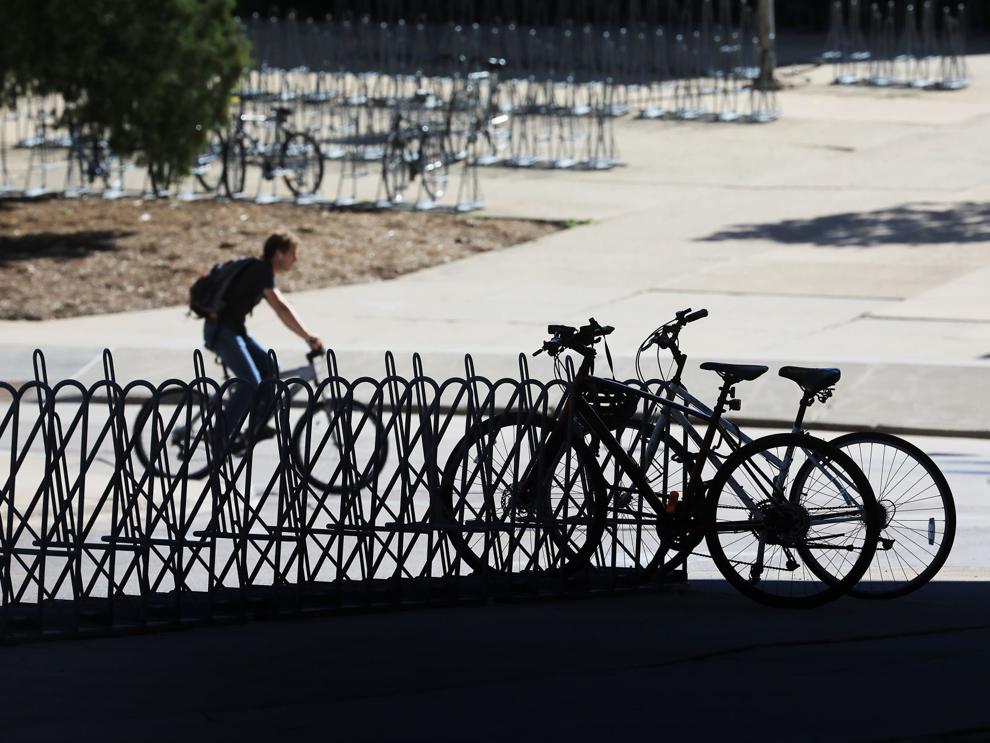 Getting to this point — where nearly 6,500 students live in residence halls and hundreds of COVID-19 tests are administered daily — required hours and hours (and hours) of meetings among administrators who examined nearly every aspect of university operations. All of it, from learning to laundry rooms to labs, had to change in order to reopen, which they see as a risk worth taking to revive some of the interpersonal interactions that define college life.
University leaders spent the summer defending their plan as other college reopenings collapsed, as COVID-19 cases among individuals in their 20's ticked up and as various UW-Madison groups criticized the "Smart Restart" plan. A coalition of campus labor unions want a "Moral Restart" that, among other things, calls for entirely online instruction until the city-county health agency reports zero COVID-19 cases for two weeks.
Chancellor Rebecca Blank has said in response to critics that many upperclassmen already had off-campus apartments lined up to live in this fall and would show up in Madison no matter how the university decided to operate. She perceives the reopening plan to provide a benefit to the city because UW-Madison operating its own testing system leaves the local health department less burdened. Blank and others received input on the reopening plan from student government, faculty and staff over the past several months. 
With a campus community as large as UW-Madison's, opinions differ. Some students remain unconvinced that another remote semester is the way to go. 
"I don't understand the need to shut down," said junior Erica Casper. She supports the reopening plan and said friends of hers who tested positive experienced few, if any, symptoms.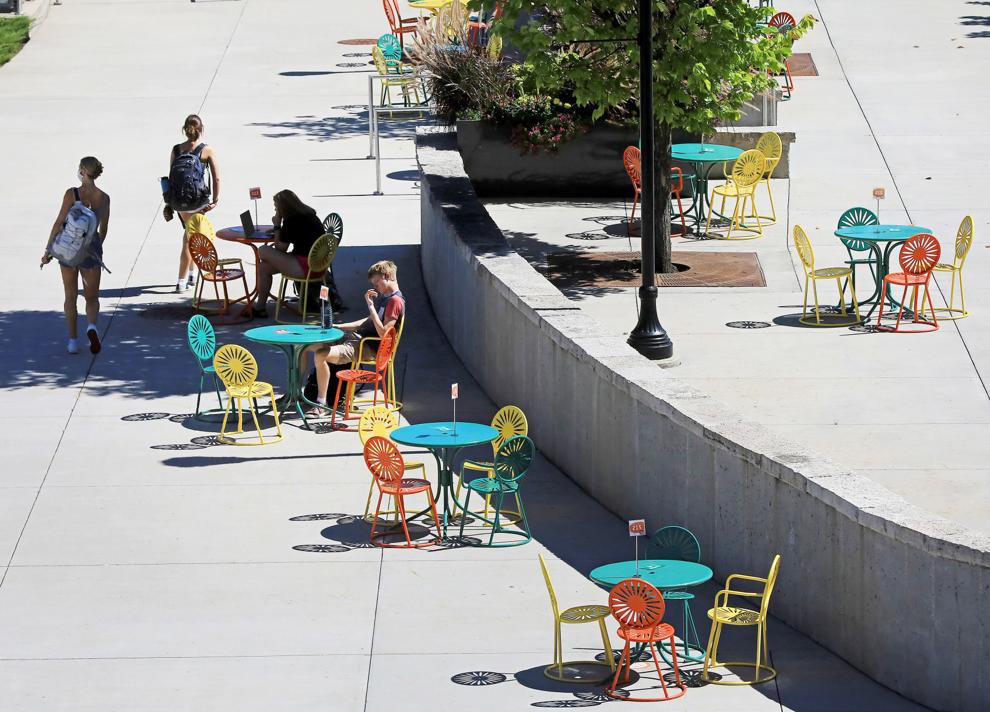 A teaching test run
Eighteen masked students filed into an Ingraham Hall classroom earlier this week. Green stickers that read "Have a seat" indicate which spots are available and each student wiped down their chair before settling in for class.
Philosophy professor Harry Brighouse volunteered to teach his three courses face-to-face this fall. But as someone who writes extensively on improving the quality of teaching, he wanted to test it out beforehand.
What took place on Tuesday, the final day of summer before classes began, was a mock class that helped inform Brighouse as to how loudly he needed to speak, which seating arrangements fostered the best conversation and whether certain exercises helped or hindered learning.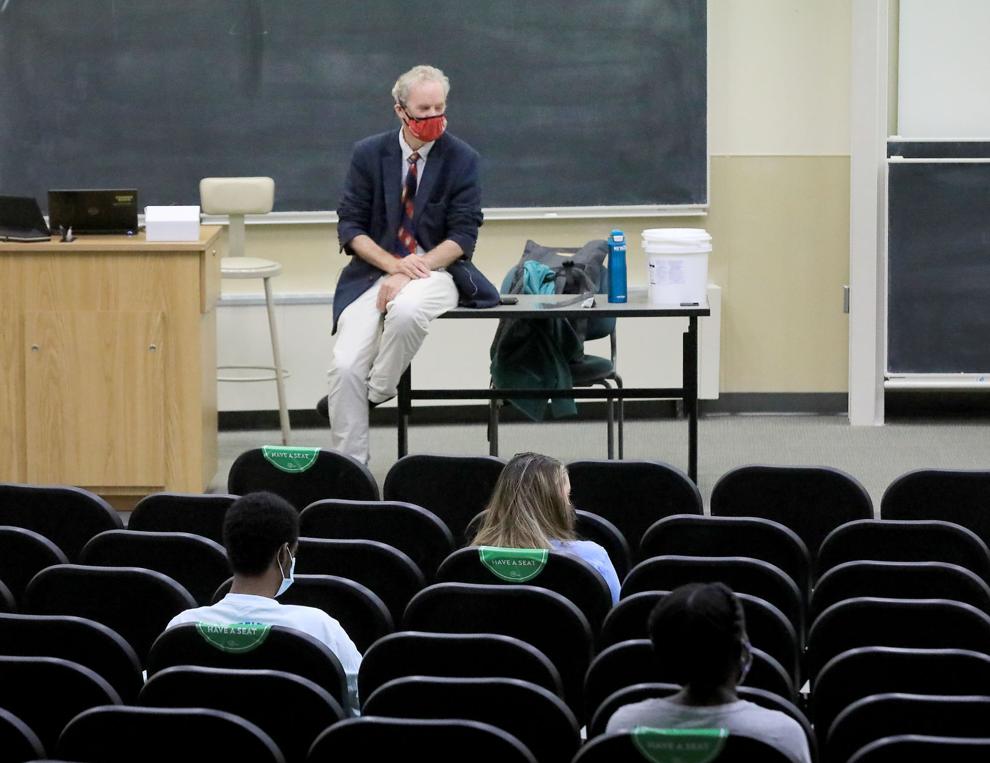 Brighouse, 57, has no concerns about teaching in person and plans to get tested regularly. He is glad to return to the classroom after struggling to create the same learning community online in the spring.
Zoom discussions are more stilted, with awkward silences to fill, which is tough for a teacher like Brighouse who sees his role as less of a lecturer and more as a guide leading students to discuss with each other. 
"I think there's a lot of learning that happens in class that I just don't think can be captured online given the technology we have," he said.
Tuesday's test run went fairly well, though Brighouse admitted the scene looked a bit odd. He interrupted a lively discussion on moral responsibility when soft-spoken students needed a reminder to speak up. Classmates pointed to their ears if they couldn't hear the speaker.
But there were moments — like when someone's comment prompted several raised hands — that Brighouse said felt remarkably normal and a far cry from what he was able to facilitate this spring.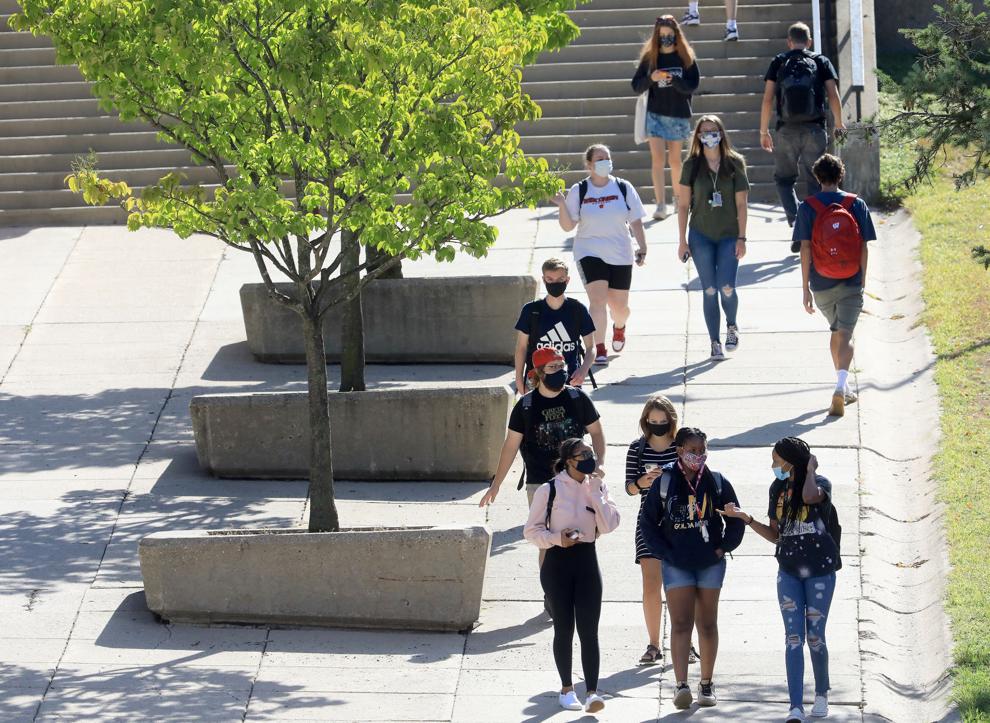 Reluctance, worry
Not everyone was as eager to return to the lecture hall last week as Brighouse. 
Instructors like German professor Hannah Eldridge say the benefits of teaching in person simply do not outweigh the public health risks. She said administrators' time this summer working on reopening plans would have been better spent improving online classes.
"It's quite difficult to plan for the semester because there are so many unknowns," she said.
Eldridge volunteered to teach two classes partially in person, mostly to prevent others from feeling forced into it. But do not mistake this United Faculty and Academic Staff union member's offer to teach face-to-face as an endorsement of UW-Madison's decision to reopen.
It's the small details that are falling through the cracks, Eldridge said. For example, one of her sections has 14 students, but the classroom initially assigned to her was capped at 10. She tried to get a Badger face shield, but was told the university ran out of them.
UW-Madison has a "substantial surplus" of Badger Shields, according to Provost John Karl Scholz, and as far as he is aware distribution of requested personal protective gear went well.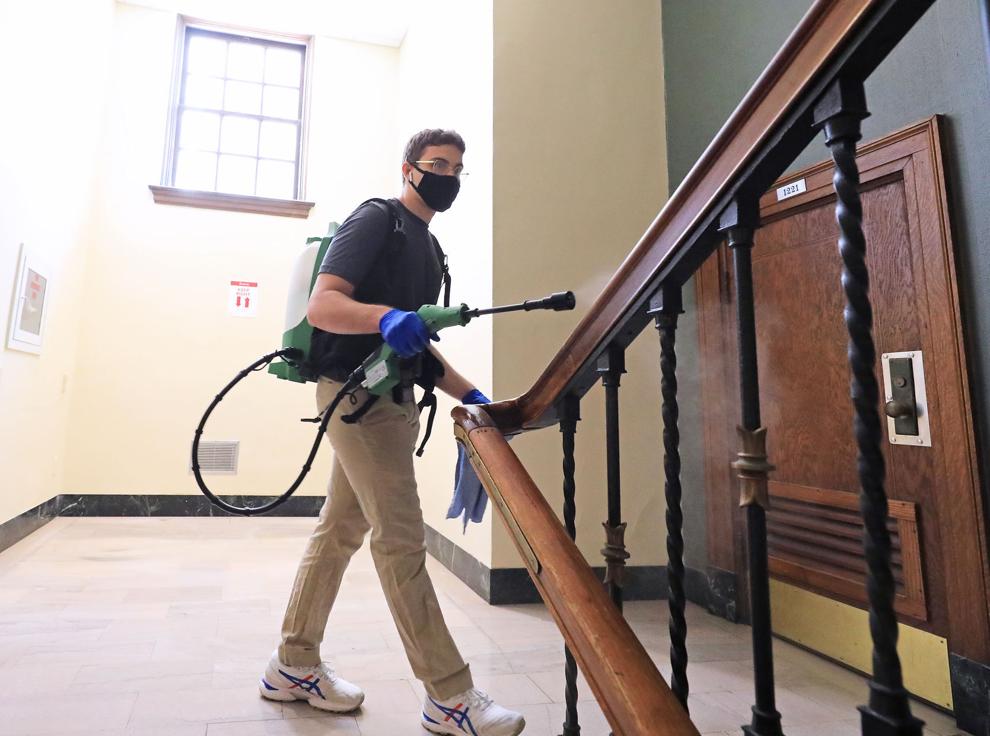 No crystal ball
As summer slid by, teaching assistant Lauren Gerlowski, 24, grew more anxious about agreeing to teach four discussion sections in person this fall, a decision she made so teachers with families wouldn't have to risk their children's health.
"I have this mentality that if someone has to, I will," she said. "But it doesn't take away my fear."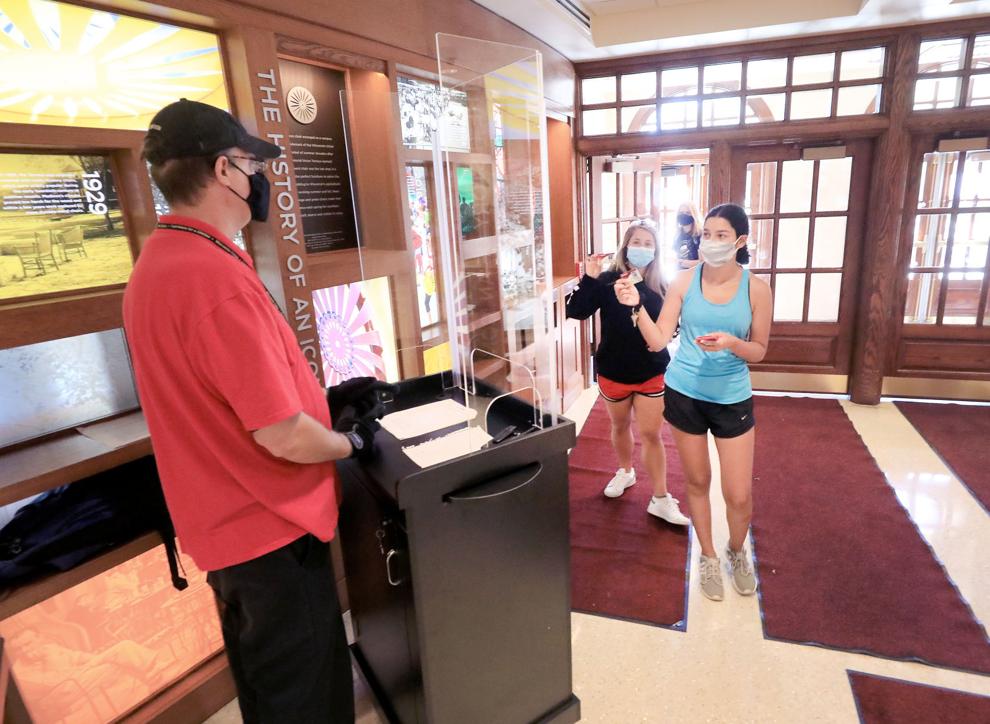 Gerlowski, a member of the graduate student union, finds it inconceivable that UW-Madison does not require instructors teaching face-to-face to get tested regularly and unacceptable that the university as a state agency can ignore the local public health order capping indoor gatherings at no more than 10 people to offer classes with up to 50 students.
"Why would anyone think this is a good idea with what's happening in Tuscaloosa?" she asked, referring to the home of University of Alabama where more than 2,000 students have tested positive. "The university is picking profit over people. I'm so uncomfortable with that."
One of UW-Madison's longest-serving professors, Thomas Popkewitz, struggled to say whether or not the university should have reopened.
The education professor celebrated his 50-year work anniversary in July and is teaching two courses online this fall. Two of his grandchildren are UW-Madison freshmen this year and he heard throughout the summer how excited they were to come to campus.
"The face-to-face stuff is really important but we're living in a moment where we have to be careful with that," he said. "If the university is carefully monitoring students and students understand the responsibility, it might work. But I don't know. I don't have a crystal ball on this … in about a month, we'll know how wise it was."
---
Photos: UW-Madison graduates gather after virtual commencement ceremony
"It just doesn't feel the same."

Paige Bump, a senior studying anthropology