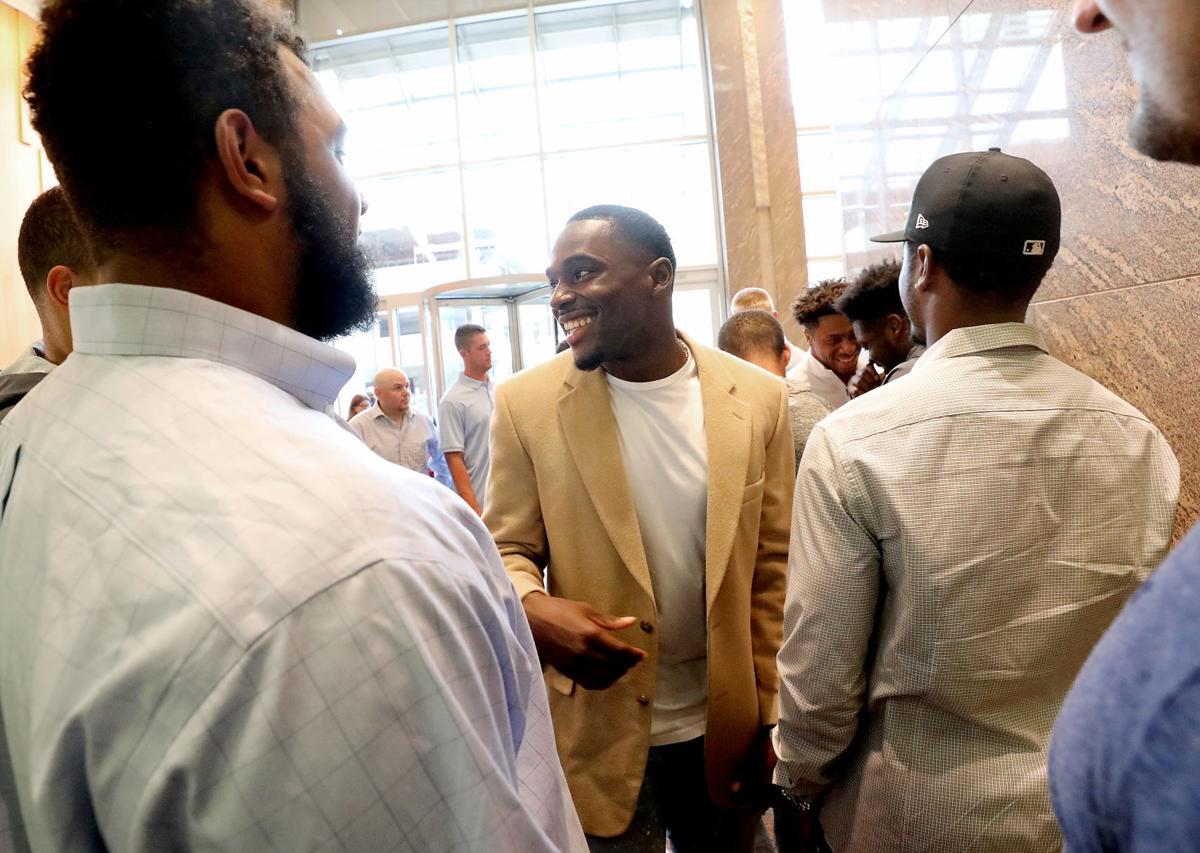 No matter what UW-Madison Chancellor Rebecca Blank decides, she will be criticized.
Former Wisconsin Badgers wide receiver Quintez Cephus, who was expelled from the university last semester after being accused by two women of sexual assault but was acquitted of those charges by a Dane County jury earlier this month, has petitioned for readmission to the university. The decision is up to Blank, who will likely face blowback from either black community leaders or sexual assault victims and advocates.
Blank must consider the ramifications for two groups who often face skepticism: African-Americans who are disproportionately affected by the criminal justice system and women who believe they are victims of sexual assault.
"The chancellor cannot make any decision that is satisfying," said retired University of Cincinnati professor Francis Cullen, whose research focuses on campus sexual assaults.
Black community leaders have called for Cephus' re-admittance while also blasting what they consider to be poor conditions for black students on campus. Advocates for sexual assault survivors worry whether future survivors will feel comfortable in coming forward to report assaults.
"Usually (universities) would side with the victim, but when you throw race in, that's going to make it more difficult," Cullen said. "You're talking about two disadvantaged groups and now they're intersecting in this case. It makes it much more politically risky for the chancellor. She's between a rock and a hard place."
Some may see Blank's decision as an indication of which side she believes more — the accusers or the black student athlete — but she also has to weigh the threat of a lawsuit.
There is no deadline by which Blank must decide, according to university spokesman John Lucas. He said a decision will be issued as soon as a thorough and complete review can be completed.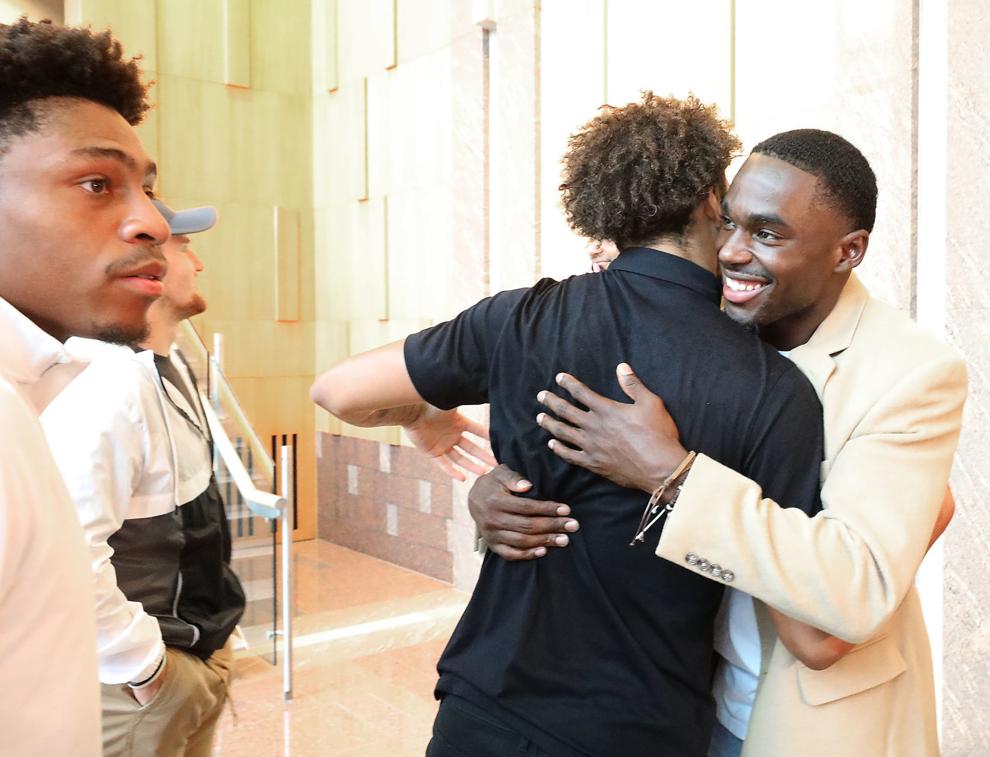 2 processes, 2 conclusions
The university expelled Cephus following an investigation into the accusers' claims conducted under federal Title IX, which is intended in part to protect students and employees from sexual harassment and sexual assault on college campuses. Cephus did not participate in an interview for the investigation because he was also facing criminal charges, his lawyers have previously said.
The burden of proof is lower in student disciplinary cases — a preponderance of evidence, rather than the criminal court standard of beyond a reasonable doubt. Under this standard, the university determines whether it is more likely than not that a student violated campus rules.
Andrew Miltenberg, one of Cephus' attorneys who has represented hundreds of accused students across the country, said the case "highlights the tension" between the law enforcement investigation process and the process universities follow, particularly when different conclusions are made.
Cephus had previously filed a lawsuit against the university, claiming it violated his federal civil rights by pursuing its investigation while a criminal proceeding was ongoing. The lawsuit claims that Cephus was unable to defend himself during the investigation without violating his Fifth Amendment right to silence.
UW-Madison officials responded at the time the suit was filed that its investigation aligned with federal law, which it said requires universities "to conduct prompt and equitable resolution" of sexual misconduct allegations.
Miltenberg declined to say whether the lawsuit would be refiled if Cephus is not readmitted, but said "all options remain on the table."
The high-profile New York attorney said he was unaware of any petition for readmission garnering this much public attention.
"Highly visible athletes tend to, in my view, get treated worse in the Title IX process than non-athletes," Miltenberg said. "Because they're so visible, there's a sense we can't let them get away with it because we need to hold them up as an example. And (Cephus) falls into that case."
All eyes on Blank
Under Blank's tenure, the university has tried to improve conditions for both African-American students and students who have been sexually assaulted with key hires, new policies and more training on Title IX reporting responsibilities and cultural competency.
A 2015 survey found more than 25 percent of UW-Madison's undergraduate women say they experienced some form of sexual assault.
The Black Leadership Council of Dane County joined the recent groundswell of support for reinstating Cephus in a letter sent to Blank earlier this week.
The Rev. Marcus Allen of Mount Zion Baptist Church, who is a member of the council, said declining to readmit Cephus would be a "slap in the face" to Madison's African-American community.
"Everyone across the nation is looking at this," he said. "The decision is on her whether to re-admit him or not."
Kingsley Pissang, former president of the UW-Madison Black Student Union and graduate adviser of the group, said she wished Cephus the best of luck, but declined to comment on whether the group supports having him re-admitted.
The Rape Crisis Center of Dane County also said it had no position on whether Cephus should be readmitted, according to executive director Erin Thornley Parisi. She said the center's role is to believe and support victims.
If Cephus is re-admitted, there will likely be an impact on sexual assault survivors, she said, adding that false reporting of sexual assault is rare.
"There will be victims that will feel defeated, and that there is no point in seeking assistance after being sexually assaulted," Thornley Parisi said.
Ian Henderson, director of legal and system services for the Wisconsin Coalition Against Sexual Assault, said there is concern for all sexual assault survivors on what message the university sends if Cephus is readmitted.
Thornley Parisi added that she is aware of how much pain the black community has experienced because of Cephus' case and said a closer look is needed at how the criminal justice system fails both African-Americans and sexual assault victims.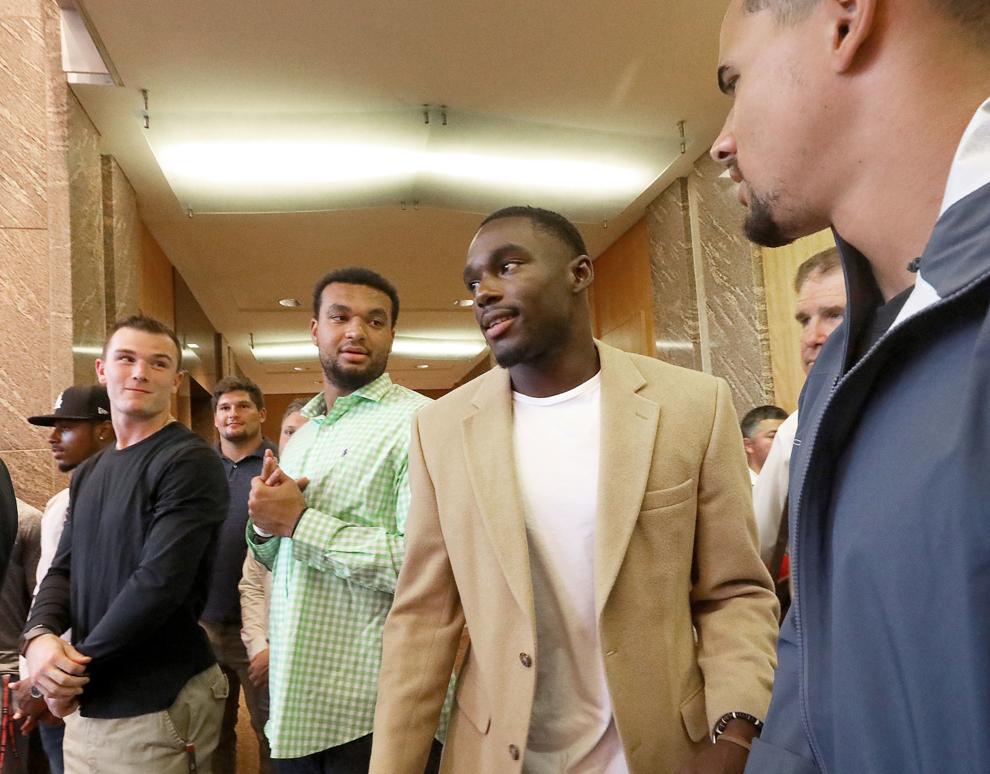 'Easy' decision?
Cephus, 21, was unavailable for an interview last week, said Stephen Meyer, another one of his attorneys.
Meyer acknowledged Blank is in a tough position but said the decision itself was "easy."
"Twelve people who heard all of the evidence decided who they believed," he said. "If she were not to readmit him, I would turn to my whiteboard."
In his Madison office throughout the duration of Cephus' legal proceedings, Meyer had a whiteboard that reads: "Q is a proxy for other peoples' agendas."
Meyer said re-admitting Cephus would send a message to students and faculty of color, as well as potential athletic recruits, that the university can own up to mistakes that negatively affect minorities.
Cullen, the Ohio professor who studied campus sexual assaults, said there tend to be three actions a university president or chancellor can take that may lead to their ouster: racial injustice, gender injustice or the firing of a popular coach.
"You split the community whenever you do one of those," he said. "If you have racial and gender injustice competing against each other, it's really toxic."
Thornley Parisi said Blank has a lot to consider in her decision and echoed what people from both sides of the case expressed in interviews last week: "I don't envy her position at all."
State Journal reporter Shelley K. Mesch contributed to this report.
"Everyone across the nation is looking at this." Rev. Marcus Allen of Mount Zion Baptist Church, a member of the Black Leadership Council of Dane County
"Everyone across the nation is looking at this."

Rev. Marcus Allen of Mount Zion Baptist Church, a member of the Black Leadership Council of Dane County