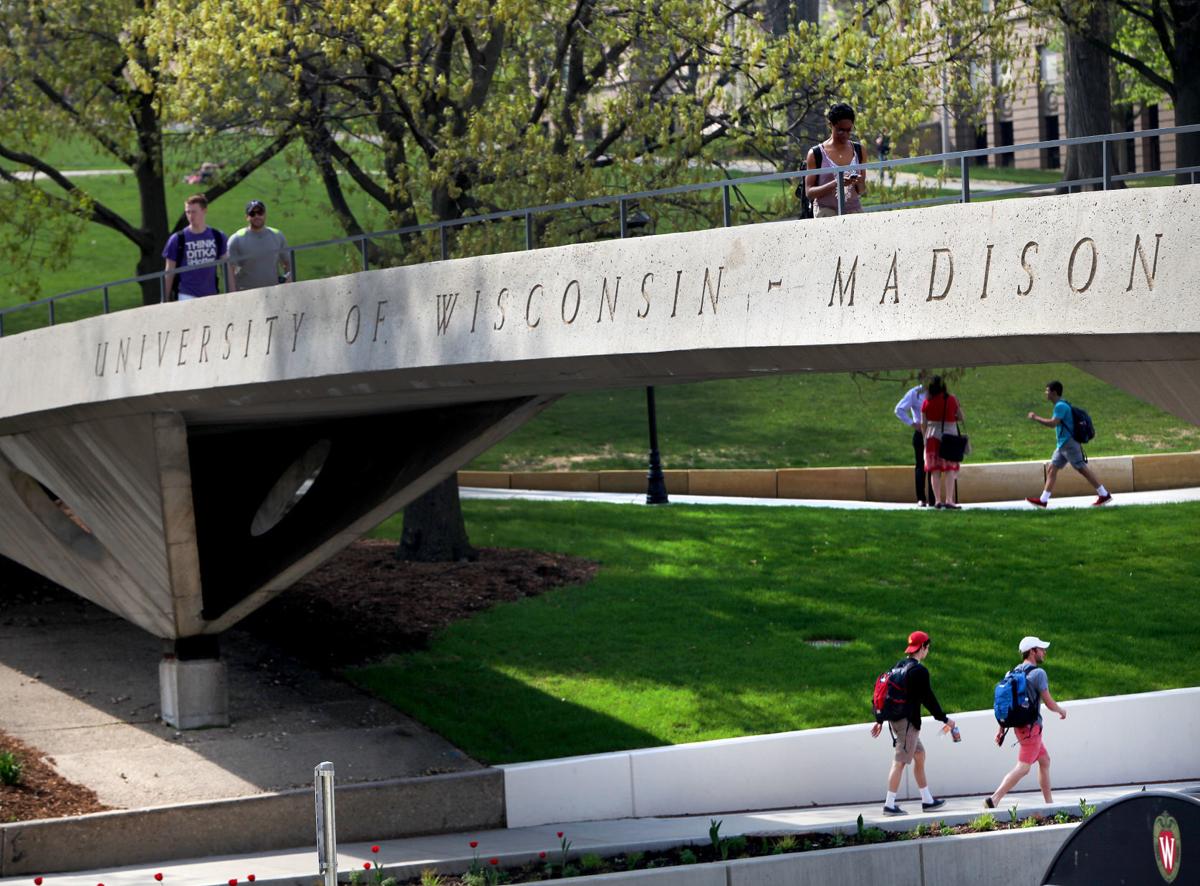 Cash-strapped University of Wisconsin campuses have a new source of revenue to pursue: businesses seeking to put their names on academic buildings, colleges and schools.
The UW Board of Regents unanimously approved policy changes Friday opening the door for UW System campuses to sell naming rights to businesses, nonprofit organizations, foundations and other outside organizations. Previous policies restricted naming rights to individuals.
Brands appearing on buildings and stadiums is an increasingly common sight at college campuses across the country.
The State Farm Hall of Business houses Illinois State University's business school. Iowa State University named its genetics research building the Hy-Line Genetics Research Building after receiving money from genetics company Hy-Line International. The University of Memphis has the FedEx Institute of Technology, which houses two classrooms and the graduate school offices.
"What may have seemed kind of tacky 30 to 40 years ago is normal," said UW-Madison marketing professor Thomas O'Guinn, who is an expert on branding. "Buildings cost a lot of money, so opening it up to businesses makes it a lot easier to find donors. From a development standpoint, it's smart."
Adding company names to academic units, such as a medical school or academic department, has the potential to be more problematic, he said. Perceived or actual conflicts of corporate interests interfering with academic research could arise.
"It all comes down to the perception of how much influence that company will have," O'Guinn said. "You don't want a company preventing you from doing science in the public interest. It's in everybody's best interest that the production of knowledge stay walled off from government and corporate interests."
The System has begun to see an "influx" of corporate donations for academic purposes, prompting the board to ask for a policy spelling out the rules, according to Alex Roe, the System's associate vice president for capital planning and budget.
"This is an important part of where we might get revenue," Roe told the board's education committee Thursday.
Campus budgets keep tightening with almost every institution up against a demographic trend of fewer high school students to recruit.
UW-Whitewater faces a $12 million deficit. UW-Oshkosh is offering voluntary buyouts to hundreds of its employees. The UW System received a roughly $58 million increase in the most recent two-year budget that officials said didn't even cover inflation. The budget also extended a tuition freeze for Wisconsin undergraduates that began in 2013.
The revised policies specify that the board still approves naming of any building, college or school. Agreement with companies should specify how many years the name is in effect. Businesses cannot place their logos on university signs nor can they use campus logos on their own marketing materials. And if companies are found to engage in bad behavior, both the board and individual chancellors can remove a name if it "presents a risk to the institution's reputation."
UW-Madison is not in any current conversations related to corporations naming buildings on campus, university spokesman John Lucas said.
The Wisconsin School of Business would appear to be an opportune target for a company to pursue naming rights. Most other business schools in the Big Ten carry a benefactor's name.
But a group of Badger alumni took an unusual step in 2007, giving $85 million in exchange for preserving the Wisconsin School of Business. The agreement lasts at least 20 years.
Be the first to know
Get local news delivered to your inbox!