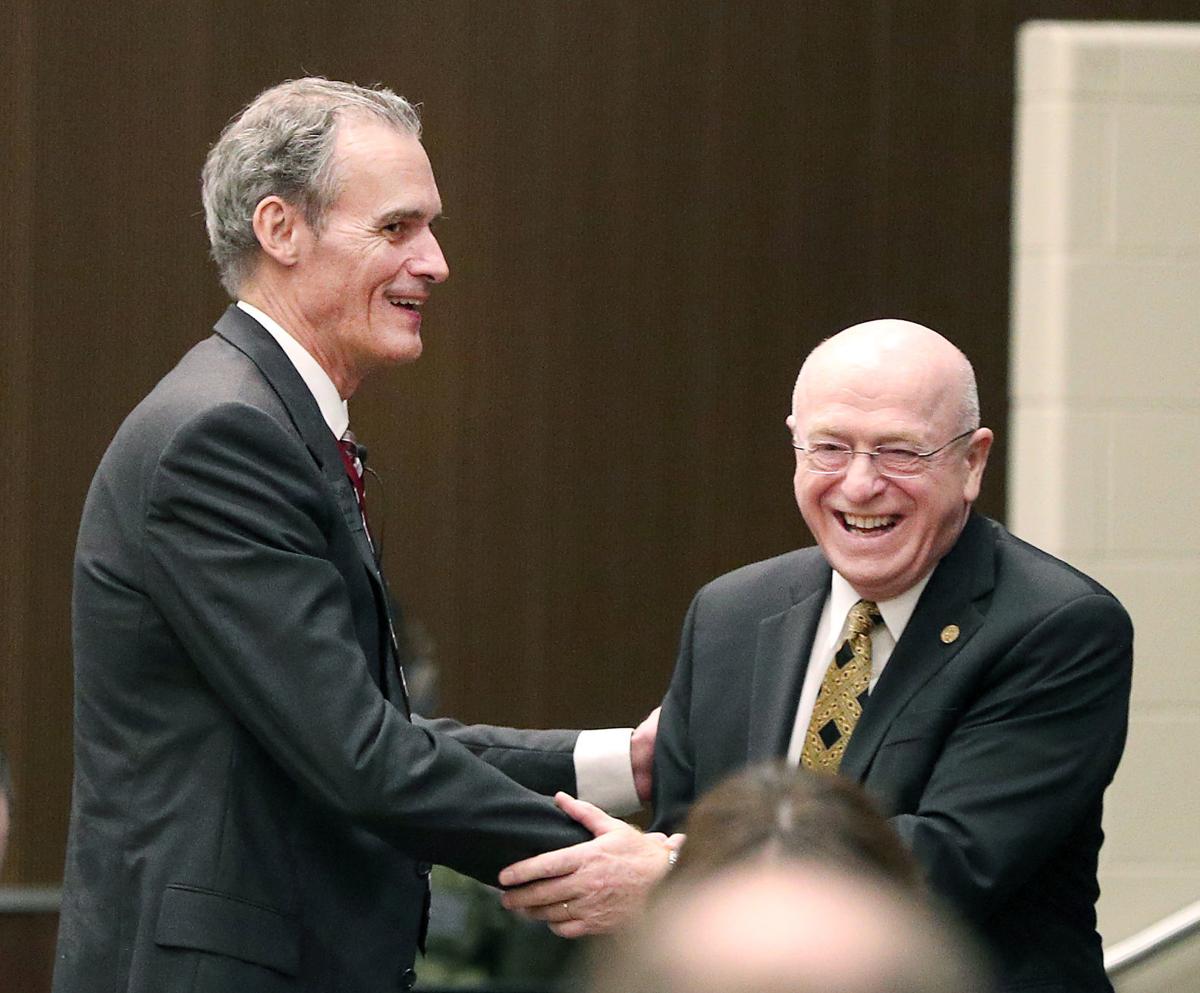 The University of Wisconsin System's governing board behind closed doors denied its longest-serving chancellor a performance raise, an action UW System President Ray Cross already warned of last month following UW-La Crosse Chancellor Joe Gow's decision to invite a porn star to speak on campus.
The UW Board of Regents awarded 10 of the 13 UW chancellors raises ranging from $14,421 to $72,668 — 6 to 14.21 percent of the chancellors' salaries — in a closed-door meeting Friday afternoon. UW-Madison Chancellor Rebecca Blank received the $72,668 raise, bringing her salary to $582,617.
The Regents also denied a raise to UW-Whitewater Chancellor Beverly Kopper, whose husband was banned from her campus this summer and stripped of an honorary, unpaid position after an investigation concluded he had sexually harassed female employees.
The System opened another investigation into Kopper's husband in September after at least one more woman came forward. The investigation was still ongoing last week, according to a System official.
In the midst of at least two campuses facing budget shortfalls — UW-Stevens Point and UW-Oshkosh — those chancellors along with eight others shared more than $270,000 in performance raises, most of which came from the salary of former UW Colleges and UW-Extension Chancellor Cathy Sandeen. Her position was eliminated following a System restructuring that merges the 13 two-year campuses into some of the UW's four-year institutions as regional campuses.
The System argued the raises were needed because some chancellors have increased responsibilities because of the restructuring. For example, UW-Madison absorbed the UW-Extension and about 1,000 employees around the state.
Performance raises are also needed to counteract market competition because UW chancellors' salaries trail peer institutions, System spokeswoman Heather LaRoi said.
The third chancellor who went without a raise, UW-Platteville's Dennis Shields, received a $50,000 raise within the past six months in response to a counter-offer from another institution, she said.
'Free speech' week
Gow took over as La Crosse's chancellor in February 2007, the longest tenure of any current chancellor.
When the other chancellors' raises take effect Jan. 1, Gow will be the lowest-paid chancellor despite overseeing the fifth-largest campus of nearly 10,600 students.
The chancellor of the smallest campus, Renee Wachter of UW-Superior, will earn about $25,000 more and supervise a university of about 8,000 fewer students.
Gow decided earlier this semester to invite adult film actress Nina Hartley to speak to students at an optional event as part of the campus' inaugural "Free Speech Week," an event celebrating a new System policy that protects free expression.
The controversy surrounding Gow's decision to select Hartley as speaker attracted national attention over what, exactly, is so controversial.
Others have said the System's response violates its own policy, which states: "It is not the proper role of the university to attempt to shield individuals from ideas and opinions they, or others, find unwelcome, disagreeable, or even deeply offensive."
Cross reprimanded Gow for exercising poor judgment in a Nov. 6 letter and informed him of a four-year retroactive audit of the chancellor's discretionary fund, which Gow initially used to pay Hartley a $5,000 speaking fee but has since paid back personally.
When the Regents passed the policy in October 2017, Gow said he was pleased with their affirmation to protect free speech, particularly given his own academic background. He earned an undergraduate degree in journalism and a master's and Ph.D. in speech communication.
Gow said he invited Hartley because she offered students a perspective different from their own. He said the question-and-answer session was enlightening with students pressing Hartley on the pornography industry's ties to sex trafficking and the intersection between feminism and pornography.
Gow said he is proud of his tenure on campus, citing a record-level of fundraising and recent construction projects totaling half a billion dollars. Enrollment data shows student enrollment increased year-over-year in nine of 12 academic years at his helm.
"Things are going very well and what matters most to me is that I feel the faculty, staff and students know who I am and how dedicated I am to keeping our university strong," Gow said in an interview Saturday. "That knowledge means far, far more to me than a pay increase, particularly right now."