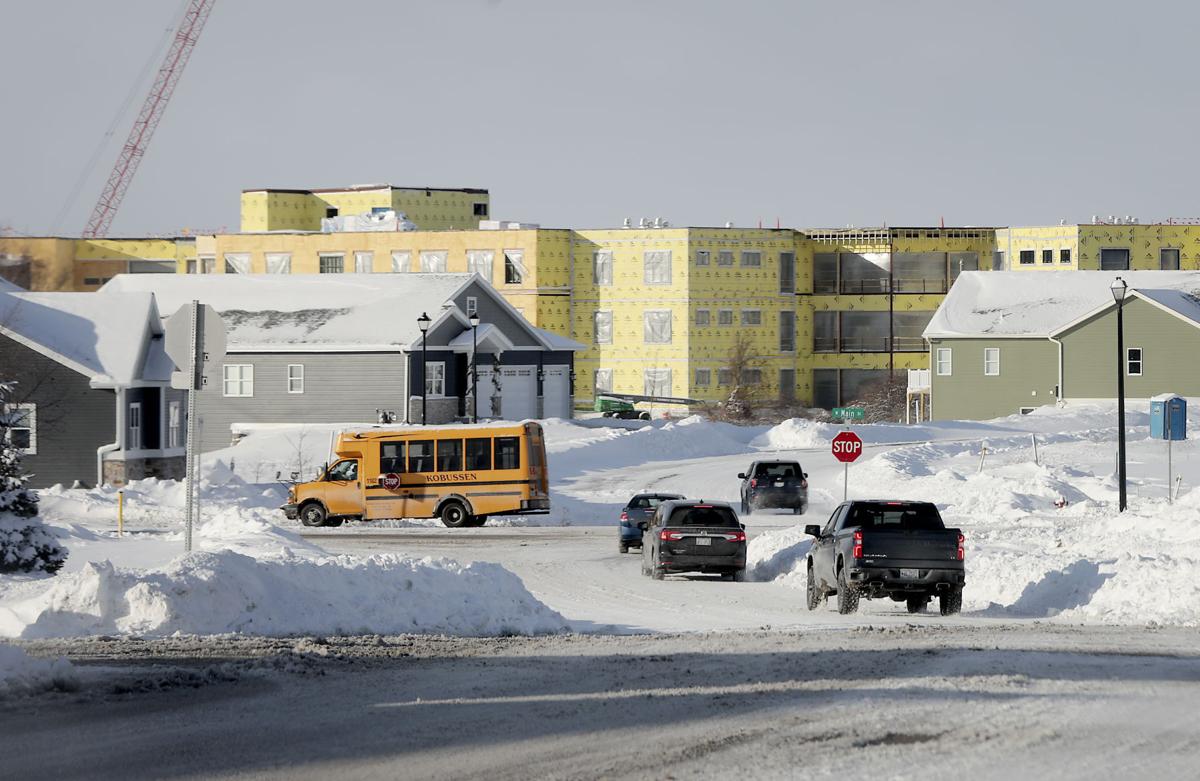 With a second high school set to open in 2022, Sun Prairie officials are redrawing middle and high school boundary lines with an eye toward creating racial and economic balance without forcing too many children to travel longer distances to schools farther from home.
Redrawing public school boundary lines can be a contentious process in any community. In Sun Prairie, it's the latest challenge for the district of 8,500 students after residents there voted in April 2019 to construct a second high school.
"It has been controversial," said Kellie Kalberer, who has three students in the district, including a sixth-grade son who will be directly affected by the new lines.
Equitably balanced schools are important, she said, but she's been frustrated that when it comes to what, specifically, constitutes racial and economic balance, the "School Board hasn't given them any guidance on what would be an OK range."
Also challenging for the district is that its current population and projected population growth aren't perfectly aligned with the locations of schools, meaning that if schools are to have relatively similar numbers of students, some students will have to go to a school that isn't the school closest to their homes.
Sun Prairie West High School is scheduled to open in fall 2022, when the existing Sun Prairie High School will become Sun Prairie East.
Both schools will serve grades 9 through 12, and the district's three middle schools — now separated into two schools for sixth and seventh grades and and one "upper" middle school for grades 8 and 9 — will all become traditional middle schools serving students in grades 6 through 8.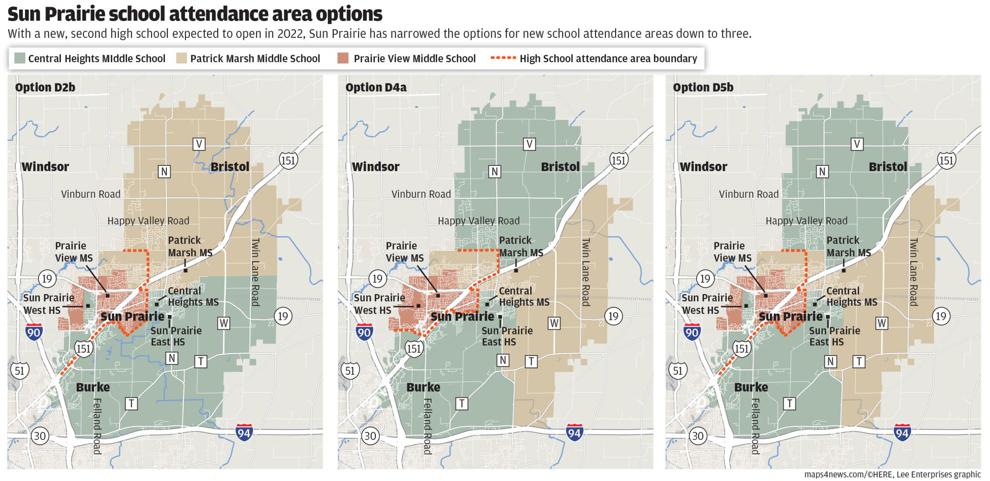 To prepare for that new reality, a group of volunteers dubbed the Secondary Boundary and Bell Time Task Force has been meeting since September on how best to divvy up Sun Prairie's neighborhoods among the five schools, and has narrowed the options down to three. Depending on what the group recommends on Wednesday and whether the School Board accepts it, the decision is bound to affect everything from property values to the shape of the city's growth.
Under the three proposals, students living on the east side of town would go to East High School, which would also serve students from the less-populated north and south sides. West High School would serve the more densely populated west-central part of the city.
For the middle schools, two of the options show the Central Heights Middle School attendance area bifurcated between the north and south parts of the district, with Prairie View and Patrick Marsh middle schools roughly serving the west and east sides, respectively. The third option would send children on the north side to Patrick Marsh, children on the south side to Central Heights, and children in the geographically smaller west-central area to Prairie View.
All of the plans have students in some west-central neighborhoods getting bused to Patrick Marsh, despite being closer to Prairie View.
Top criteria
The School Board decided early on that balancing the schools' populations by race and socioeconomic status would be the two most important considerations guiding their work. Race- and income-based disparities in educational achievement have long been evident in the growing suburb of 36,000 northeast of Madison — as they have been in Madison and much of the rest of the United States — and there is evidence that diverse schools have social and academic benefits for students, especially minority students.
"We don't want to create a 'good' middle school and a 'bad' middle school," said task force member Penny Clark, adding that the two current middle schools serving grades 6 and 7 have similar student demographics.
The Sun Prairie district has grown more diverse over the last 10 years, going from about 72% to 61% white, and has seen large percentage increases in Asian and mixed-race students.
That diversity isn't always spread out among the district's nine neighborhood elementary schools, however. Meadow View and Westside elementary schools, for example, have nonwhite populations exceeding 60%, according to district figures, while Eastside Elementary and Token Springs have white populations exceeding 76% and 84%, respectively.
Eastside and Token Springs are also among the wealthiest district schools, while Westside is among the poorest.
District spokesperson Patti Lux-Weber said the School Board initially advised the task force that socioeconomic status and racial composition among the middle and high schools "must be equal or nearly equal," but later changed "equal" to "equitable."
"While a specific tolerance range was not given, the board did have considerable discussion regarding their desire to have the schools very similar in socioeconomic demographics," she said. "The board conveyed that they wanted equity and the specific differential was something that the task force would have to explore and provide rationale with the option presented."
What constitutes "equitable" for task force members, however, can vary. Task force member Kristen Morris said the sense she's gotten from the group's meetings is that an 8% to 10% difference on the race and economic metrics among schools would probably be acceptable, while Clark said she'd be more comfortable with a 7% difference at most.
In the absence of specific direction from the School Board, "we're just kind of using our best judgment," Morris said. "It's a little bit frustrating."
The options considered by the task force so far have generally not included more than a 10-percentage-point difference between schools in their populations of low-income and nonwhite students.
A warning
Walter Stern, a UW-Madison assistant professor of educational policy studies and history, said "some research has found diverse schools to be academically beneficial" but warned of potential negative unintended consequences to desegregation efforts of the past, such as poorer students and students of color having to travel long distances to desegregated schools outside of their neighborhoods — schools that can have few nonwhite staff.
"Research shows that the impacts of desegregation are complex and often contradictory," he said. "The fact that communities of color have often had limited power over educational policies that are implemented in the name of educational equity has been a significant factor in these outcomes."
The 39-member task force includes five people of color, including one Black person. There are also five members with Black or biracial family members. Lux-Weber said 12 people of color, of whom four are Black, were invited to be in the group. The district's seven-member school board has one Black member.
'Equally as good'
It's not entirely clear what the community at large thinks about the task force's work, as most of the public comments have been coming from those west-central neighborhoods that would be most affected by the change.
Kalberer, the mother of three, said her sixth-grader is faced with having to travel to a middle school that is 4 miles away rather than one that is about 1.5 miles away, affecting both travel time and his opportunity to participate in after-school activities.
She said there's been so much emphasis on diversifying the schools that other criteria, such as proximity "are falling by the wayside."
Developer Matt Elsing, whose The Reserve subdivision covers an area likely to be affected by the boundary line changes, said he's already had a couple families walk away from deals to buy homes because they wanted to see what the district does first.
"Most schools are equally as good," he said. "But they (residents) want a way to walk to school and stay with the kids they grew up with."
Morris said she knows it will be impossible for the district to please everyone, while Clark said that as Sun Prairie continues to grow, additional road-building will provide students with straighter, less time-consuming trips to the school.
"I know that there are a lot of neighborhoods that are really upset," Clark said, but it's the task force's job to consider the interests of the entire district.
[Editor's note: This story has been updated to correct the spelling of Kristen Morris' first name.]
---
PHOTOS: A DAY TO REMEMBER