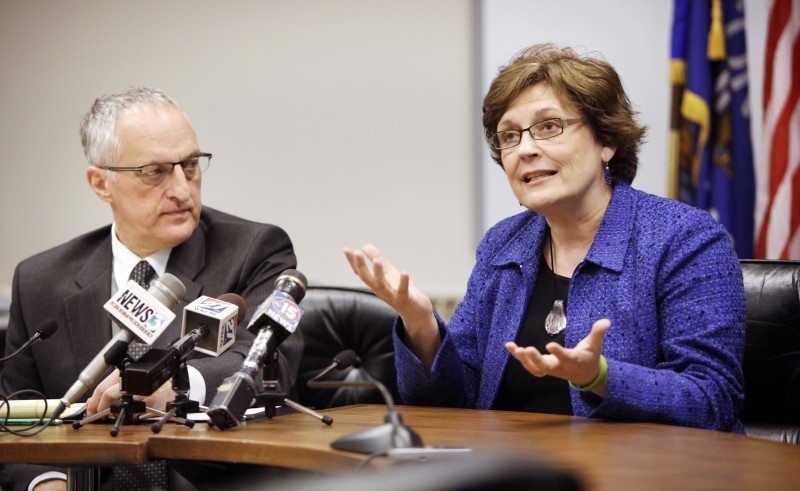 Madison School Board members used a secret straw poll, conducted via e-mail, to guide their deliberations over how to close a nearly $30 million budget hole for next year.
The move has raised questions about whether the board violated the state open meetings law by coming to agreement on decisions before taking a public vote.
"In my opinion it violates the spirit of the open-meeting procedures, if not the exact letter," said Peter Fox, executive director of the Wisconsin Newspaper Association.
But board president Arlene Silveira defended the process, saying the board sought to make its handling of the 2010-11 budget as transparent as possible. With more than 200 potential budget cuts proposed by district administrators, the board needed a way to streamline the process of reviewing the cuts, she said.
"We've worked to make this process as public as possible and to lend some structure to our discussion so that people could follow along," Silveira said. "That was the sole intent of doing that, to prioritize what we're going to talk about and lend some structure to the agenda."
In meetings, board members openly discussed compiling a "tally" to see how the majority was leaning on each budget item. However, the document on which the votes were compiled was only made public last week after a State Journal request. The district subsequently posted the tally on its website, www.mmsd.org.
The newspaper asked the state Department of Justice to review the board's actions. Justice officials declined to comment Tuesday.
Earlier this month Silveira asked board members to indicate with a "yes," "no" or "maybe" whether they supported each of the administration's 227 proposed cuts not yet voted on. She compiled the information outside a public meeting to gauge members' priorities, she said.
"Initially we were really struggling with how to get anything on the agenda," she said.
Silveira said she was the only person to see the tally until printed copies were handed out to members at a public meeting. Since then, board members have taken additional votes on the proposed cuts, but dozens remain on the table for discussion next week.
Silveira said she calculated the tally, rather than having a board staff member do it, to avoid concerns that it would be used for anything other than guiding the agenda.
"We thought it was better that no one had the information - administration or other board members - because we didn't want this to be misconstrued as something it was not," she said. "We didn't want it to be construed as something people could use for lobbying or anything like that."
Bill Lueders, president of the Wisconsin Freedom of Information Council, said the legality of the board's actions are not clear-cut.
"I think they're on very thin ice on terms of using this mechanism for deciding an issue," Lueders said. "But that, like a lot of things in the law, is subject to varying arguments. You could find someone who would say they're just getting feedback. There could be a compelling counter-argument."
Robert Dreps, a media lawyer, said he doubts the board violated the open meetings law because the communication was one-way and "not a convening of board members."
"It was not a building of consensus in advance, and it's not a vote at all. It's an indication of how they might vote," Dreps said.
Board attorney Dan Mallin did not return calls for comment Tuesday.
Silveira defended the tally, saying it did not affect board members' final budget votes.
"There's a number of (line items) that there's been (public) discussion on," she said. "If we didn't have the tally and we just went down the list one by one, I think we would get similar results. I don't think it influences people."