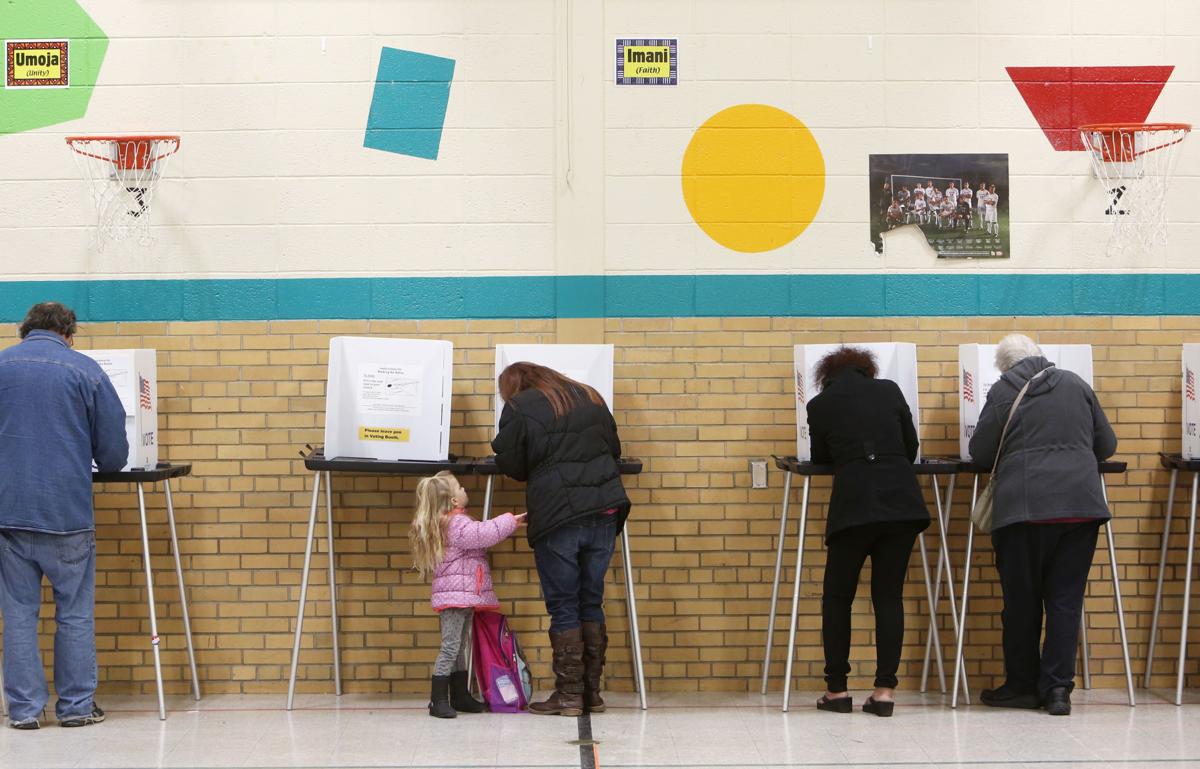 Voters in Madison resoundingly approved a plan to exceed school revenue limits by up to $26 million a year, while in the Dane County suburbs, huge building proposals were approved in Sun Prairie, McFarland and Belleville.
Historically, Madison school referendums pass more often than not, and Tuesday's proposal eased through with a roughly 3-to-1 victory margin.
"I'm really grateful to community members for expressing once again their strong support of Madison public schools," said School Board member Ed Hughes. "I hope that at some level, this is a vote of confidence in what we're doing. We take that seriously, and we'll redouble our efforts to show that the faith in us is warranted."
The Madison vote will permanently raise the district's state-imposed revenue limit by up to $26 million annually, though the increase will be phased in over four years. School Board members say the additional operating revenue will stave off what could have been draconian cuts in the years ahead.
"The benefit of this is that we get to continue the things that are working," said board member Dean Loumos, noting gains in early literacy and in narrowing achievement gaps. He said board members will be good stewards of the money, using only the tax levy authority needed each budget cycle.
"This just gives us the room to do what we need to do, and we will always be reasonable about that," Loumos said.
The way the referendum is structured, the first $5 million will be levied this year, though not spent until the 2017-18 budget. The levy authority will increase another $5 million the following year, to $10 million. The third year, the increase will be an additional $8 million, to $18 million. The fourth year, the amount will go up yet another $8 million, to the full $26 million.
The additional levy authority of up to $26 million would then continue annually as a recurring cost. District officials say the cost to the owner of an average-priced home — currently $254,548 — will average out over the four years to $35.76 annually.
Suburbs approve plans
In Sun Prairie, the approval of an $89.5 million proposal to build two elementary schools and purchase land for future building projects comes just six years after the district opened a $96 million high school on the city's east side.
The referendum will help ease crowding at lower grade levels with the construction of elementary schools and lays the groundwork for a second referendum in 2018 for the construction of a second high school in one of the state's fastest growing communities.
Six of the district's seven elementary schools are over capacity, and more than 1,600 students could be added over the next decade in a city whose population has swelled 57 percent since 2000 to more than 32,000 people.
"When you have the right engagement and the right discourse and you shape the direction of the school around that input, these results reflect that effort," said Superintendent Brad Saron. "This represents the first steps in shaping the school district that reflects the community's expectations for education."
Under the plan approved Tuesday, elementary schools would be built on the northwest and southwest sides of the city, each with a capacity for 500 students.
In the McFarland School District, voters overwhelmingly approved a $65.1 million plan to improve and expand several facilities. The projects will include a two-story classroom addition and expanding the gymnasium at Indian Mound Middle School and major improvements to Waubesa Intermediate School.
"It's a reflection of what we had heard when we were talking to folks. This community supports its schools, and this is a clear reflection of that support," said Cody Lundquist, a sixth-grade teacher in the district who headed up a community group to promote the referendum's passage. "I'm very excited for our district to have the opportunity to grow and to continue to be competitive in Dane County. I'm just thrilled."
The high school's swimming pool and auditorium, both constructed in 1978, will also be replaced with larger, more modern facilities and would open in time for the 2020-21 school year.
"The School Board listened closely to input from the community to develop a well-thought-out, fiscally responsible plan," said Superintendent Andrew Briddell. "The referendum results are a tremendous step forward in our community-driven planning process."
In Belleville, another suburban district anchored by a village of 2,500 people, a $20.7 million plan that includes additions and improvements at the middle and high school buildings was overwhelming approved.
The plans also include new classrooms, a cafeteria and larger library at the intermediate school; special services space for occupational, physical and speech therapy and maintenance work that includes plumbing, heating and cooling systems, technology wiring and roofs, windows and doors.
Large building plan fails in Milton
In Milton, voters approved exceeding the revenue limit by $2.5 million for five years but turned down an $87 million bid to build a new high school and swimming pool, expand an elementary school and make various renovations.
"The community does value the programming we offer, and they do not want to see that lessen," Superintendent Tim Schigur said of the operational referendum that was approved.
But Jon Cruzan, School Board president, said the facility needs remain, and the board will have to figure out how to meet them.
"They aren't going away, and they will continue to be more expensive for our taxpayers to address in the future," Cruzan said.
He said this was the right time to put the issue before voters.
"We needed to hear from them. … We've had lengthy, lengthy discourse about this for months and, in fact, nearly for the last eight, nine, 10 years."