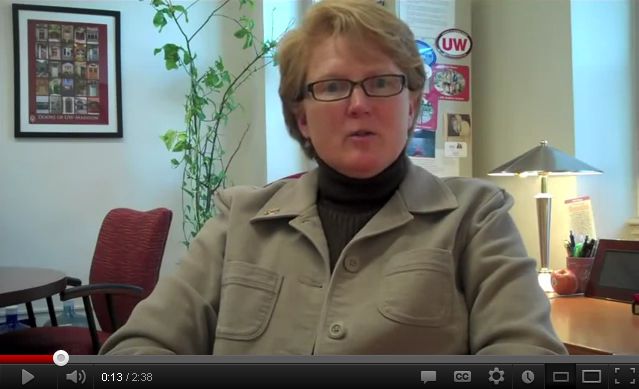 The response to a video from UW-Madison Dean of Students Lori Berquam emphatically urging students to avoid the Mifflin Street Block Party was not exactly what she hoped when it was posted online Monday. In fact, she described it as a "disaster."
She told students, "Don't go."
They told her: Don't tell us what to do.
By Tuesday, the university had removed the video from its YouTube channel due to critical comments — some of them attacking Berquam personally — and students questioned her maternal approach, even if they understood why she delivered the message.
"She just kept repeating 'Don't go,' 'Don't go,'" said Mariel Crolius, 21, a UW-Madison junior who plans to attend the May 5 party. "When you're telling a population of young people not to do something, the tendency will be that they'll just do it anyway."
In an interview Tuesday, Berquam said the video was pulled because it became a forum for "distasteful comments," but she said she stands by her position.
Last year's event was marred by a drunk and rowdy crowd, two stabbings, three sexual assaults, and three injured police officers.
"If someone's going to be upset with me because I said don't go and drink to oblivion and put yourself in harm's way, or make yourself vulnerable in that way, you know what? Ok, make fun of me," she said. "Maybe some people heard the message. Maybe some people listened to the message. Maybe. That's what I hoped for."
Later Tuesday, Berquam's acknowledgment on Twitter that her video debut was a "disaster" became a trending topic in Madison on the social media site. So were the phrases "Mifflin2012" and "dontgo."
In the two-and-a-half minute video, Berquam repeats the words "Don't go" eight times. She tells students if they do attend, they should comply with police requests, be respectful, go with people they know, and don't take a beverage from strangers. She also told them her office could hold them accountable for arrests or other police violations at the party.
My video debut was a disaster,but I'm all about your safety at #mifflin2012. Sorry if my tone wasn't right. I liked the remix!#dontgo

— Lori Berquam (@LoriBerquam) April 24, 2012
The video was a departure in strategy for Berquam, who in past years has tried to emphasize that the event is not university-run or sanctioned. This time, she tried to take a more direct approach.
"I did come out with this video because there were two stabbings last year," she said. "Two stabbings, numerous physical assaults and numerous sexual assaults were reported. I can count on those things (to happen). And that's what scares me."
Michael Stluka, a 24-year-old Edgewood College student who lives on the 400 block of Mifflin Street, said he thinks Berquam came across as a "scolding parent" and he's worried about a backlash. He said he's been working with members of a planning group to send out messages about the importance of good behavior at the event.
"It's sort of setting up for this confrontational attitude, between college administration, police officers, and anybody else who is trying to make event safer," he said.