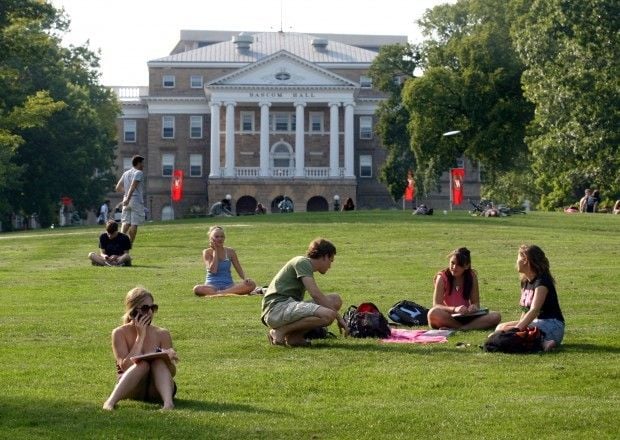 The first two years of college should be free at public schools and the federal and state governments should work together to change funding models and make it possible, according to a new paper by two UW-Madison professors.
The idea comes in response to what they call a deeply flawed system of awarding financial aid to fund college for most students.
"Talented students are forgoing college because of the costs, students who start college are unable to complete because they cannot afford to continue and even students who finish degrees may not realize all of the expected returns because of sizable debt burdens," said the authors, Sara Goldrick-Rab and Nancy Kendall.
Still, they argue that college should be encouraged.
"College is not always a salve, nor should it be the only available salve, but a college degree continues to be a key ingredient for advancement in the U.S.," they write.
To fix the system, they suggest rerouting about $80 billion in federal financial aid to public colleges and universities, including technical colleges, and using the money to cover tuition for every qualifying student.
Another $89 billion in state and local government funds would cover living expenses, books and supplies. Students would be expected to work 15 hours a week in work study programs, which the authors argue is one part of the current funding mechanism that doesn't need much fixing.
The new system would mean a free ride — and they mean free — for the first two years.
"Students will not face any costs for tuition, fees, books or supplies, and will receive a stipend and guaranteed employment at a living wage to cover their living expenses," they write. "Unsubsidized, dischargeable loans of a small amount will also be available for those who need them."
For students pursuing a four-year degree, the last two years would be covered by a need-based grant system, the authors write.
Goldrick-Rab and Kendall, who study educational policy at the university, argue that rerouting existing federal financial aid money to the proposed new model would not require additional funding.
They said that if 8 million to 10 million students took advantage, the average payout would be $8,500 to $10,600 a student.
Lumina Foundation, a private higher-education agency dedicated to improving access and success for students post-high school, funded the research. It's available here.