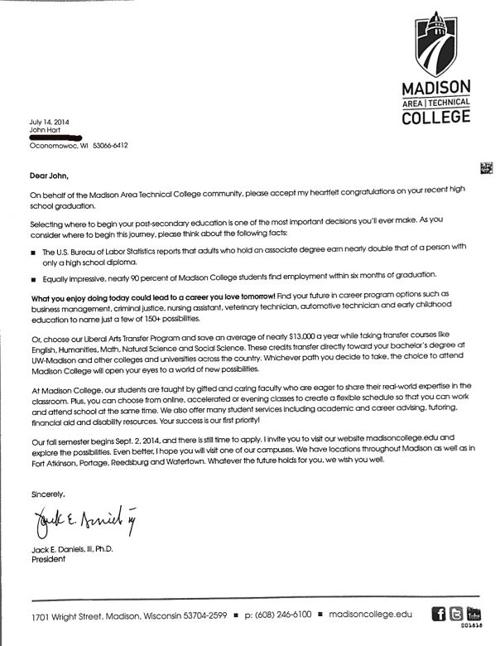 John Hart got his diploma from St. Catherine's High School in Racine in 1978. In the 36 years since he's become many things: bartender, college graduate, musician, student of the blues, husband, father of two and, currently, State Journal photographer.
It wasn't until recently that he's been called something else: a recent high school graduate.
"On behalf of the Madison Area Technical College community, please accept my heartfelt congratulations on your recent high school graduation," begins a recruiting letter from MATC dated July 14 from Jack E. Daniels, the college president.
Turns out he's not alone among "recent high school graduates" targeted by MATC. The college paid a vendor, Infogroup, for a list of all 2014 high school graduates in the school's enrollment area, which stretches across 12 counties. This is the first year the college sent July letters to high school graduates, said Vicki Saffran, interim marketing manager at MATC.
In all they sent out 27,000 of the letters and started hearing back soon from people long removed from high school who obviously should not have been on the list, she said. Recipients they've heard from range from age 35 to 85 and all reside within the district's enrollment area. Saffran said the vendor told the college that some 2014 high school graduates -- the intended targets -- also received the letter but she hasn't been able to verify it as of Friday afternoon. 
The college has used the vendor in the past and never encountered a glitch like this one, she said. Saffran said the exact cost of the mailing hasn't been calculated but she estimated it to be about $10,000. InfoGroup will eat the cost, she said.
"The college will recoup every dime," she said Friday.
Hart, 54, took the letter in good humor, posting it on Facebook and commenting: "I suppose that in the cosmic order of things they're technically accurate, but I'm not sure it's an astronomy degree they're offering."
The letter is attached to this post. If you have your own story of receiving a college recruitment letter that's a decade or three off, please share.