EAU CLAIRE — True Vue grew up speaking two languages: Hmong at home and English at school. After arriving in Wisconsin from Thailand at 1 year old, however, she had no one to teach her how to read and write in her native language.
That she had to do for herself. The child who was born in a refugee camp taught herself the Hmong written language by concentrating intently on hymns as they were sang at weekly services.
Hmong students at Locust Lane Elementary School won't have to resort to those self-teaching methods today.
Early last month, Vue, her sister Tia Lor and English language teacher Karla Lien started a language club at the elementary school geared toward fourth- and fifth-grade students who speak at least some Hmong at home but do not know how to read or write the language. The club's creation preceded the Eau Claire school district's announcement last week that it will include a "Hmong History and Culture" course at the high school level next fall.
Both initiatives, Vue said, are ways for Hmong students to connect to their history. They will also help non-Hmong students better understand the Chippewa Valley's largest ethnic and minority group.
"When I heard about the history class, I wished I'd had one," Vue said, "because we're not in the textbooks. We don't really get a chance to learn about our history. I think it's really phenomenal to bridge that gap of not knowing."
The Hmong people served as U.S. allies in the CIA's "secret war" against communist forces in Laos from the early 1960s until the Vietnam War ended in 1975. Facing retribution from communists for aiding the U.S., many fled Laos to refugee camps in Thailand and then to the U.S.
Many in the youngest generation to grow up in Wisconsin, Vue said, are becoming increasingly distant from that history and culture, as well as the language.
You have free articles remaining.
Register for more free articles
Stay logged in to skip the surveys
"Growing up immersed in the Hmong culture and the English culture, you see that a lot of (students' knowledge of Hmong culture) is going away," Vue said of the kids in her language club. "My generation is losing it, and our kids are losing it more. Part of my mission is to not lose that culture and tradition."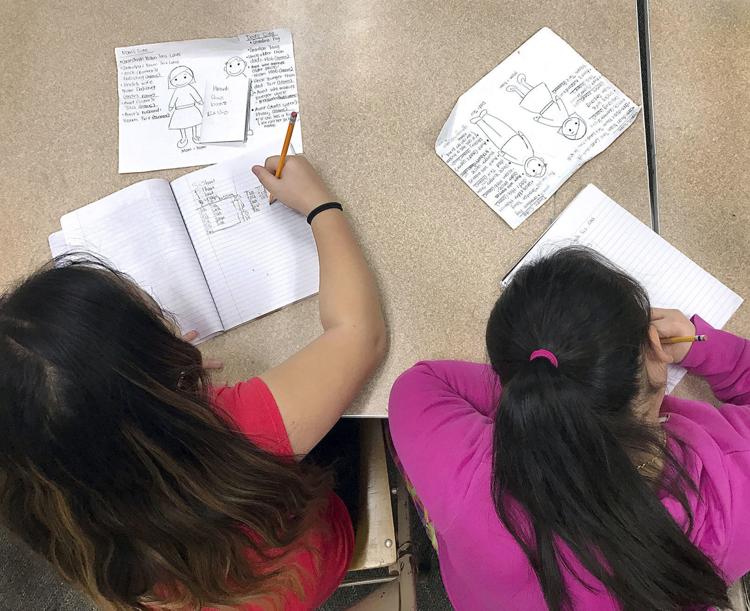 About 15 to 20 students trickle into Vue's language club each week on Wednesday mornings, where they practice writing and learn pieces of traditional culture. At a recent meeting, students practiced writing vowel sounds and learned how to politely address extended family members.
Locust Lane Elementary School currently has 53 students who are either fluent in Hmong or speak some of the language, Lien said.
When those students reach high school, they could find course offerings that have evolved beyond the first "Hmong History and Culture" course coming this fall.
That's what Eau Claire school board member Joe Luginbill hopes. He worked with high school students and other district staff to create the new course, and said there's talk of creating a Hmong language course within a couple years, although that's not yet final.
"The benefit we have here," Luginbill said of the class, "is we have living history right in Eau Claire. We have people who were the first Hmong — insert 'blank' — here."
A few of those "blanks" include Sophia Vuelo, who grew up in Eau Claire and recently became the first judge of Hmong descent in the state of Minnesota; Joe Bee Xiong, who made history by becoming the first Hmong resident elected to public office in the U.S. when he was elected to the Eau Claire City Council in 1996; and Kaying Xiong, who was the country's first elementary school principal of Hmong descent during her time leading Locust Lane.
Alina Xiong, North High School senior and president of the school's Hmong club, helped bring the history class to fruition. She hopes the class will create an avenue of conversation, especially when it comes to the Hmong people's role in the Vietnam War.
"I think it's very good for students of other colors to see how the Hmong people contributed to history," Xiong said. "I hope (the class) will broaden their horizon and help them know why we are here, and how we got here."