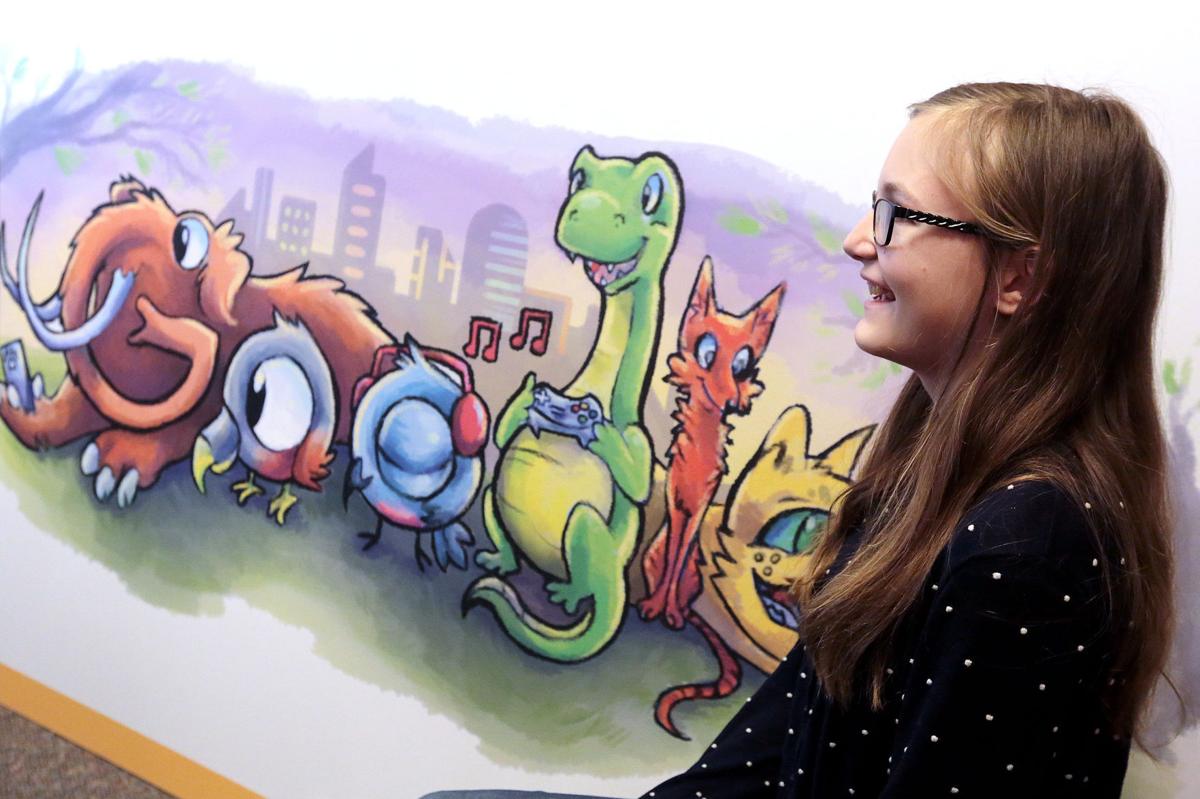 Thirteen-year-old Alyssa Anderson isn't quite sure where she'll be at noon on Friday, since Madison students have no school that day.
But wherever she is, she'll probably be Googling.
Alyssa, a seventh-grader at Wright Middle School, is Wisconsin's finalist in this year's Doodle 4 Google competition, a nationwide design contest run by the search-engine giant since 2008.
The national winner, to be announced online around noon Friday along with four runners-up, will receive a $30,000 college scholarship, a $50,000 technology award for their school, a trip to Google headquarters in California and other prizes.
"It's been amazing. Everyone has been encouraging me and telling me they're rooting for me," Alyssa said of the process of entering and advancing in the contest. "We're just keeping our fingers crossed."
Students in kindergarten through high school were invited last fall to enter Doodle 4 Google by designing a logo using the "Google" letters, in any media, along the theme "What I See for the Future…"
At the time, Alyssa was learning about cloning in her science class, she said. It sparked an idea: In the future, what if extinct animals could be brought back to life?
She researched some of the most famous bygone species and chose a woolly mammoth and a dinosaur for the Gs, a dodo bird and passenger pigeon for the Os, a Tasmanian tiger for the L and a saber-toothed cat for the E.
All the creatures in her Doodle are using some form of technology.
"Why they're holding technology is because this is in the future," said Alyssa, who made her drawing in colored pencil and then gave it finishing touches in Adobe Photoshop.
"They would be living alongside humans, and they're going to be adapting to a futuristic life," she said. "There's a city in the background where all of us live, but they're still living in the wild, (and yet) co-existing with us."
Alyssa, whose ambition is to be a professional artist or animator, learned last month that she was among the 53 Doodle 4 Google finalists selected from each U.S. state and territory.
She was feted at a schoolwide assembly at Wright and recognized at a Madison School Board meeting.
Her art teacher at Wright, Jeff "J.J." Johnson, calls her "phenomenal."
"I don't know if that's emphatic enough," Johnson said of his word to describe the young artist. "She has an intuitive grasp of many of the art principles and elements of design."
Alyssa said she's loved doing art since she was a small girl; her older sister, Josie, always pushed her to do better.
This is the second time she entered the Doodle 4 Google contest; the first was when she was 8, and she won second place in the state, said her mother, Lindy Anderson.
Anderson, a video producer at UW-Madison, credits both Johnson and Sheryl Rowe, Alyssa's second-grade teacher at Franklin Elementary School, for encouraging her daughter to try the Google competitions.
"We've been blown away by how the whole community has supported her," Anderson said. "Her friends, her teachers. The whole Madison Metropolitan School District rallied behind her. Her church, her neighbors and people we don't even know. I always run into people who say, 'Oh, you're the mom of the Google Girl.'
"She worked really hard. And she really stuck to it, and even stayed up late the night before the deadline because it wasn't quite what she wanted," her mother said. "We're really proud of her for keeping at it until she felt it was done."