The Madison School District continues to lose many more students than it gains under the state's open enrollment program, though district officials pointed to hopeful signs in the latest figures, released Monday.
The number of students who transferred out of the district dropped from 1,315 last year to 1,294 this year, a dip of 21 students.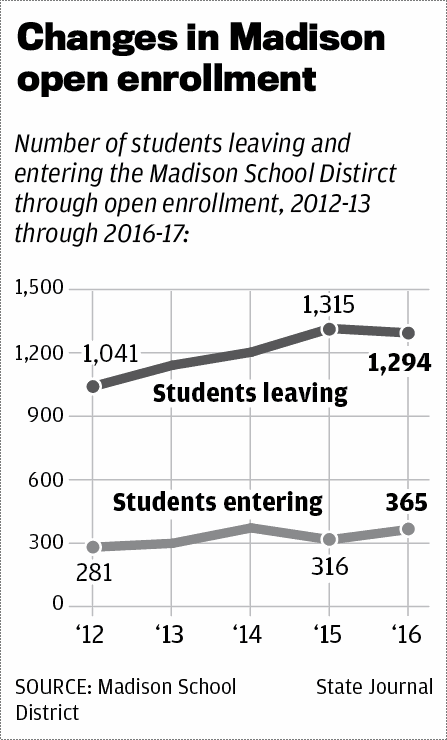 Meanwhile, the number of students choosing to come to Madison increased by 49 students, from 316 last year to 365 this year.
The net loss of 929 students is down from 999 students the prior year.
The numbers reflect all grades, from 4-year-old kindergarten through 12th.
"We're headed in a positive direction," said Andrew Statz, the district's executive director of accountability.
Still, the picture is very murky. Two neighboring school districts that already open-enroll a lot of Madison students — Verona and Monona Grove — said they had applications from many more Madison families but had to deny them due to a lack of space.
Verona said it denied 162 applications for this school year from Madison families, while Monona Grove said it denied about 75.
"Most of our buildings are at capacity or over capacity," said Jerrud Rossing, director of business services for the Monona Grove School District.
The data do not capture where the denied students ended up. Parents can apply to up to three districts at the same time, so some of the students may have been accepted elsewhere, in which case Madison's numbers would reflect their departures.
Application denied
Jerry Fuerstenberg said he's one example of a parent who sought to leave the Madison School District but wasn't successful.
He applied to transfer his adopted son to a Verona elementary school this year for third grade but was denied due to a lack of space, he said.
Dean Gorrell, Verona superintendent, said in an interview Monday the district had only two third-grade spots available for open enrollment applicants.
The spots were filled by a lottery.
Fuerstenberg cited safety concerns as the primary reason for wanting to leave Madison and said his son, who is African-American, remains at Orchard Ridge Elementary School, which disappoints the family.
"I think the teachers mean well and are doing the best they can, but I think there are a lot of distractions in the classroom," he said. "I don't think they have enough teachers to keep their eyes on all the kids."
Becky Kundert, principal of Orchard Ridge, said the school is making strides on both classroom behavior and student achievement.
Though its students score below state averages on state tests, the school received four out of five stars on its recent state report card, placing it in the "exceeds expectations" category.
The school's high score was due partly to its students making progress at rates above state averages for schools with similar demographics.
You have free articles remaining.
Register for more free articles
Stay logged in to skip the surveys
Statz said it certainly is the case that some students remain in Madison because they've been denied elsewhere.
However, he said he and other district officials think the positive trends in open enrollment reflect real progress in student achievement and in strategies that improve schools.
Statistics related to open enrollment are cumulative, meaning that if, for example, a girl who resides in Madison transfers to another district in kindergarten, she remains on Madison's count of leavers every year for as long as she stays away, potentially until she graduates.
For this reason, Statz said the district is particularly interested in first-time open enrollment students — leavers who had never applied to leave the district in prior years.
This number also is dropping, a good sign, he said. There were 373 new open enrollment leavers this year, down from 424 last year.
Open enrollment leavers are disproportionately white relative to the overall district population, while those coming into the district are disproportionately non-white, according to the district.
Parents surveyed
About half of the parents who pulled their children out of the Madison School District in recent years did so because they sought a better academic environment or a better school climate, according to results of a new district survey, also released Monday.
The district wanted to learn more about why students leave, so it emailed links to an electronic survey to 965 parents who open-enrolled their children out of the district between 2010 and 2015.
A total of 320 parents responded.
The most common reason cited for leaving was "better academic environment" (26 percent), followed by "better culture or climate" (23 percent), "other" (14 percent) and "the school is closer to where we live" (8 percent).
The district also surveyed parents whose children entered the district through open enrollment.
The most common reason, cited by 30 percent of parents, was that they had recently moved out of the district but wanted their child to continue attending the same school.
The next most popular reasons were "other" (20 percent), "it was my child's choice" (10 percent) and "the school is closer to my place of work" (10 percent).
This year, Leopold was the district elementary school with the most leavers, at 101.
Statz said the school's proximity to the Oregon and Verona school districts is a major driver, as some families who live in the Madison School District may be closer to a school in one of those other districts.
The same proximity issue is happening at Glendale Elementary School, he said, which is second-highest at 86 leavers. It lost most of its students to the McFarland and Monona Grove school districts.
Emily Royalty, president of Leopold's parent-faculty organization, said her two sons are having very good experiences at the school. She said there is "a lot of misinformation about the school out there," dating back to the years when the school was crowded.
"It's not overcrowded anymore, but I think some parents open enroll elsewhere without having visited the school or talked to the principal," she said.
Sennett Middle School had the most leavers (63) at that level, while La Follette was the high school with the most transfers out (186).
Also Monday, the district reported that its overall K-12 enrollment for this school year is 25,239, an increase of eight students from last year.