On Saturday, the fastest fingers could determine which Wisconsin high school goes home with a trophy.
Students will compete in the state championship tournament for the Wisconsin High School Esports Association — an interscholastic competitive high school video game league — in Fond du Lac. The tournament will determine the state's best high schools in four video games: "League of Legends," "Overwatch," "Rocket League" and "Super Smash Bros. Ultimate."
In a third-floor computer lab Wednesday, McFarland High School students, some with their own computers, gaming accessories and personal mouse pads, continued to hone their skills in "League of Legends" — a free-to-play online multiplayer strategy and battle game.
Senior Robbie Lessner said he's excited to compete in the best-of-three semifinal round Saturday for "League of Legends" as part of McFarland's varsity team. He admits, though, he is also a bit nervous with some recent changes to the team's roster.
"We're just trying to work through it and be ready for semifinals," the 18-year-old Lessner said. "Even if we don't pass semifinals, it'll still be a fun time for all of us and just kind of teach us what we can improve on."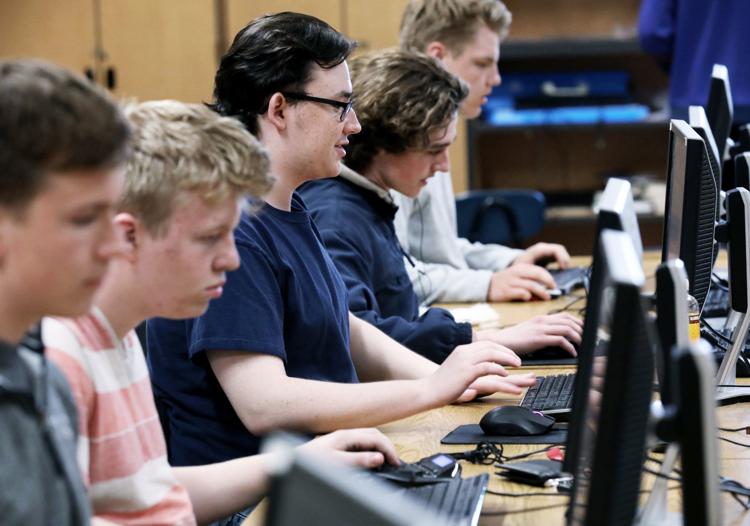 The McFarland esports club started last fall, joining the Wisconsin High School Esports Association in the second year of existence. It's the first Dane County high school to join the league.
The league formed with seven schools playing one video game, said Mike Dahle, president of the association.
It has experienced large growth across the state, said Dahle, a former teacher at Arrowhead High School in Hartland, with about 700 students from 31 schools competing on the four games.
The league consists of two eight-week seasons, one in the fall semester and one in spring. Matches are held weekly, culminating in the spring state tournament. Teams include between three and six players, depending on the game.
Dahle said video games are selected based on their popularity among students. Games that are mature-rated or feature realistic violence are excluded.
The scheduling of matches and time commitment, though, usually precludes students from playing more than one of the four video games, he said.
"It didn't allow students to participate in multiples they'd like to, so it's going to be something we take a look at to see how we can adapt it and make it more student-friendly," he said.
Growing popularity
Tyler Sarbacker, a math teacher at McFarland High School, started to play the decade-old "League of Legends" video game, which routinely receives updates and new playable characters, in college. He also follows the professional esports scene surrounding the game.
His interest in competitive gaming prompted him this summer to see if any state-level association was available for high school students. After finding out about the Wisconsin High School Esports Association, Sarbacker established the McFarland club.
It has consistently drawn about 30 players, who practice on school computers after classes are done or remotely from their homes. Given his knowledge of "League of Legends," Sarbacker said he can coach students on strategy and tactics, but acts more as an adviser for those in the club playing on the "Rocket League" and "Overwatch" teams.
"We've had a lot of freshmen start playing. They'd never really played prior to this year," he said. "I've been kind of helping them learn the game and start going from there."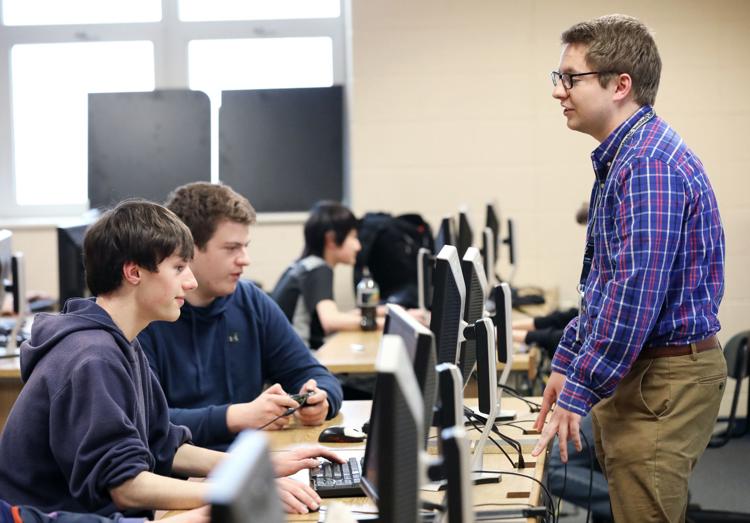 The popularity of esports continues to grow nationally and globally. There are professional leagues, tournaments feature prize pools in the millions of dollars, some people can earn an annual salary in the six figures, and millions watch matches live on the streaming service Twitch.
In recent years, esports has been even making inroads at colleges with scholarships being offered to some students. Dahle said he's aware of two Wisconsin students who have received scholarships.
You have free articles remaining.
Marquette University will launch an esports team this fall, and UW-Stout announced earlier in the week it could start a team as early as fall 2020.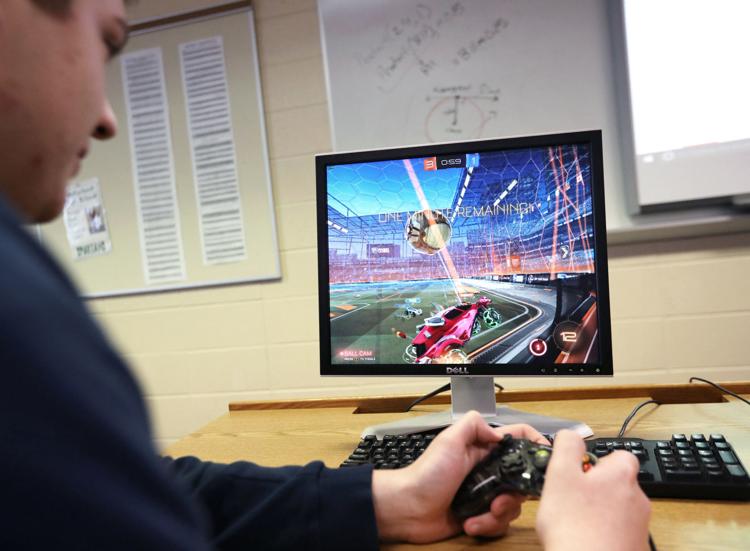 McFarland junior Truitt Landolt has put in hundreds of hours playing "Overwatch," a cartoon-stylized, first-person shooter video game. He's been on the esports team off and on this year when it doesn't conflict with his swimming and tennis schedule.
Landolt, 17, didn't know many of his teammates when he first joined but has become good friends with them.
He said he is considering two options for college: Either swim for a Division 2 school or try to get on the esports team at the Milwaukee School of Engineering.
While McFarland is currently the only Dane County school participating in the Wisconsin High School Esports Association, others are considering joining.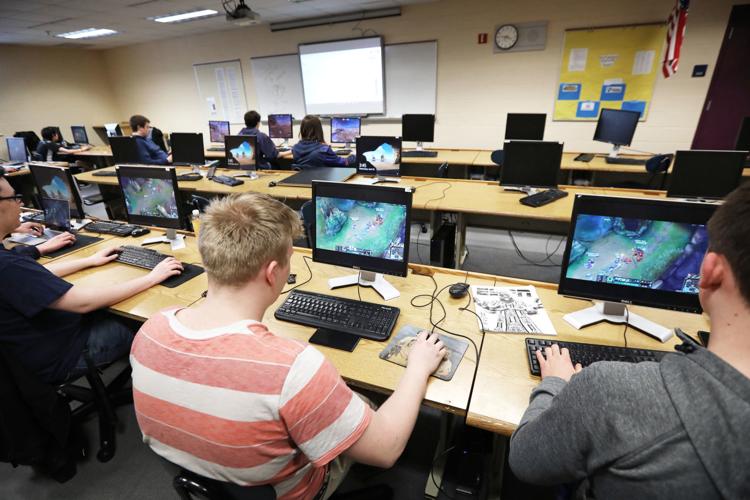 With a robust computer science program, Sun Prairie High School is looking into the possibility of establishing an esports team, said Curtis Mould, the district's director of digital media, innovation and strategy.
The district has classes and clubs in computer science, cyber security and video game design. Many of those students are into gaming, so an esports team would complement that interest, Mould said.
He said an esports team in Sun Prairie could start as early as next school year.
"To find a way to provide opportunities for kids to do publicly, collaboratively on a team what they may be interested in doing privately in their home might open the doors for kids to do some pretty cool things," Mould said.
All the marbles
The high school esports season wraps up Saturday at Game On, a Fond du Lac gaming center with computers, video game consoles and a competitive gaming arena.
Semifinal and championship matches of "League of Legends," "Overwatch," "Rocket League," and "Super Smash Bros. Ultimate" will run throughout the day.
"Rocket League" is a soccer game where people are replaced by rocket-propelled vehicles. "Super Smash Bros. Ultimate" is the newest edition of the long-running fighter series that features popular characters from other video game series, primarily developed by Nintendo.
Since the weekly matches are held remotely with teams playing from their own schools, Dahle said the state tournament offers a chance for competitors to meet in person in a setting similar to professional tournaments.
"It's really good for students to get an understanding that there are other people on the other side of the keyboard," he said. "Some of these students play with each other, and they've never actually met face to face."
Dahle said esports teams can teach students leadership, time management, teamwork, accountability and responsibility, which are "21st-century skills that a lot of schools have an initiative for."
Matches at the state tournament begin at 9:30 a.m., and spectators can get into Game On, 319 Winnebago Drive, Fond du Lac, for a $5 admission fee.
The Wisconsin High School Esports Association hosts two eight-week seasons, one in the fall semester and one in spring. Matches are held weekly, culminating in the spring state tournament. Teams include between three and six players, depending on the game.