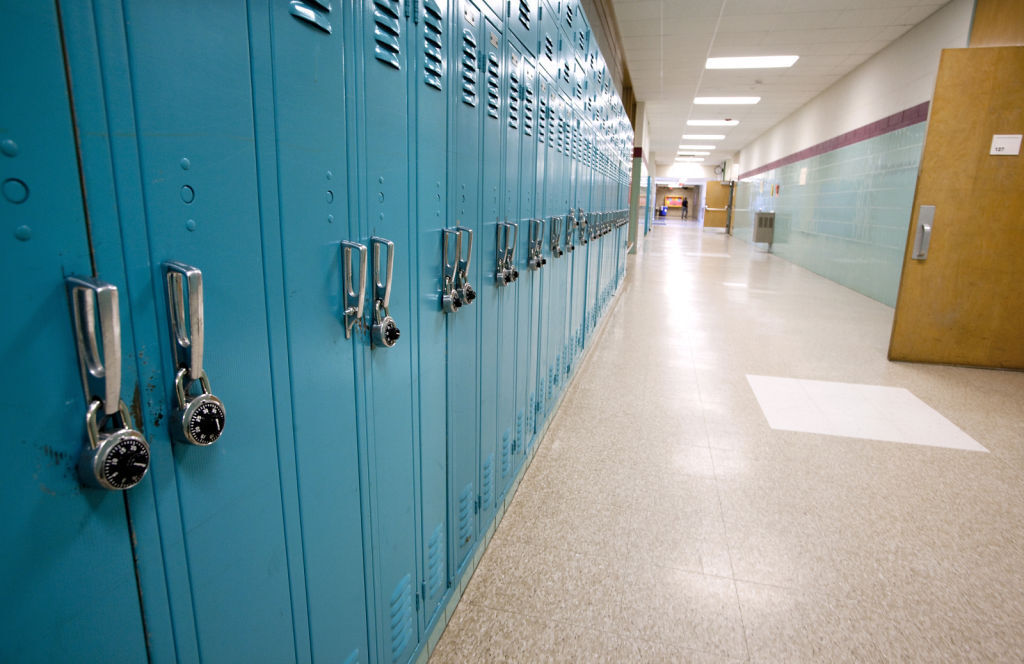 With COVID-19 shaking up the educational landscape, the Wisconsin Department of Public Instruction announced Thursday enrollment in school districts dropped 3% across the state for the 2020-21 school year.
Driven in part by parents opting out of sending children to kindergarten, the state education agency reported 25,232 fewer students were attending public school districts this fall than last year. In total, 818,922 students were counted as attending a school district as part of an annual September tally of school children.
The drop represents a significant acceleration in the steady enrollment declines during the past five years, when DPI has reported between 2,000 and 4,000 fewer public school students annually, or less than half a percentage point each year.
For example, Wisconsin school district enrollment fell 0.4% between the 2018-19 and 2019-20 school years.
DPI school financial services director Dan Bush said the largest factor driving the drop in enrollment was a significant decline in 4K and kindergarten students, an age group that is not required to attend school like their older counterparts.
"Parents did have the option of holding their (4K and kindergarten) students back this fall," Bush said during a press conference. "Obviously, more of them did in comparison to past years."
Dan Rossmiller, a lobbyist for the Wisconsin Association of School Boards, said the drop in enrollment this year is "unquestionably" connected to the pandemic.
"I hope it's a onetime thing," he said. "I hope we conquer the virus and get back to a more normal situation."
DPI's parental education options director, Chanell Crawford, said private schools participating in voucher programs also experienced a decline in 4K but increases in kindergarten enrollment as well as grades 1-12. However, those increases were lower than in recent years.
"We're seeing some of the same trends in the private school choice program," Crawford said, referring to programs that provide taxpayer subsidies known as vouchers to income-eligible children to attend private schools.
While DPI has enrollment figures on the voucher programs, the education agency won't have overall private school enrollment numbers or homeschooling figures for a few weeks, as those options have later reporting deadlines.
Follow the money
The public school enrollment drop could have a "lasting impact" on how much money districts get, Rossmiller said.
A district's membership, which includes the annual fall student tally and summer school figures, is used to set state-mandated revenue limits and determine how much per-pupil aid a school system is eligible to receive.
Membership counts are calculated using rolling three-year enrollment averages and are included in a formula to dole out the state's largest pot of money known as equalization aid.
A drop in enrollment this year — even if restored the next year — could affect how much money districts are eligible to raise from property taxes or receive in equalization aid, Rossmiller said.
"It's going to have a lasting impact on school district finances," Rossmiller said, adding his organization supports legislation that would hold districts harmless for the enrollment drops experienced this year.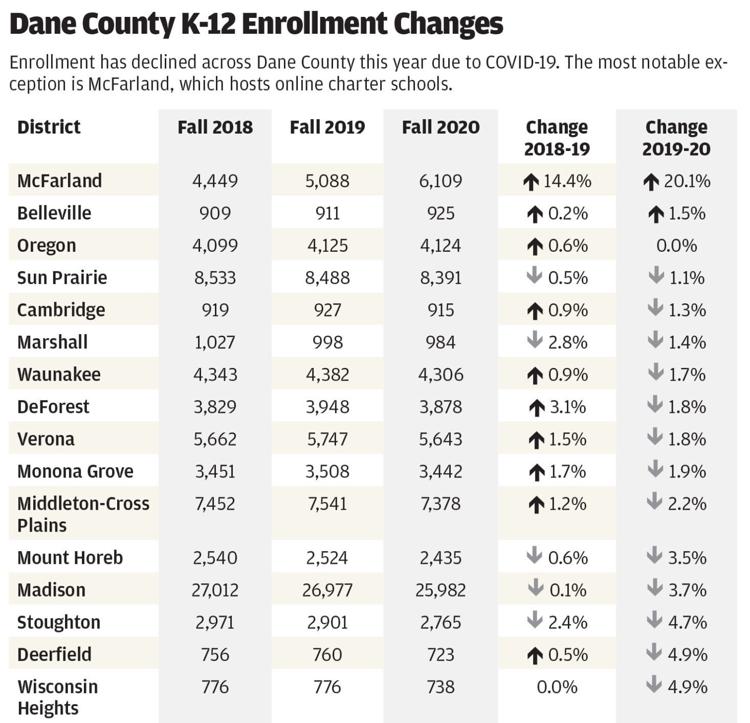 Madison's position
Despite losing about 1,000 students, Madison is in a more financially favorable position for state equalization aid.
In July, the district was estimated to lose $5.5 million in equalization aid, which at a 15% drop is the state maximum for how much a district can lose in a year. But in new funding numbers DPI released Thursday, Madison is now in line for a $1.7 million increase in equalization aid.
"It shouldn't be a surprise that last spring (the COVID-19 pandemic) created issues with school district budgets," Bush said. "Whatever impact to district budgets that happened last year from March through June, some areas saving, some areas spending more money, that basically created more of a variance between the budget data and the year-end actuals that we got in August and September."
Across the state, only 72 of the 421 school districts saw a year-over-year increase in enrollment. The McFarland School District, which hosts several online charter schools, posted the largest raw growth by adding 1,021 students to its headcount, or an increase of 20%.
Wisconsin's five largest school districts — Green Bay, Kenosha, Madison, Milwaukee and Racine — cumulatively lost 7,003 students, with Kenosha enrollment declining 7%, the steepest drop.