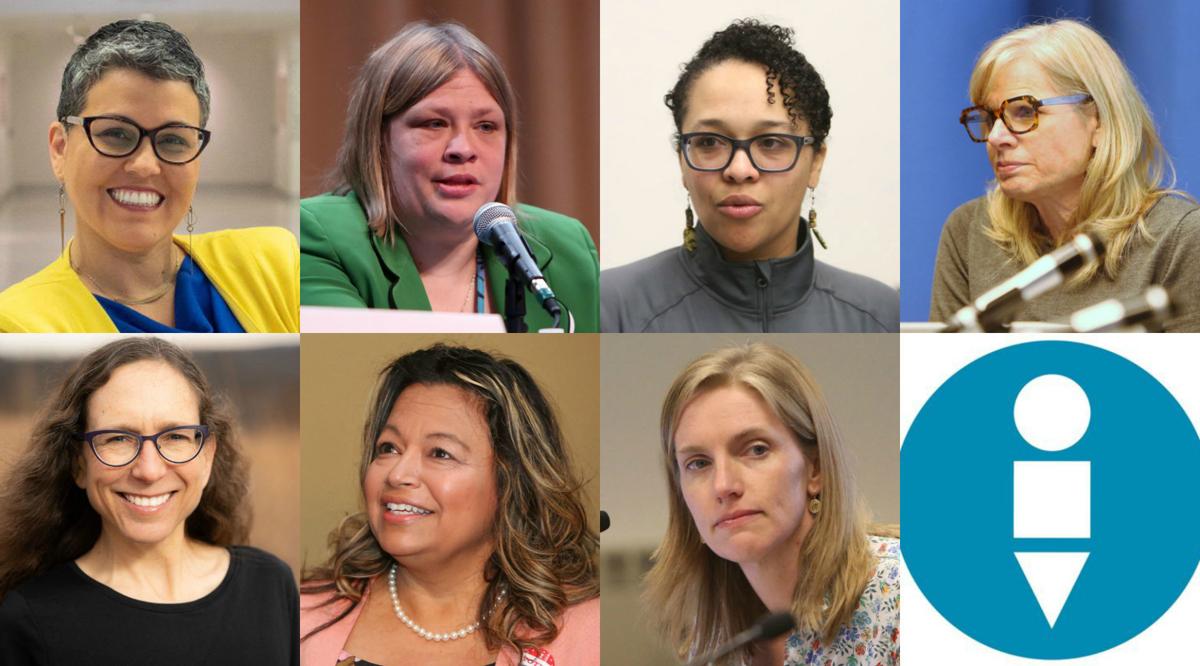 Voters elected Tuesday the three female candidates for Madison School Board, making it the first time ever the seven-member body will be composed of all women.
Challenger Ananda Mirilli handily beat TJ Mertz, the sole incumbent seeking reelection, for Seat 5, Ali Muldrow received a decisive victory to represent Seat 4 over David Blaska, the only conservative candidate, and in the closest competition, Cristiana Carusi edged out Kaleem Caire for Seat 3.
There have previously been two instances in which six of the seven seats were held by women — 2007-08 and 1983-84 — according to research by the secretary of the School Board.
The four other board members are Mary Burke, Gloria Reyes, Kate Toews and Nicki Vander Meulen.
Mirilli works as a state Department of Public Instruction equity consultant and has said she want to prioritize student mental health and address teacher burnout. She defeated two-term incumbent Mertz, who is an adjunct instructor in education and history.
She said she hopes the message voters sent Tuesday "was about stepping up and collaborating and making sure we're doing this together."
"It's a new board. I wish them the best," Mertz said of the new members. "Our students, our staff and our community deserve the best."
He said he plans "to take a little time away" following the defeat.
You have free articles remaining.
With more than double the votes, Muldrow, the co-executive director of GSAFE, Gay Straight Alliance for Safe Schools, blew past Blaska, a former Dane County Board supervisor and conservative blogger who campaigned on discipline and classroom control.
Muldrow wants to see arts included in everyday curriculum.
"The School Board is about 27,000 children, and we understand what a profound responsibility it is to be in this position," Muldrow said. "It's a really great night, and now it's time to get to work."
Blaska said his beliefs about what is wrong in the schools have not changed.
"We're going to lose another generation of kids. We are doing more of the same," he said. "We needed to have this conversation, and I started the conversation."
James Howard did not seek reelection for Seat 4 after nine years on the board, during five of which he was president.
Carusi, an associate communications director at the UW-Madison Center for Integrated Agricultural Systems, bested Caire, founder of independent Madison charter One City Schools, by a few thousand votes to represent Seat 3, which is being vacated by Dean Loumos, who has held the seat since 2013.
She emphasizes smaller class sizes, stronger city-county partnerships, and more counselors, social workers, nurses and psychologists.
The new board members will join a body overseeing the state's second largest school district during a year where the cultural climate for students of color has been at the forefront of conversations.
Throughout the campaign, most of the candidates listed the district's racial achievement gap — with gulfs in academic proficiency and graduation rates between white and black children — as a top priority to address.
Carusi, Mirilli and Muldrow, who each took first place in the February primary, could also decide the fate of a program placing police officers in Madison high schools, which is in the last year of the current contract. Negotiations between the School District and Madison Police Department on a new three-year contract have been stalled. But if language in a new contract is changed from what the School Board approved in December, the body will need to vote on it again.