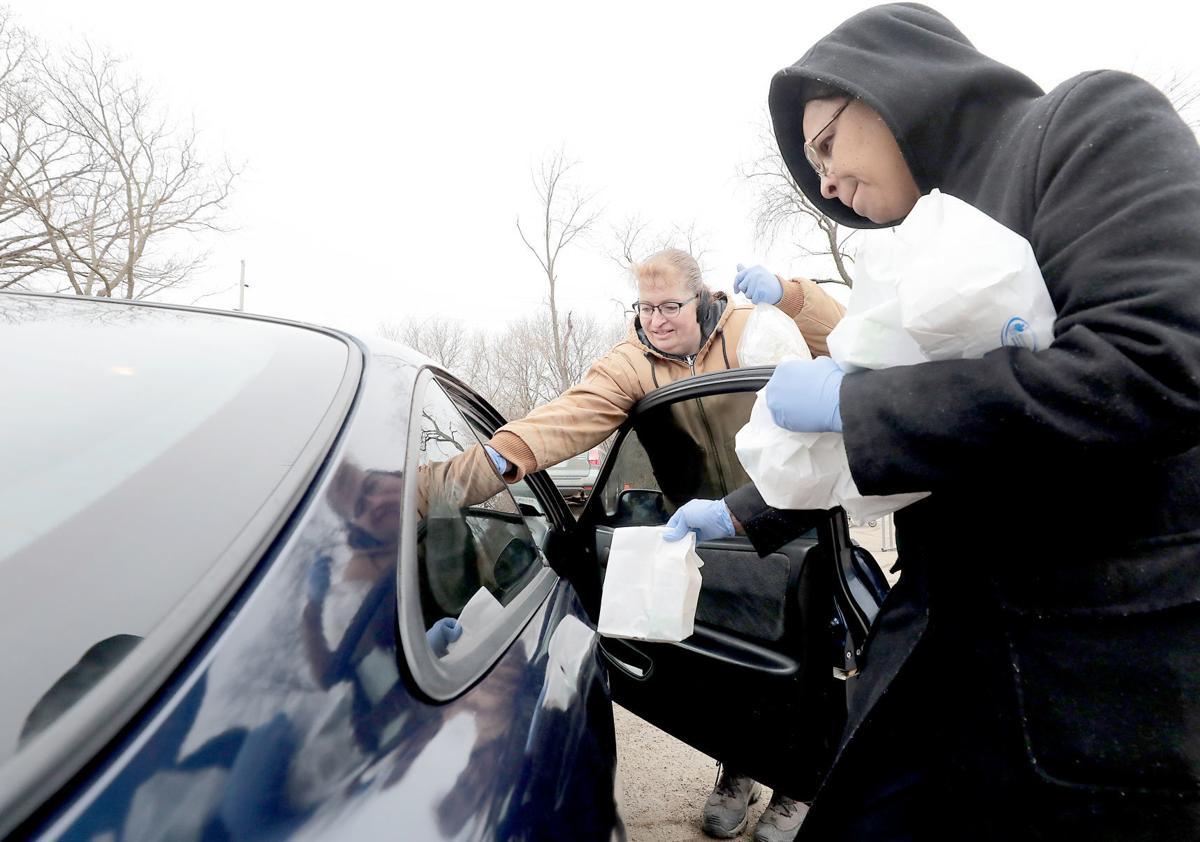 In the four weeks since Dane County schools closed to prevent the spread of the COVID-19 coronavirus, the Madison School District has distributed 58,424 free meals to students.
But the number of lunches and breakfasts picked up each day at sites across the district is significantly less than the 12,241 students on free and reduced-price lunch who attend Madison schools, making up nearly half the student body.
Last week, the average number of meals distributed each day was 3,637, according to the district. But that figure combines breakfast and lunch, both of which are distributed at the same time for free to families who drive to a pickup site during lunchtime. That means only about 1,818 students get food each day.
Steve Youngbauer, the food and nutrition services director for the district, said he doesn't have data on why there's a mismatch in the numbers, but believes there may be several factors that contribute to it.
"There is a gap there for folks who are eligible for benefits and folks that are actually participating," he said.
While people don't have to leave their cars to get food at the 13 meal sites and the employees staffing the sites are practicing good social distancing, Youngbauer said some people might be wary of leaving home at all.
"We're comfortable that we're doing a very good job with that," he said of taking safety precautions. "But I could still understand certainly why some people are maybe apprehensive."
Any child 18 years old or younger is eligible to get a free lunch and free breakfast from the district's meal sites, which run Monday through Friday.
Youngbauer said some families in need may be opting to go to food pantries where they can get food for everyone to limit the number of trips they make.
"There are lots of other groups that have stepped up with access to food, it's everything from food banks, food pantries, church groups," he said. "I don't think there's going to be any one reason. I think it's a combination of a lot of factors."
Community efforts
Across Madison, community groups and nonprofits are feeding children in need in a variety of ways.
On the city's North Side, The River Food Pantry is providing free lunches for students Monday through Saturday for the length of the school closure — a program the nonprofit typically runs just on weekends or when school is out for the summer.
Charles McLimans, president and CEO of The River, said about 200 to 225 students living in nine neighborhoods get a lunch each day from The River.
There was a peak Thursday of 400 children picking up meals, McLimans said, which he guessed may have been due to a slice of cheese pizza from Ian's Pizza being a big draw.
"We've been ramping up our ability to serve, so that has certainly been filling a much needed gap," McLimans said.
For students living in certain East Side neighborhoods, the Goodman Community Center is delivering dinners to their doorsteps.
Becky Steinhoff, the center's executive director, said about 300 school-aged children living in the Worthington Park and Brentwood neighborhoods, along with certain apartment buildings in the Union Corners development, are having daily dinners delivered to their homes.
The center has the capacity to feed about 600 students dinner, she said.
McLimans said families may not want to go out to locations to get food that are far from where they live for safety reasons, lack transportation or may want to limit the number of trips they take outside of home.
Another way The River is getting food to students out of school is through its regular food pantry, where at least 45% of the people who use it have children, he said.
"Kids don't eat in isolation," McLimans said. "They eat with their families, especially if they're having to shelter at home. We have to provide solutions for the entire family."
The Goodman Community Center typically serves 120 families a week through its food pantry, Steinhoff said. But now, as many as 150 families can visit on each of the three days the pantry is open for curbside pick-up, she said.
Food for Thought Initiative runs five food pantries inside Madison schools.
But with the school buildings closed, the nonprofit is trying to find solutions for families to still have access to the pantry, such as school social workers identifying families who may need food and having the pantry supplies delivered, said Lea Aschkenase, the organization's founder.
Increase in meals
While the number of students being fed by the Madison School District during the closure might not match those who typically get free or reduced-price meals, participation has increased from a slow start.
In the week of March 16 through March 20, the average number of meals provided by the district each day was 1,476, or approximately 738 students if each child took both a lunch and breakfast.
The second week saw an average of 3,069 meals picked up each day, or 1,534 students being fed. For the third week, the district distributed an average of 3,503 meals a day, which means around 1,751 students daily.
Last week, the average daily meals bumped up slightly to 3,637.
On Friday, the district counted its highest number of meals distributed at 3,912, or slightly fewer than 2,000 students.
Since beginning on March 16, the district has added one school site for meals to be picked up.
Youngbauer said Sandburg Elementary on the Far East Side was added last week because it's an area of the city that wasn't as well geographically accessible to the other locations.