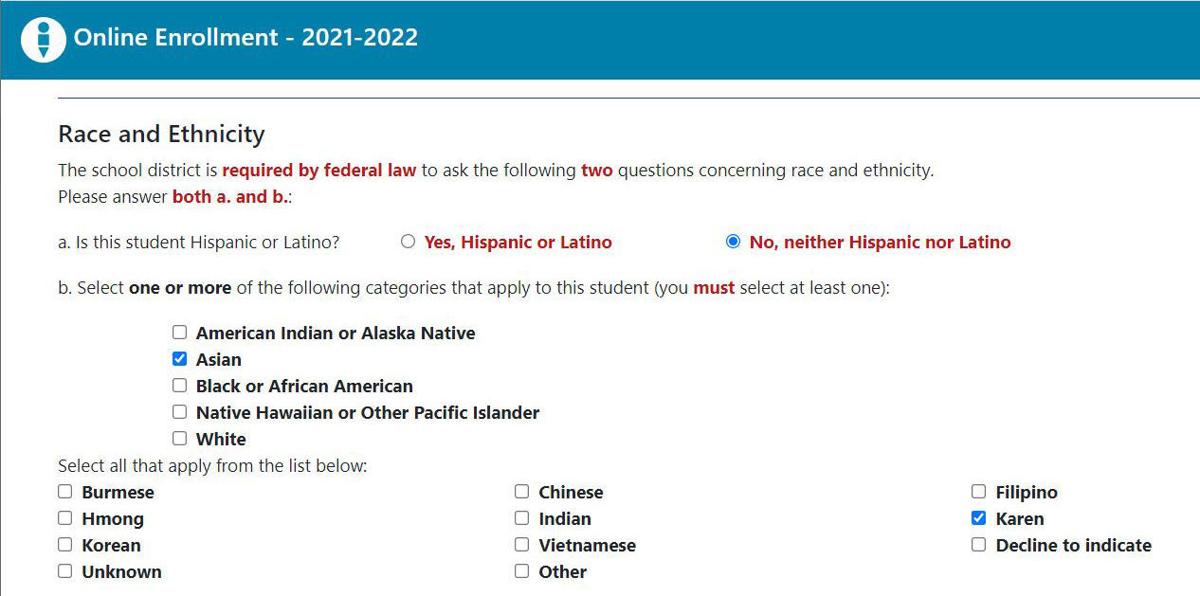 The Madison School District is considering whether to remove the word "Karen" from a section of its online student enrollment form where parents can identify their children's ethnicity, apparently after some expressed concerns about its modern-day connotations.
But if it does, the district wouldn't be able to collect information on more than 30 other ancestral groups, including Somali, Ecuadorian, Menominee and Nigerian.
"Karen" in the parlance of current American race relations has come to mean a demanding white woman blind to her own privilege and racism.
Think the woman who called police on a Black birdwatcher in New York City's Central Park last year after he asked her to put her dog on a leash.
"Karen," though, also refers to "a number of ethnic groups with Tibetan-Central Asian origins" who speak 12 related but distinct languages, according to the London-based human rights group Minority Rights Group International. The group estimates there are some 4 million Karen (pronounced "kuh-REN"), mostly in Myanmar. An estimated 215,000 live in the U.S.
The word appears on an online district enrollment page that asks parents to check a box for their student's ethnicity. Check the "Asian" box and a drop-down menu appears with boxes for "Chinese," "Filipino," Karen" and five other Asian groups, along with "unknown," "other" and "decline to indicate."
Similar drop-down menus appear for "Hispanic or Latino," "American Indian or Alaska Native" and "Black or African American" (but not "White" or "Native Hawaiian or Other Pacific Islander").
A screen shot of the page showing the Asian options caused a small stir when someone posted it to Facebook on Tuesday.
"I tried working behind the scenes to remedy this," wrote Angela Jenkins, a former Madison City Council candidate. "I checked today and it has not been resolved. This is not acceptable. Where is the quality check and more importantly, who approved this?"
Subsequent comments expressed surprise or asked for more context. But several also correctly noted that Karen is an ethnic group.
School Board member Nicki Vander Meulen also chimed in, saying she had been trying to get the matter fixed for days by having a memo sent explaining Karen is an ethnic group. She did not say to whom the memo would be sent.
Jenkins and Vander Meulen did not respond to multiple requests for comment, but in her comments on the post, Vander Meulen said the district was checking with the state Department of Public Instruction "to see if this group needs their own check box on our registration form as we would like to move them to 'Other.'"
"This proposed change is due to the Karen label also being slang and a pejorative term for a White woman who is entitled or demanding beyond the scope of what is normal (or who use their privilege to demand their own way)," she wrote.
The post and subsequent chat had been deleted as of Thursday morning.
District spokesperson Tim LeMonds said Wednesday he was told "there were a 'couple' community members who provided feedback at it relates to the use of 'Karen' on our enrollment form."
"Because of the modern-day use of Karen, we are checking to see if we need this on the check-box," he said.
School districts are required under federal law to ask whether students are Hispanic or Latino and whether they are American Indian or Alaska Native, Asian, Black or African American, Native Hawaiian or Other Pacific Islander, or white.
But beginning this school year, DPI gave districts the option of letting parents more specifically identify their children under the Hispanic or Latino, American Indian or Alaska Native, Asian, and Black or African American categories.
Asking parents for their students' ethnicity or ancestral origins allows districts "to collect more specific information for the purpose of targeting programs and supporting students from marginalized groups," according to DPI spokesperson Chris Bucher.
But while the district can choose whether to ask parents for that more detailed information, it can't choose to ask parents about some of the DPI-listed ethnic subgroups but not others, or remove some of the ethnic category subgroup identifiers, such as Puerto Rican or Hmong, from any of the ethnic group listings. Removing Karen, in other words, would necessitate removing Liberian, Salvadorian, Ho-Chunk and more.
School Spotlight: Adventures in learning, inside and outside the classroom
Each Monday, the Wisconsin State Journal features a story about learning in Wisconsin. You can find all the School Spotlight stories from 2021 here. 
---