Thirty-one families feasted on a traditional Thanksgiving meal because of a turkey basket drive by students and staff members at West High School.
The turkey basket project was started by Michelle Marking when she was a social worker at the school because of concerns that some West families were in need because of waiting lists for other turkey drives and other barriers, said Megan Hauck, a social worker who now leads the project.
"This really seems like it makes a difference in people's lives," said senior Lily Winslow, a member of the Student Support Foundation.
She said that the project, completed before Thanksgiving last week, not only provides a meal but also lets people know that others are thinking and caring about them.
"Something like that can just bring (families) together (for the holiday) and make them feel more important in our community," said junior Colin Corday, another member of the Student Support Foundation.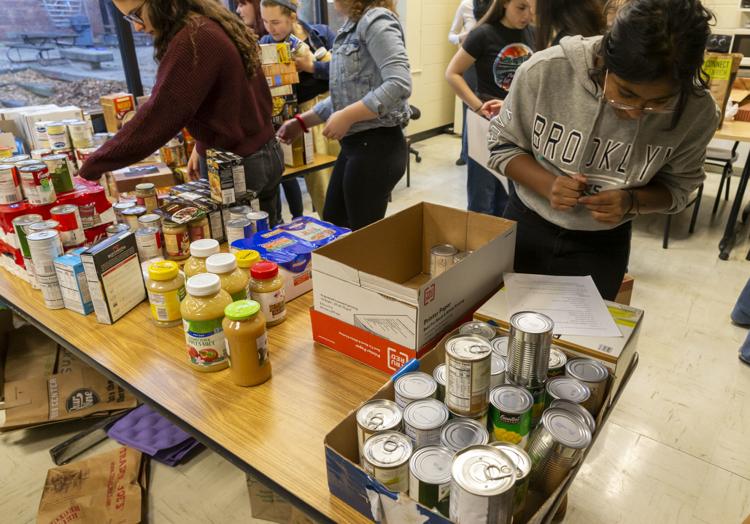 The event has been growing, said Hauck, who collaborates with the other social workers at West. Two years ago, the school helped 18 families, and last year about 22 were served. Staff at the school refer families they think could use the help.
Student organizations including the Student Support Foundation, Get it Done and the Public Health and Advocacy Club help with the drive, organizing and doing paperwork, collecting monetary and food donations, and assembling the baskets.
Some families picked up their baskets; others were delivered by staff.
You have free articles remaining.
Register for more free articles
Stay logged in to skip the surveys
Kirsten Johnson, administrative assistant for student services, said the baskets contained a turkey, ingredients for a green bean casserole, macaroni-and-cheese box, canned vegetables, canned cranberries, applesauce, stuffing, sweet and regular potatoes, pie, gravy, broth, rolls and roasting pans.
Hauck said the drive is successful because there are more-affluent families looking for ways to help others at the holiday. This year more money and gift cards were collected than were needed for Thanksgiving, so that will help families who need an assist during the winter holidays.
Students collected many of the donations by setting up a table at parent-teacher conferences, and a contest was held among the grades to see who would collect the most.
Corday said people donated more than he thought they would and some also donated toiletries to help with students' families other needs.
"We received some very large donations," said Winslow, noting that three people each contributed $100. "That was just incredible to see."
Senior Elena Igic, who joined the Student Support Foundation last year, said she likes the project because it affects people locally.
"There's a spectrum of kids from all different backgrounds," she said, "and it's nice to make sure that kids who couldn't normally have a traditional Thanksgiving … can have one."